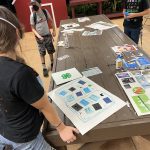 CREATE YOUR OWN VISION BOARD Bring your goals to life with a vision board! It is a new year for...
How to Participate
In the state of Hawaii, programming focuses on the three national mission mandates of Healthy Living, STEM & Agriculture and Civic Engagement.
Special Interest programs (SPIN) are shorter in length than traditional year-long clubs and focus on a specific topic area.
For more information visit our Contact Page