Jamie Simpson Steele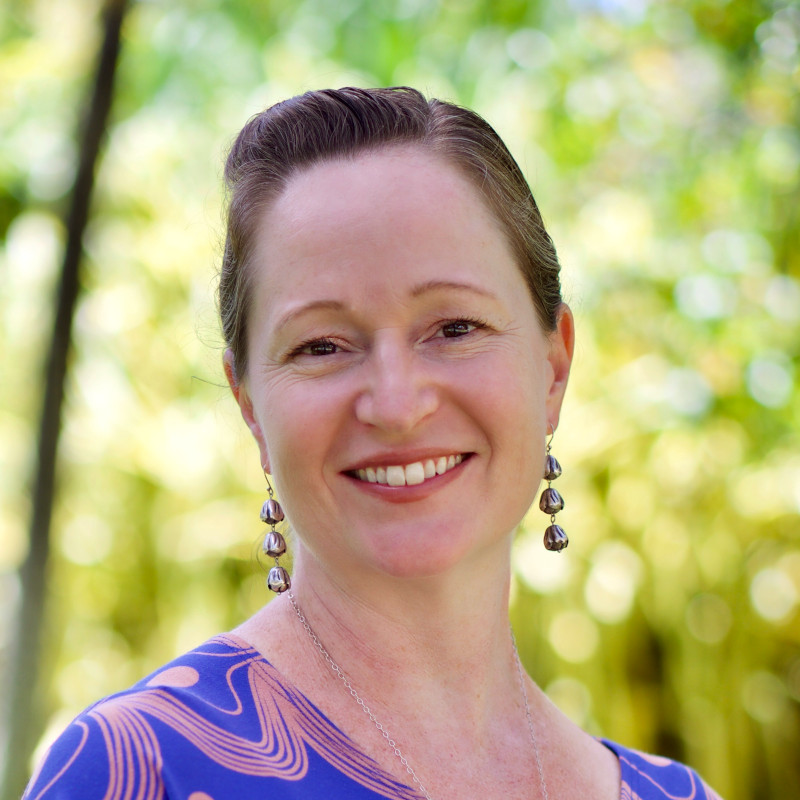 Title: Associate Professor
Department: Institute for Teacher Education
College/School: College of Education
Showcase Course: ESEE 334: Planning and Instruction: Integrating Social Studies and the Performing Arts
Email: jamiesim@hawaii.edu
"I believe learners of all ages and learning abilities must be recognized, challenged, empowered, and actively engaged in learning."
Click to read more about Jamie's Teaching Philosophy

I believe learners of all ages and abilities must be recognized, challenged, empowered, and actively engaged in learning. Learners deserve to be involved with course content in ways that temper the anxiety of new experiences and with the security of a scaffold, while harnessing natural engagement with personally meaningful tasks (Csikszentmihalyi, 1975). I consider noncognitive factors, which encompass both social/emotional learning and executive functions, essential to human development (Lipnevich & Roberts, 2011). Through the arts, learners develop "habits of mind" (Hetland, Winner, Veenema, Sheridan, & Perkins, 2007) to help them navigate problems in school and life – communicating clearly, creatively, and in collaboration with others. The arts are my vehicle for engaging learners with these values across disciplines.
---
Teaching Practice
expand/collapse

This series of scaffolded activities is a systematic, intentionally designed approach to supporting professional knowledge and skill development for future teachers; explicit instruction honors individual learning differences and prioritizes authentic engagement. Within the first week of course instruction, teacher candidates' activate prior knowledge and immediately begin to engage with new models of arts integration teaching strategies appropriate for K-6 learners. Next, teacher candidates engage in collaborative practice in an environment that simulates a K-6 classroom. They receive timely, targeted feedback and reflect to revise their practices. Finally, they apply their professional skills in real-world settings with an authentic audience of K-6 classroom students. Throughout the process, a variety of technologies support interactions among teacher candidates, between teacher candidates and myself, and between teacher candidates and their classroom students. These technologies include Flipgrid, instructional videos, and GoReact, among other approved Google tools used commonly in the Hawaii Department of Education. The structure of explicit instruction also depends on ongoing reflection of in-class experiences, creative assignments, performance assessments, group activities, and evidence of learning produced by classroom students. Although the example described below is specific to teacher education, the strategy transfers to the development of confidence and competence for other professional contexts as well. The five steps of implementation are:

STEP 1: ANTICIPATORY SET Purpose: To activate prior knowledge, familiar concepts, and language to gauge students' collective background, experience and attitude about the subject. Application: Prompt students to verbally respond in Flipgrid: "Who am I in the Performing Arts? Consider the role of drama, dance, and music in your life."STEP 2: MODEL STRATEGIES Purpose: To demonstrate strategies in practice while providing explicit instruction for facilitating each strategy. Application: Prompt teacher candidates to view and participate in instructional video demonstrations of performing arts strategies. Assign viewing as class preparation using the "flipped" model prior to synchronized instruction: Snapshot (drama), Pantomime (drama), Move-and-Freeze (dance), Mirrors (dance), Song (music), Hear-Think-Wonder (music) and engage in sample applications during synchronized class time. STEP 3: GUIDED PRACTICE Purpose: To provide practice opportunities for teacher candidates to facilitate the strategy as a teacher would, but in a simulated environment with peer support and feedback. This provides a safe, supportive environment to "rehearse" teaching. Application: Assign the Hui Series: Creative Facilitation. Guide candidates through a think aloud, modeling the metacognitive process of planning. Assign heterogenous triads purposefully, to maximize diverse skill sets of each group. Provide time for the triads to begin planning, and provide an optional planning guide for those who need support developing a timeline and shared agreements for collaboration. Individual teacher candidates select one performing arts strategy that has been modeled in class, and develops a plan for arts integrated instruction based on a template. The triads meet virtually with their hui (or group) and each candidate facilitates instructions with peers, who role-play as students in the class. They record their online Zoom session and post the video on GoReact for instructor feedback (see Hui Series Recording sample of candidate work.) Following the instruction, the triads engage in constructive feedback, using a "Glow & Grow" protocol to highlight both positive observations and challenges for improvement. Each candidate posts their plan, video, and written reflection for assessment. STEP 4: FEEDBACK & REFLECTION Purpose: To provide formative assessment to support ongoing improvement for upcoming independent practice. Application: Provide written feedback and scores according to a rubric after teacher candidates submit the teaching plan and reflection following the Creative Facilitation assignment (see Plan and Reflection sample of candidate work). STEP 5: INDEPENDENT PRACTICE Purpose: For teacher candidates to demonstrate learning and practice with an authentic audience. Application: Each teacher candidate plans an Integrated Lesson Plan, and implements their plan with K-6 classroom students in an elementary school setting. After teaching their arts integration lesson plan, candidates reflect on their own goals, assess student learning, and plan for future instruction. This strategy plays out over the course of a typical 16-week semester. The challenge for an instructor is to design activities and experiences with the end in mind, supporting candidates to practice and repeat with iterations of feedback. In our teacher education program, candidates learn and use explicit instruction with their diverse elementary students. By modeling explicit instruction we support their development in both content and pedagogy — as learners and as teachers. This strategy exemplifies the maxim: "practice what you preach. " Neuroscience tells us that no two brains are alike; variability is the norm in our classrooms. Even at the college level, some students find instruction that promotes inquiry, creativity and exploration to be overwhelming or confusing, and explicit instruction gives these individuals the skills they need to engage. For other students, sustained attention can make learning difficult, and explicit instruction lowers that barrier. Explicit instruction with a variety of scaffolding strategies helps to lighten the cognitive load for those who struggle with working memory by breaking down large tasks into smaller pieces. Furthermore, clear and consistent language embedded in explicit instruction helps learners overcome language barriers. The design of explicit instruction in this course specifically takes the needs of those with learning differences into consideration.
Impact
expand/collapse

The assessment results show that all but one teacher candidate achieved the acceptable level or above on all final Integrated Lesson Plan evaluation criteria (see Summary of Outcomes). In particular, at least two-thirds of the teacher candidates achieved the excellent level on four out of the five evaluation criteria on the rubric. This level of achievement is remarkable especially considering that quite a few students in the course (40%) self-reported having learning differences. Teacher candidates' comments on course evaluations also revealed positive learning experiences. A majority of the teacher candidates (64%) considered the course "fun" or "enjoyable" and commended the high quality of the content instruction. In relation to explicit instruction, teacher candidates particularly valued "explicit and exact examples," "interactive teaching methods," and "constructive feedback." One student commented, "She [Jamie Simpson Steele] creates amazing lessons that are engaging and model strategies we are learning, she gives clear instructions for assignments, she pushes students to succeed." These results suggest this approach to acquiring new knowledge and skills was effective, engaging, enjoyable for teacher candidates.
Supplemental Material