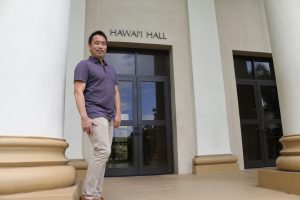 Thomas Tsutsumoto is a UHM and UCLA graduate and is currently a Career Counselor at the Mānoa Career Center. He earned his bachelor of arts in Sociology, a certificate in Ethnic Studies and a master of arts in Asian American studies.
We asked Thomas questions about the universities he has attended, what type of jobs are available in his fields, and advantages/disadvantages of attending graduate school.
What are the differences between UHM & UCLA?
I was fortunate to attend both UHM and UCLA.  The most obvious difference between these universities is in the sheer size of the student population.  While UHM is the largest university in the state with a total of about 18,000 students, the student body of UCLA is immense with over 44,000 students.  For that reason, making the transition from one big school to another was quite a shock!  The other major difference is in the way social histories, demographics and economics shaped the types of programs that are offered at each institution.  California's unique, dynamic historical context set the tone for many social movements that created ethnic studies.  I was attracted to the interdisciplinary aspect of UCLA's graduate program in Asian American Studies as it allowed me to continue my interests in sociology and education that started at UHM.
What types of jobs can you get with a degree in Ethnic and Asian American Studies?
The first type of job that comes to mind is my work as a career counselor.  During my time at UCLA, I enrolled in education courses that supplemented my core curriculum. I participated in outreach activities and served as a mentor to students at various high schools in Los Angeles. This developed my helping skills and led me on a path towards a career in counseling and advising.  Aside from counseling, there is a broad range of jobs for ethnic studies majors.  The key to finding these jobs is in gaining experience through internships, volunteering, participation in service-learning activities, and most of all, by knowing and applying your strengths.  By actively engaging in these areas, a new graduate will have the skills for jobs that require a combination of strong critical thinking and communication skills as well as public speaking, writing, research, teaching and mentoring skills.  A graduate of ethnic or Asian American studies can become a viable candidate for jobs in a broad range of fields such as education, law, business, project management, non-profit/community organizational leadership, and many more areas.  My very talented classmates in Asian American Studies were prime examples. Many of them continued on as educational professionals, researchers or instructors at various universities, and some became book authors.  I have also seen some who have applied their talents and succeeded in exciting careers outside of academia as business professionals, community leaders or even in one case, as a Hollywood celebrity. While many people may know of the actor Randall Park from the ABC series Fresh off the boat or the Netflix movie Always be my maybe, perhaps the thought that he was an alum of UCLA's Asian American Studies program rarely crossed anyone's mind.  In any case, we are not defined by the label of our major, but rather by our unique brand and how we market it.
Is it worth it to attend graduate school? What are the advantages and disadvantages?
Yes, attending graduate school is worth the effort.  If you've prepared, researched and planned well for your program, then it is very likely that you will make the most of your experience as a graduate student. The advantages are that your program will offer the resources that will enable you to become specialized in your area of interest. If you utilize these resources efficiently, it is very likely that you will also increase your viability as a candidate in the job market. The disadvantages are that graduate school will place a heavy load on your finances and time.  Attending graduate school can also mean deciding to move to another state.  However, if planned well, the benefits will outweigh the disadvantages.   My advice is to research the reputation of your program and make sure that you have a realistic plan to successfully finance and complete your graduate education.