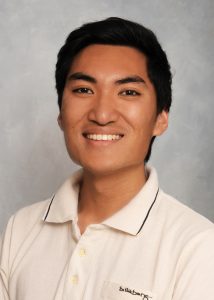 I had the great opportunity to interview Christopher Chow, a 2017 UH Mānoa Public Health graduate. Christopher is currently employed at Hawai'i Pacific Health with their accountable care organization called Hawaii Health Partners (HHP). Some of HHP's main goals are to aid physicians in providing high-quality care to patients, decrease administration burden, and help providers succeed in payment transformation (a way of reimbursing providers for caring for patients).
Christopher started his exploration in the Public Health field as a summer intern at Hawai'i Pacific Health when he was a freshman in college. His experiences during their student internship program sparked his interest in healthcare and motivated him to continue his journey in Public Health.  He continued working in the department he had interned with as a part-time employee at Kapiolani Medical Center performing hearing tests for newborns. After working in that position for 4 years, he has since transitioned to his current position. 
Being in the Population Health department of HHP, our goal is to help providers with the quality aspect of payment transformation. By providing support such as workflow optimization, patient outreach, and quality updates, our team members are dedicated to help clinics provide efficient and high quality care. – Christopher Chow
We asked Christopher your questions about Public Health, Hawai'i Pacific Health, and Covid-19.
What is the difference between a public health position and a medical position?
This is an interesting question. Considering the many different public health and medical positions, I will do my best to generally speak of the main difference from my standpoint. To generalize the differences between the two types of positions, I would say the biggest difference would be the work environment and who you will be working with. For those in clinical positions such as medical assistants, nurses, and physicians, improving health is commonly accomplished through direct patient care in a hospital or clinic-based setting. Public health, on the other hand, is associated with improving health on a level that can sometimes be applied to a community or population level. In order to make such a broad impact, public health professionals can often be seen as "connectors" in healthcare where a variety of disciplines such as clinicians, educators, policymakers and community leaders are incorporated. Public health as a whole often places a large emphasis on health promotion and disease prevention through community-based efforts.
All in all, the public health and clinical aspects of healthcare are both vital components that work hand in hand.
What does your average workday look like at Hawaii Pacific Health?
The position I am in with HHP involves working 5 days a week (Monday through Friday) from 7:30 am to 4:00 pm. Our average workday includes a fair balance between desk work, team meetings, and in-person rounding with clinical staff. All of the duties we do throughout our workday are geared towards helping our clinics with their workflow dynamic, quality metrics, and ultimately their ability to provide quality care to patients. What this support looks like varies on the needs of the clinic, though oftentimes this includes: rounding in-person with clinic staff and providers, strategically planning with clinic management in coming up with improvement strategies, and back-end support to ensure the necessary documentation is in place to fulfill quality metrics.
With the impact of COVID in effect in Hawaii, the way we conduct our jobs have significantly changed. Stationed from home, our team is still dedicated to supporting our clinics as best as we can. This involves sharing COVID-related news and webinars to inform staff and providers. One special project our team had recently been tasked with is to support the Hawaii Pacific Health COVID support line for providers. This hotline was set-up in order to assist providers in having patients tested at a drive-through testing site. With healthcare always changing, being flexible and willing to try new tasks is vital.
Is there anything related to dental at Hawaii Pacific Health?
Great question. I'm sure Hawaii PacificHealth has some type of touch on dental care in Hawaii, though I am not too sure to what extent. I encourage you to keep an open mind and continue to research!  You would be surprised by the opportunities that can arise from actively learning about new careers/interests!
What are some health tips/advice for students during this time?
I encourage students to stay strong, stay indoors, and continue to support each other. 
With responsibilities such as school, family obligations and jobs students must continue to fulfill, I encourage students to find their outlet to destress and identify individuals who could provide needed support.
One such supporter can be your healthcare provider. During this time of uncertainty, I want to encourage students to view your primary healthcare provider as a resource if questions about your health were to arise. To adapt to these changing times, many providers have implemented services such as telephone visits, video conferencing, and electronic messaging as ways to communicate with patients and provide care. 
We can and will get through this together!