23 Jul

High-tech Vocational Training Serves Individuals with Disabilities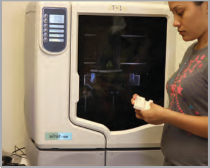 Technology for Untapped Talent (TUT), a program that provides vocational training in high-tech manufacturing to individuals with disabilities, honored its first cohort to complete the program on Saturday, October 20, 2012 in the Campus Center Ballroom on the University of Hawai'i Mānoa campus. The thirteen participants recognized for their completion of the TUT program were joined by friends and family for the special ceremony that included congratulations and inspirational messages from guest speakers Susan Foard, assistant administrator of the Division of Vocational Rehabilitation and Services for the Blind, and Kathleen Berg, director of CRDG.
Directed by CRDG's Neil Scott, this unprecedented vocational training program provides individuals with conditions like autism and Asperger's syndrome, or physical disabilities such as visual impairment, deafness, and hearing difficulties, the chance to acquire gainful employment in the high tech design and manufacturing marketplace. In the twelve to eighteen-month intensive program, participants gain skills using computeraided design (CAD) software, computeraided manufacturing (CAM) software, and computer numerically controlled (CNC) machines like CNC mills and routers, laser cutters and engravers, and 3D printers. These emerging technologies are redefining the necessary skill set for employees of companies that want to remain competitive in the design and manufacture of products such as furniture, musical instruments, jewelry, signs, awards, souvenirs, and more. Managers at two factories—a recent TUT participant has started working at one of the two—stated that their ability to expand their business by incorporating new computer controlled manufacturing processes has been seriously limited by the lack of trained CAD, CAM, and CNC workers within the state of Hawai'i. The training provided by the TUT program is both answering the needs of employers and empowering individuals with disabilities to participate fully in developing the twenty-first century workforce.