With most classes resuming primarily in-person, it's important that we nourish our bodies with good food! The staff at the Manoa Career Center wants to share with you some of our favorite spots to grab food on and around campus!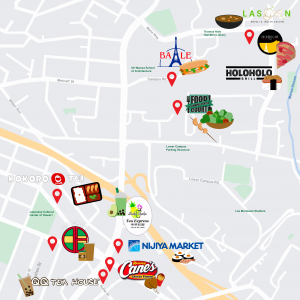 Starting on campus, Karen, our student Sece Assistant, Jeremy, our Client Services Coordinator, David, our Technology and Web Coordinator. and Chelsea, our student Employment Services Assistant, are all big fans of Lasoon. The butter chicken is a crowd favorite, but Chelsea also likes their spicy seafood dish, and she loves Lasoon because it is affordable and everyone there is so friendly. Jasmine, our student Auditor, loves Lasoon too, and she usually orders a chicken curry bowl with hot sauce. Beware though, when they label a dish as spicy, they actually mean it!  Noreen, our University Student Employment Director, also loves their curries, and she recently tried the samosas, which she thinks are so delicious. These flaky pastries with savory fillings are such a great snack!
Elsewhere in Paradise Palms, Noreen also visits Holoholo Grill to get musubis on-the-go. She usually gets the natto musubi, and while she knows this filling is a little controversial, she mentioned that natto is actually something she had to get used to. She used to absolutely hate natto, but now she can't get enough!
Paradise Palms is also home to Le Crepe Cafe, which is a favorite for Mika, our student Federal Work Study Assistant. She loves the variety of dishes available from sweet to savory crepes with vegetables and even acai bowls. She has a sweet tooth, so she loves their sweet crepes.
Moving toward Campus Center, Naomi, our Career Counselor, loves the Campus Center Food Court. Her favorite thing to get there is the Tex-Mex chicken salad, but she also likes the chicken skewer bowls at Bowlful, a yummy new addition to the Food Court's offerings, which replaced the former salad bar. 
Ryan, our student Employment Services Assistant, loves BaLe. He really likes that there is both inside and outside seating, and he appreciates how everything is affordable and there is a large variety of Vietnamese food. He usually gets the ham and pate banh mi, and he especially likes that it is more traditional with the pickled vegetables like carrot and daikon.
As for some nearby off-campus eateries, Jenny, our Marketing and External Relations Manager, loves Kokoro-Tei. Just a 5 minute drive from campus on S Beretania St, they serve great Japanese food that Jenny describes as simple home-cooking. She loves their bentos and there are many affordable options for college students!
Just a 10 minute walk down University Ave, Wendy, our Career Center Director, loves Nijiya Market for her on-the-go sushi cravings. They also have a lot of interesting Japanese snacks and drinks for any sweet or salty craving.
Right next door to Nijiya, Elisa, our student graphic designer, is a big fan of Shaka Shaka Tea Express, and she always gets the avocado milk smoothie. Lauren, our student Social Media Fellow, loves Shaka Shaka too, but she is also a big fan of QQ Tea House to satisfy her after-class boba cravings. 
In that same block, you'll find Raising Cane's, which is Ashley, our student Social Media Fellow's favorite spot to grab food with friends after classes or sports games. She always gets their sweet tea and asks for hot sauce to eat her fries and chicken with. 
Down the road, Elisa also likes Da Spot, which serves a variety of delicious plate lunches at really affordable prices. They serve smoothies too, and Elisa's favorite is the peanut butter one!