Celebrate Pride--every day!
Aloha friends of the UH Mānoa LGBTQ+ Center:
We are excited to share Pride Zoom backgrounds for you to use to celebrate diversity, equity and inclusions, every day at UH Mānoa.
Download these UHM Pride Zoom Backgrounds: http://go.hawaii.edu/Pyi
---
Aloha Friends of the LGBTQ+ Center:
It can take courage to live with pride in our LGBTQ+ community. Sometimes people might try to make us feel like we don't have the right to be ourselves. At UH Mānoa you have protections as a member of the LGBTQ+ community.
I just want to say thank you for your courage to be your best self every day.
Mahalo and Always Aloha,
Camaron Miyamoto, Director
LGBTQ+ Center
---
Safe Zone Training: LGBTQ+ Safety and Inclusion
Together we can create a kinder Mānoa!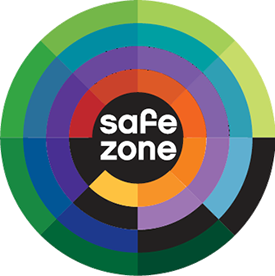 Description:
Announcing the Safe Zone Training schedule on LGBTQ+ equity and inclusion at UH Mānoa. Please register today. Completers of the training will receive a Safe Zone sign to indicate their participation in this program aimed at addressing campus climate, LGBTQ+ inclusion and equity.
Who:
Anyone looking to address oppression and be part of a university-wide campaign to build a safe and welcoming campus community for LGBTQ+ people.
What will be addressed:
The difference between "assigned sex," "gender" and "sexual orientation"
The rights of the LGBTQ+ UHM community
How to maximize gender and LGBTQ+ inclusion in your daily life
How to be an effective ally or advocate for LGBTQ+ people
Sponsored by:
UH Office of the President
UH Commission on LGBTQ+ Equality
UH Mānoa Office of the Provost
UH Mānoa Office of Student Affairs, including the Office of Student Equity, Excellence and Diversity
UH Mānoa LGBTQ+ Center
More Info: 956-9250; LGBTQ@hawaii.edu
PRE-REGISTRATION IS REQUIRED:
Click the link below for Safe Zone Registration 2021-2022:
Safe Zone Registration 2021-2022 »
Safe Zone LGBTQ+ Equity and Inclusion Training Schedule:
Download the Safe Zone 2021-2022 flyer (PDF)*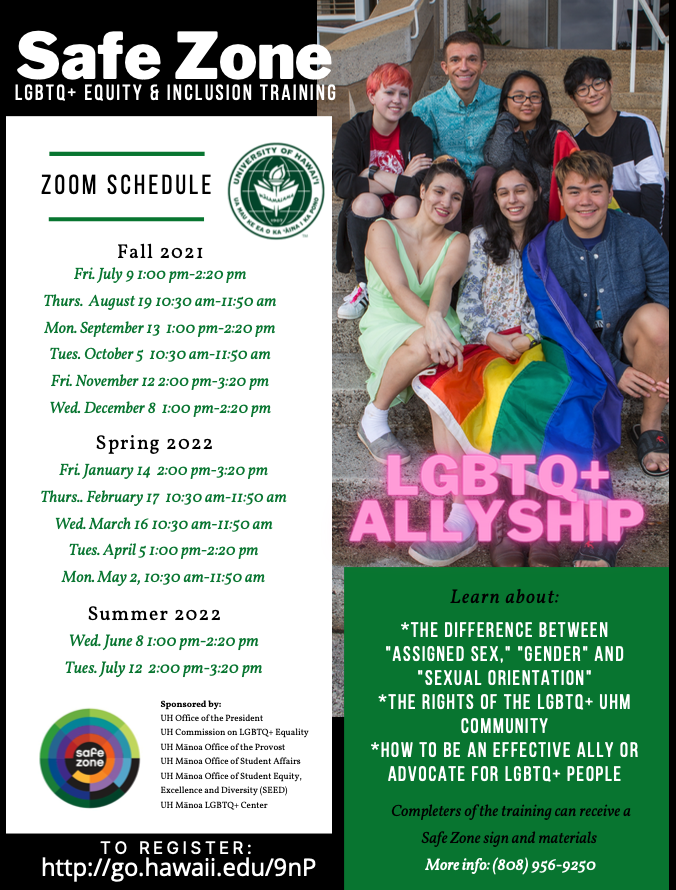 FALL 2021:
Fri. July 9, 2021, 1:00 pm-2:20 pm
Thurs. August 19, 2021, 10:30 am-11:50 am
Mon. September 13, 2021, 1:00 pm-2:20 pm
Tues. October 5, 2021, 10:30 am-11:50 am
Fri. November 12, 2021, 2:00 pm-3:20 pm
Wed. December 8, 2021, 1:00 pm-2:20 pm
SPRING 2022:
Fri. January 14, 2022, 2:00 pm-3:20 pm
Thurs.. February 17, 2022, 10:30 am-11:50 am
Wed. March 16, 2022, 10:30 am-11:50 am
Tues. April 5, 2022, 1:00 pm-2:20 pm
Mon. May 2, 2022, 10:30 am-11:50 am
SUMMER 2022:
Wed. June 8, 2022, 1:00 pm-2:20 pm
Tues. July 12, 2022, 2:00 pm-3:20 pm