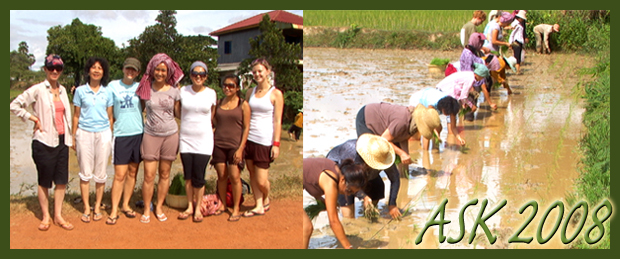 Program Activities in 2008
Day

Morning

Afternoon

Monday

8:00-12:00 Class
9:30-10:00 Break


2:00-3:00 Briefing. Assignment for oral interview.
3:00-5:00 Scheduled NGO site visits or other group activity.
Hands on activities.

Tuesday

8:00-12:00 Class
9:30-10:00 Break
2:00-5:00 Optional activities: volunteer work, research activities,
meeting with tutor or free study time.

Wednesday

8:00-12:00 Class
9:30-10:00 Break
2:00-4:00 Cultural/art activities.
4:00-6:30 Meeting with tutor or free study time.

Thursday

8:00-12:00 Class
9:30-10:00 Break
2:00-3:00 Briefing. Assignment for oral interview.
3:00-5:00 Scheduled NGO site visits or other group activity.
Hands on activities..

Friday

8:00-12:00 Class
9:30-10:00 Break
2;00-3:00 Briefing. Sharing ideas.
3:00-4:00 Optional activities: volunteer work, research activities,
meeting with tutor or free study time.
4:00-7:00 Khmer culinary lesson.

Saturday

Field Trip: full day activity

Sunday

Free day
>>Click here to see the language class program
1. Afternoon Activities
On Monday and Thursday afternoons, from approximately 2:30pm to 5:00pm, participants attended prearranged visits to various organizations, institutions or sites in Phnom Penh. These site visits offered participants an opportunity to learn about the activities of various organizations operating in Cambodia, to become knowledgeable of the research facilities available in Phnom Penh, to understand various aspects of Cambodian infrastructure and society and to speak and interact with all segments of Cambodian society.
No

Site Visit Location

City/Province

1

Royal Palace
Phnom Penh
Complex of royal buildings and palace of the monarchy.
http://www.art-and-archaeology.com/seasia/ppenh/rp01.html



2

Wat Phnom
Phnom Penh
Historical temple and the site of the founding of Phnom Penh.
http://www.mot.gov.kh/presentation_detail2.php?CoID=24&CoSubID=18&sSubID=Phnom Penh&CoSubID2=202&sSubID2=Wat Phnom



3

National Library
Phnom Penh
Large research center containing a diverse collection.
http://www.mot.gov.kh/presentation_detail2.php?CoID=24&CoSubID=18&sSubID=Phnom Penh&CoSubID2=182&sSubID2=National Library



4

National Archives
Phnom Penh
The National Archives of Cambodia (NAC) is a department of the Council of Ministers. The NAC is responsible for preserving documents, created by the Government of Cambodia, which possess enduring legal and historic value.
http://www.camnet.com.kh/archives.cambodia/



5

Reyum Institute
Phnom Penh
Reyum is a non-profit, non-governmental organization dedicated to Cambodian arts and culture. Reyum was founded by Ly Daravuth and Ingrid Muan (1964 - 2005) in December 1998 in order to provide a forum for research, preservation, and promotion of traditional and contemporary Cambodian arts and culture.
http://www.reyum.org/



6

Buddhist Institute
Phnom Penh
One of Phnom Penh's premier libraries and research institute.
http://www.budinst.gov.kh/



7

Mith Samlanh Friends
Phnom Penh
www.streetfriends.org



Purposes/Outcomes


- To understand the life of the street children who live and find money as baggers.
- To know the ways of assisting them and providing them many skills of living.
- This organization sends them to school.



8

Documentation Center of Cambodia (DC-CAM)
Phnom Penh
DC-Cam has two main objectives. The first is to record and preserve the history of the Khmer Rouge regime for future generations. The second is to compile and organize information that can serve as potential evidence in a legal accounting for the crimes of the Khmer Rouge.
www.dccam.org



Purposes

/

Outcomes


- To understand the history of the Pol Pot regime.



9

Cambodia Development Resource Institute (CDRI)
Phnom Penh
CDRI works to produce independent, objective, high quality policy-relevant development research, to maximize its accessibility to policy makers, influencers and stakeholders, and to have it affect policy in five interrelated areas that are key for Cambodia's sustainable development
www.cdri.org.kh



10

Open Forum Center for Khmer Unicode
Phnom Penh
Participants learned about and received Khmer language software.
www.khmeros.info



11

Cambodian HIV/AIDS Education and Care (CHEC)
Phnom Penh
www.checcambodia.org


12

The Cham House of Emirates for Orphans


Phnom Penh
2. Weekend Activities
During the course of the program there were four weekend field trips to provincial regions outside of Phnom Penh (not counting field trips taken during the Kompong Cham and Siem Reap duration of the program). Plans for an overnight field trip to Kampot were canceled due to the need for additional academic study time. The visits included:
No

Site Visit Location

City/Province

1

Kaoh Dach
Kandal Province
A large island on the Mekong River approximately twenty kilometers north of Phnom Penh.



2

Phnom Chisor
Takoa Province
A religious and archeological mountain top site 40 kilometers South of Phnom Penh



3

Toul Sleng Genocide Museum and Choeng Ek Genocide Memorial
Phnom Penh
Located in Phnom Penh and 14 kilometers South of Phnom Penh



4

The Four Rivers
Phnom Penh
A weekend boat trip through the four rivers area of Phnom Penh where the Tonle Sap and Mekong Rivers meet.



5

Kampot
Kampot Province
An overnight trip to Kampot province was originally planned so that participants would learn about fishing and Cambodian coastal life. A visit to a local fishing village and to the caves and religious shrines of Kompong Trach was organized in advance but later cancelled.



6

Siem Reap
Siem Reap Province
Five days of the program were spent in Siem Reap touring the Angkor Archeological Park. Participants traveled via van to Siem Reap on Friday, July 18th and returned on Wednesday, July 23rd. The ASK Program employed a licensed guide for three days of touring. Days typically began early in the morning with a break for lunch before resuming touring until evening or late afternoon. There were also two presentations given by an expert archeologist, Ven Sophorn. Participants were not afforded much free time during the week in Siem Reap because of the intense tour schedule. In their free time, however, participants had the option to visit additional temples or sights in Siem Reap. One day was allowed for visiting the Angkor National Museum and free time. Accommodation in Siem Reap was at the Menbora Hotel. The location was moderately priced and located centrally.


No

Name

Category/Area of Study

ASK Position

School/Employer

1
Chhany Sak-Humphry


<sak@hawaii.edu>

Linguistics/Foreign Language
Teaching/Education/Technology


Project Director/PI

University of Hawaii
2
Lukas Wettstein


<

wettstei@hawaii.edu

>

Asian Studies/SEA/
Cambodia/Education
ASK Program Coordinator
Royal University of Phnom Penh

3
Kep Sokunthearath


<Sokunthearath@ yahoo.com>

Education & Foreign Language
Teaching
ASK Professor
Prof. of Khmer Language,
Institute of Foreign Languages

4
Oeur Sisotha


<

oeursisotha@rocketmail.com

>

Education & Foreign Language
Teaching
ASK Professor
Prof. of Khmer Literature & Culture, Royal University of Phnom Penh

5

Dr. S. Soeung Phos

Education & Foreign Language
Teaching

Liaison for RUPP & ASK
Director of Khmer Language Program, Royal University of Phnom Penh

No

Name

Category/Area of Study

School/Employer

1
Aing, Rany
Teaching
Lasalle University
2
Burkhart, Heidi
Asian Studies
University of Hawaii
3
Chhoeun, Monique
Social Sciences / Teaching
California State University, Long Beach
4
Farrer, Bridgette
Asian Studies
California State University,

Berkeley

5
Grant, Jenna
Anthropology
University of Iowa
6
Hatch, Bill
Social Sciences / Teaching
University of Hawaii
7
Mam, Laura
Anthropology
California State University,

Berkeley

8
Pan, Phatry
Asian Studies
University of Washington,
East West Center / Leadership Fellow
9
Stanfill, Matt
Education Leadership Policy Study
Florida State University
No

Name

Project Title

1
Aing, Rany

Understanding Post-Pol Pot Regime

2
Burkhart, Heidi

Status of Orphanages in Cambodia

3
Chhoeun, Monique

Tailoring and Textile

4
Farrer, Bridgette
The preservation of Khmer Performing Arts in Phnom Penh:
Efforts to Revive Cambodian Classical Court Dance
5
Grant, Jenna

Medical Imaging Services in PHnom Penh and Siem Reap, Cambodia

6
Hatch, Bill

Cham Culture

7
Mam, Laura
The Effects of Globalization on Cambodian Women in Modernity:
A Study of the Tourism Sector
8
Pan, Phatry

An Introduction to the Cambodian National Election: The Main Political Parties and Their Ideologies

9
Stanfill, Matt

Examining the Education for All (EFA) Program in Cambodia