UH Mourns the Loss of Dr. Paul Farmer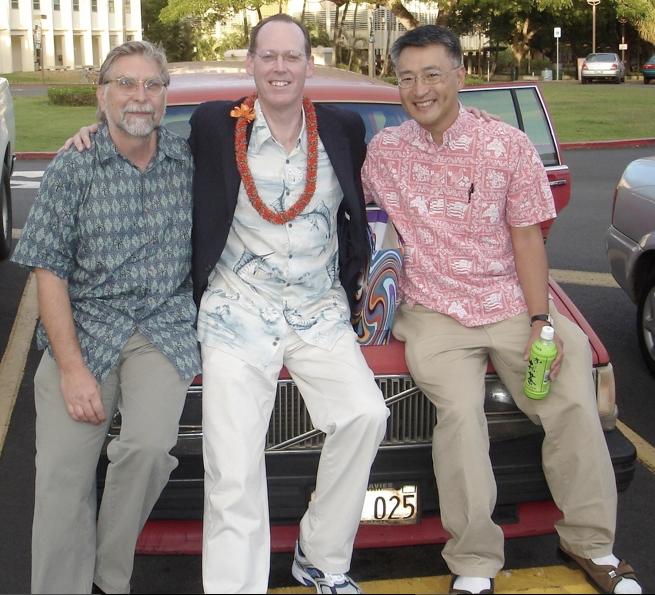 Gregory G. Maskarinec (left), Paul Farmer, and Seiji Yamada on UH Mānoa campus in 2007.
The University community is grieving the loss of the internationally acclaimed medical anthropologist Paul Farmer, co-Founder of Partners in Health, who passed away on February 21, 2022. The UH Better Tomorrow Speaker Series tragically hosted Farmer's last public address on February 17: "Who Lives, Who Dies: Reimagining Global Health and Social Justice." The live recording is available on YouTube: https://www.youtube.com/watch?v=fn7Vhol38kM. An edited version will be up soon.
"Among the 8 billion of us on this planet, only a handful have had an impact like Paul Farmer," observes Robert Perkinson, associate professor of American Studies and coordinator of the Better Tomorrow series. "We grieve this loss for Dr. Farmer's family, friends, colleagues, patients, and for all of us. The world is poorer without him."
Dr. Farmer visited Hawai'i previously in 2007 and spoke virtually from Rwanda on this occasion. In his virtual remarks, he urged us to redouble efforts for health justice in the post-covid era, to build systems of care to ensure that every patient, in every corner of the world, receives quality medical care. Dr. Farmer also met privately with Hawai'i health officials last week, in addition to giving a talk to JABSOM faculty and medical students.
Professor Gregory G. Maskarinec, director of the Office of Global Health and International Medicine at JABSOM, and Dr. Seiji Yamada from the Department of Family Medicine and Community Health, who led the planning for Dr. Farmer's virtual visit to Hawai'i, are deeply saddened by the unexpected death of their friend. Professor Maskarinec says, "We hope that Partners in Health can continue its remarkable work throughout the world. In solidarity with Paul, we insist that health is a human right, and that gross inequities of health care delivery must be ended here in Hawaiʻi and throughout the world."
Dr. Yamada adds, "Paul Farmer told us that the destitute poor of this world receive little or no medical care at all. The struggles of such people might be geographically remote from the settings in which most of us practice medicine. However, in an increasingly interconnected world, we are all threatened by war, climate change, infectious disease, and grotesque economic inequalities. It is less and less tenable to say, 'That's not my problem.' Paul Farmer always reminded us that bringing health and justice to the world is the responsibility of all of us."
Chair of the Department of Global Health and Social Medicine at Harvard Medical School, Paul Farmer was the chief strategist and co-founder of Partners In Health. He was a member of the National Academy of Medicine and of the American Academy of Arts and Sciences. His most recent book is Fevers, Feuds, and Diamonds: Ebola and the Ravages of History. Farmer was also the subject of Tracy Kidder's bestselling biography, Mountains Beyond Mountains.
Dr. Farmer's public talk at UH Mānoa also featured remarks by Dr. Kalamaoka'aina Niheu, co-founder of the Mauna Medic Healers Hui and doctor for Onipa'a Na Hui Kalo.
The talk at Mānoa was sponsored by the John A. Burns School of Medicine's Office of Global Health and International Medicine with support from Dr. Yoshihisa Asano, founder of the Noguchi Medical Research Institute (NMRI).
Co-Sponsored by the Thompson School of Social Work, Office of Public Health Studies and by the Queen's Health Systems, BTSS's new health events sponsor.
The Better Tomorrow Speaker Series is a joint venture of Hawai'i Community Foundation, Kamehameha Schools, and the University of Hawai'i at Mānoa.