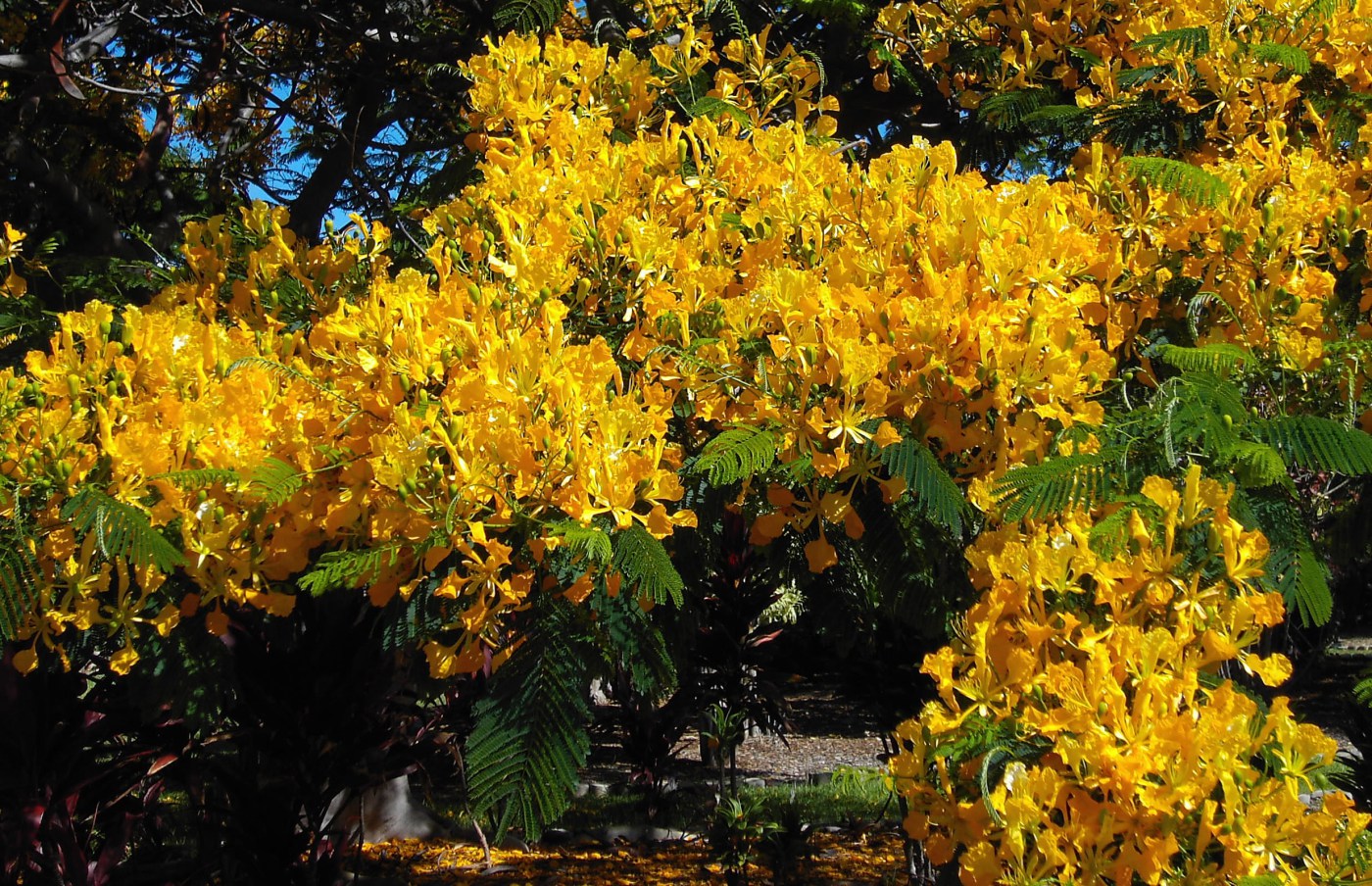 University of Hawaiʻi at Mānoa Landscape Services
Our campus at the University of Hawaiʻi at Mānoa is so beautiful that it often just feels natural — but it takes a lot of work to create that feeling! That's our job at Landscape Services, a part of the Buildings and Grounds Management division of the Office of Planning and Facilities. Our motto is "People Serving With Pride, Joy, and Aloha!" and we work to live up to that every day we are on the job.
We are responsible for maintaining the grounds of the main campus, as well as a few of the University's outlying areas. We are the ones who mow the lawns, trim the hedges, pull the weeds, and landscape the green spaces. Our equipment operators also dispose of campus waste, collect recycling, move earth, and fill pot holes, among many other things. We also have a full-service nursery on campus which maintains our stock plants and provides plants for various activities and gatherings around the University.
With our amazing collection of campus plants, UH Mānoa has been designated an official Tree Campus USA by the Arbor Day Foundation. Every year we celebrate Arbor Day by planting special trees and giving away seedlings to the campus community (i.e. anyone who visits us!) to encourage more plantings everywhere. We use the iTree survey tools developed by the US Forest Service to assess the ecological services campus trees provide, and we are in the midst of our own inventory to identify the campus plants and provide information about them through an interactive online map.
The purpose of this site is to improve our relationship with the people we serve. We would like to encourage our faculty and staff to get to know your groundskeeper, converse with them on a daily basis, and feel comfortable addressing them with concerns as well as praise. We are fortunate to have the finest crew of groundskeepers in Hawai'i working for you, and their knowledge and skills are at your service. So if you would like a cutting of that shrub with beautiful flowers blooming outside your office window, you're concerned about a tree that isn't looking so healthy, or you just want to have a nice friendly chat, our grounds staff is here for you. Serving the University is extremely rewarding, and serving with pride, joy, and aloha becomes easy when we know our hard work provides a world-class learning environment for the future of our not only our state, but the world at large.
Our Goals
Maintaining a beautiful and sustainable park-like setting for the enjoyment of students, faculty, staff and visitors.
Developing the campus grounds as a botanical garden that faculty and students can use as a resource for teaching and learning.
Identifying plants with horticultural and botanical significance and making that information accessible.
Creating gathering spaces to promote interaction and collegiality.
Supporting the University's goal of being a Hawaiian place of learning.
Having a staff that takes pride in their work and the campus grounds, and is trained and respected in the landscape industry.
Building a program based on a more efficient process in order to open communication and understanding between workers, management, administration, the public and the community.
Developing a comprehensive refuse and recycling program.
Using our resources wisely and create sustainable landscapes.