Above: Over 50 undergraduate students present their posters at the 2019 SURE Symposium.
Welcome to the SURE Symposium
All students, faculty, staff and community members are welcome to attend the virtual SURE Symposium on July 30, 2021! This end-of-summer event invites undergraduate students conducting faculty-mentored research and creative work in all disciplines to showcase their projects. It provides students an excellent opportunity to solicit feedback from their peers, experts, and community members without formal presentation judging. The event is free to attend and provides a professional, yet relaxed atmosphere.   
All eligible undergraduate students in all disciplines conducting faculty-mentored research or creative work are invited to present at the Symposium. Eligible students include:
All UHM undergraduate students 
Non-UHM undergraduate students mentored by a UHM faculty member*
Students can be:
Funded or not funded by UROP 
Presenting in-progress or completed projects
Participating or not participating in the all-summer SURE program (though it is encouraged)
*There are no eligibility requirements to be a UHM faculty mentor for SURE. Mentor eligibility is required only when students apply for UROP Project Funding or faculty apply for a Faculty Mentoring Grant.
The call for abstracts is open now – July 4. Click the "Register to present" button below to register and submit an abstract. Before submitting, make sure:
Your mentor has agreed to be listed as your project mentor and co-author
Your mentor has reviewed and approved your project title and abstract
Your abstract is no more than 1500 characters (~250 words) 
Volunteer at the Symposium
Volunteer sign-up will open June 1. 
The SURE Symposium is free to attend. Guests must register to access the oral and poster sessions. Guests will be emailed the full event program containing session links, meeting IDS, and passwords on July 29. Guest registration will open June 1.
Students signed up for oral presentations must adhere to the following format:
15 minute presentation (12 minute presentation, 3 minute Q&A)
Powerpoint (.ppt), or similar file type
Tips:
Familiarize yourself with the screen share function on Zoom
Ensure that your presentation transitions smoothly from one slide to the next using your chosen application (e.g. Microsoft Powerpoint)
Understand the difference between screen sharing from your desktop vs. screen sharing directly from an application like Microsoft Powerpoint
Make sure you have a reliable internet connection
Event day instructions will be provided approximately 2 weeks prior to the event date. 
The poster presentation format will be announced June 1.
The 2020 SURE Symposium was the first SURE Symposium to be held completely online. It was our largest and most diverse event to date. Combining 90 student presenters and 186 registered guests, we estimate that ~275 people attended the event! Students represented 37 different majors, and delivered 37 oral and 29 poster presentations. We thank volunteers for their time and enthusiasm, staff for their tireless efforts, and motivated students and faculty mentors for sharing their knowledge and passion with the UHM community! The SURE program and SURE Symposium would not be possible without you! Read the
2020 Fall Volume 3 Issue 1 Newsletter
or view the
2020 SURE Symposium Event Program
to learn more.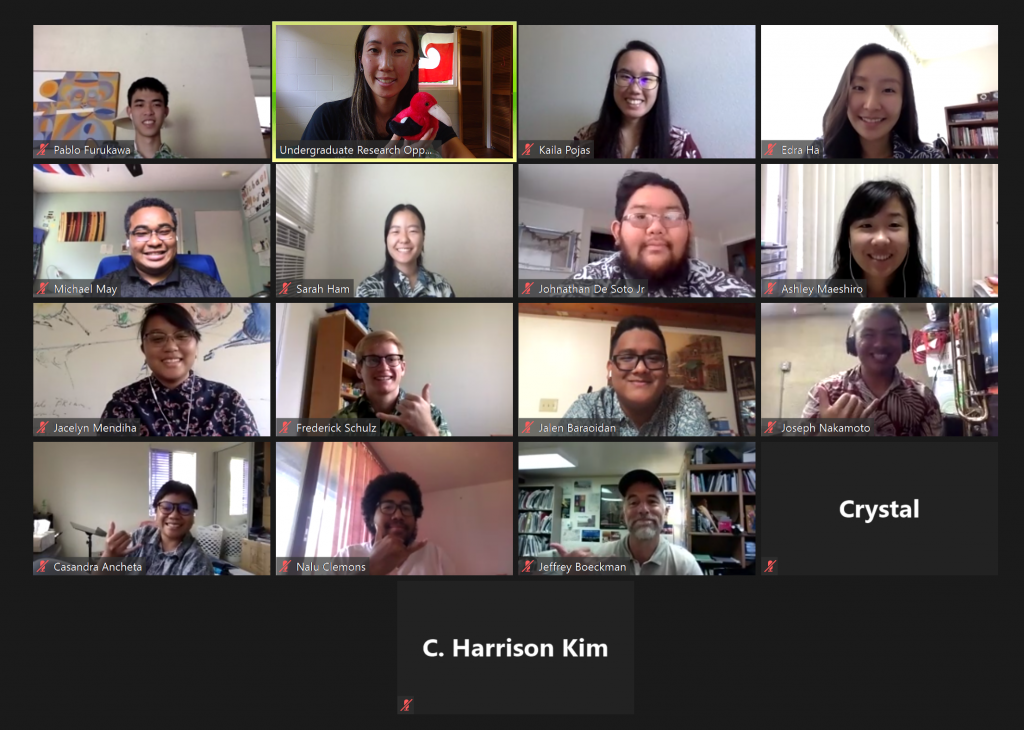 Above: Presenters and attendees throw a shaka at the 2020 SURE Symposium. 
The 2019 SURE Symposium was a success! Thank you to everyone who made the event possible, including presenters, partner programs, guests, and our hard-working volunteers and staff. You can view more event photos on 
2019 SURE Symposium photo album on our Facebook
 page. 
Including presenters and event staff and volunteers, over 200 individuals attended the 2-day event. Sixty-six students representing 37 different majors showcased their summer research and creative work.
The 2-day event occurred on the following days:
Thursday, August 1; 9:00 am – 12:00 pm: Oral presentations* by Institute for Astronomy (IfA) REU students @ IfA Auditorium
Friday, August 2; 9:00 am – 2:00 pm: Oral and poster presentations by students from all disciplines @ East-West Center, Hawaii Imin International Conference Center, Jefferson Hall.
*Presenters from IfA REU only
Above: Students present their work on Day 2 of the 2019 SURE Symposium at the East-West Center. 
The 2018 SURE Symposium was a great success and showcased 13 oral presentations and 46 poster presentations from both UHM and non-UHM students. Nearly 200 people were in attendance over the course of the 2-day event. The Symposium was a collaboration between UROP, the Institute for Astronomy REU, Earth Science on Volcanic Islands REU, and the Biodiversity REU. We thank the faculty and students of these programs for their time and efforts in organizing, and their participation and enthusiasm in working collaboratively to launch the inaugural symposium.
View the 2018 SURE Symposium programs below:
2018 SURE Symposium Oral Presentation Program at Institute for Astronomy
Above: Undergraduate students present their posters at the 2018 SURE Symposium at the East-West Center.