The Summer Undergraduate Research Experience (SURE) is a free 9-week program that provides supplementary infrastructure to undergraduate students conducting research and creative work at the University of Hawai'i at Mānoa (UHM) during the summer. SURE provides the following: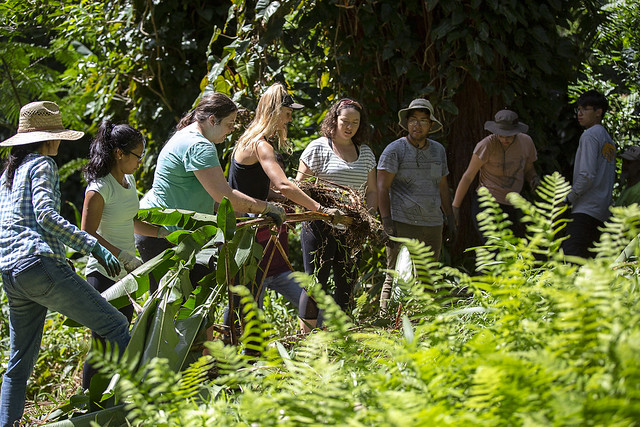 Above: 2019 SURE participants remove invasive plants in the native Hawaiian plant section at Lyon Arboretum.
Cohort of undergraduate peers
Professional development modules once every two weeks 
Note that SURE does not provide undergraduate students with research/creative work projects or positions, or faculty mentors.
SURE offers professional development modules for students to build additional professional and academic skills outside of their research and creative work projects. Past topics include, but are not limited to how to identify and apply to graduate school, and how to prepare for oral and poster presentations. UHM faculty and administrative staff organize and facilitate these events, eliminating the need for mentors to run their own modules. This provides faculty more time to focus on mentoring student projects.
The program also provides students with a supportive cohort of peers. Most students conducting research and creative work at UHM in the summer may be working independently or in small groups, and therefore may feel isolated in their respective work spaces. Students in this situation are not benefiting from the cohort structure that other organized summer research programs offer (e.g.
NSF-REU
site programs). The SURE program serves as a central gathering place where students can meet each other and confer on the challenges, solutions, and rewards they experience when working on their project.
The SURE Symposium provides an end-of-summer venue for undergraduate students to present their research and creative work. It is free and open to students in all disciplines. Learn more on the
SURE Symposium
page.
To increase undergraduate student participation in research and creative work in the summer,
UROP is awarding up to $75,000 for the
Faculty Mentoring Grant
.
*Note that the Faculty Mentoring Grant has specific eligibility requirements independent of SURE eligibility requirements. Learn more on the Faculty Mentoring Grant page. 
Eligibility
Student Eligibility
Students eligible to participate in the SURE program include:
All UHM undergraduate students doing faculty-mentored research or creative work with a UHM faculty mentor°
or non-UHM mentor
Any non-UHM undergraduate student doing research or creative work with a UHM faculty mentor°
Students do not need to be funded by UROP Project funding or a Faculty Mentoring Grant to participate.
Mentor Eligibility
°Any UHM faculty member who is mentoring a UHM or non-UHM undergraduate student is encouraged to have the student join the SURE program
Any non-UHM professionals (e.g. postdoctoral researcher at National Oceanic and Atmospheric Administration [NOAA]) mentoring a UHM undergraduate student is also encouraged to have the student join the SURE program.
Additional eligibility requirements apply to UHM faculty members mentoring UHM undergraduate students applying for Project or Presentation funding, as well as to UHM faculty members applying for a Faculty Mentoring Grant.
Participation Requirements
Program Schedule