Student Opportunity Center
UROP invites all University of Hawai'i at Mānoa undergraduate students, faculty and staff to utilize the Student Opportunity Center (SOC)!
The SOC curates a comprehensive national database of thousands of student research and creative work positions, journals, conferences, funding sources, and more. It also houses a UHM-specific database where faculty and staff can post research and creative work opportunities just for UHM students.
Success Story: Project KUALIMA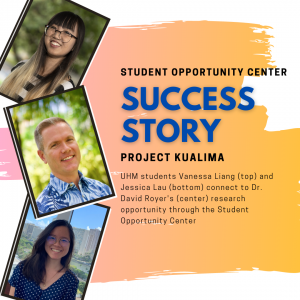 Undergraduate students Vanessa Liang (Psychology and Sociology) and Jessica Lau (Psychology) used the Student Opportunity Center to connect to Dr. David Royer's (College of Education) Project KUALIMA opportunity. Read more about their story in the Spring 2021 Newsletter on page 5.
Disclaimer: The Student Opportunity Center (SOC) is a third party service provider. Please read SOC's privacy policy to understand what you are agreeing to by participating in this service. You may choose to provide personal information on their public user profiles or elsewhere on the website at your own discretion and risk. By using the SOC, you agree to be solely responsible for any potential damages.
National Database vs. UHM Database
UROP's subscription to the SOC grants access to staff, undergraduate students, and faculty on the Mānoa campus only. Users can search the national database for opportunities, save favorites, and even keep track of which opportunities they have applied to.
UROP's subscription to the SOC also allows us to manage an internal UHM database. This database will house faculty- and staff-generated listings available only to UHM undergraduate students. 
Faculty can create and manage their own research and creative work opportunities at any time. See the instructions below.
Instructions for Activating your Account
Visit the SOC website and click "Log In," and then "Sign Up" if you have not already activated your account.
Enter your @hawaii.edu email address and a name and password. You may choose to use the alias "UHM User."
You will receive several prompt options. Select "Resend activation email" or visit the activation email link here.
Open the Account Activation email sent to your @hawaii.edu address. Check your spam folder if you do not see it in your inbox. Click the activation link.
Create a unique password. We recommend using one that is DIFFERENT than your email account password.