The OVPRS Faculty Award for Excellence in Mentoring Undergraduate Research and Creative Work was created in 2020 by the Undergraduate Research Opportunities Program in the Office of the Vice Provost for Research and Scholarship (OVPRS) at UHM. The award recognizes up to two tenured/tenure-track faculty mentors each academic year (one from a STEM discipline, and one from a non-STEM discipline) who have shown dedicated and sustained excellence in faculty mentoring of undergraduate students in their research and creative work endeavors
Call for Nominations and Nominations Guidelines
The Faculty Award for Excellence in Mentoring Undergraduate Research and Creative Work recognizes up to two outstanding UHM faculty mentors committed to mentoring undergraduate students in research and creative work (one from a STEM discipline, and one from a non-STEM discipline; See general guideline on discipline categories here). The application process consists of two steps:
nominations of faculty by current and/or former (mentored within last 5 years) undergraduate student mentees; and
for a selected subset of nominees a faculty application consisting of their undergraduate research/creative work mentoring record and philosophy, and letters of support.
UROP encourages UHM undergraduate students to nominate UHM faculty who exemplify dedicated and sustained excellence in mentorship of undergraduate research and creative work across all disciplines on campus. See below for a summary of the award process, and here for more detailed information.
Deadlines
Student Nomination Deadline: 5:00 p.m. on February 1 of each academic year
Faculty Application Deadline (by invitation): 5:00 p.m. on March 15 of each academic year
Award
$500/award. Up to two awards each academic year
Award Eligibility
Any tenured or tenure-track UHM faculty involved in mentoring undergraduate students conducting research or creative work projects who is not a previous recipient of this award.
Nomination and Application Procedure
Any current or former (mentored within last 5 years) UHM undergraduate student is eligible to nominate a faculty mentor by submitting the Student Nomination Form by the February 1 deadline. The award review committee will select a subset of the top student-nominated faculty by March 1 to request a complete Faculty Application Form by the March 15 deadline.
Evaluation Criteria
The review committee will consider the following evaluation factors when reviewing both the student nominations and the faculty applications (see the evaluation rubric here):
Evidence of dedicated and sustained excellence in faculty mentoring of undergraduate students in research and creative work endeavors
Impact of research or creative work mentorship on the mentee's academic and/or professional achievements
Content and strength of support letters  
Award Procedure
Awards will be conferred at the Mānoa Awards Ceremony, typically held at the end of April each academic year.
Tyler Ray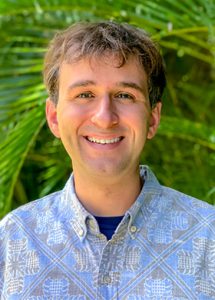 Tyler Ray is an assistant professor in the Department of Mechanical Engineering in the College of Engineering. He seeks to inspire, teach and mentor the incredible undergraduate students at UH Mānoa through independent research. Based upon a core foundation of mutual trust, he strives to empower students by fostering a mindset of scientific discovery. Ray launched a unique, highly interdisciplinary research program that incorporates mechanical / biomedical engineering, materials science and analytical chemistry to develop soft, flexible electronic and microfluidic devices that form intimate interfaces with the epidermis for monitoring the physiological health status of an individual. He uses his research as a powerful means to train students to become thoughtful, creative engineers poised to be thought leaders in their respective fields. In his short time at UH, he has trained (or is training) 12 undergraduates in addition to starting a highly successful Vertically Integrated Projects (VIP) bioprinting team, which placed first in the VIP poster competition within its first year of existence..
Stephanie "Lani" Teves
Stephanie Nohelani Teves is an associate professor and chair of the department of Women, Gender, and Sexuality Studies (WGSS). She teaches courses in LGBTQ histories, queer theory and Indigenous feminisms. As advisor and now chair of WGSS, Teves led the effort to create an undergraduate certificate in Queer Studies which launched in fall 2022. Her mentoring philosophy is to model for students what accountable research looks like. Teves believes transparency and consistency are key components of responsible knowledge production. She works to dispel many of the myths of research and academia that focuses on results rather than the process of research or creativity. She believes it's imperative to demystify the processes of research to make academia more accessible, accountable, and possible for multiple communities. Teves is author of Defiant Indigeneity: The Politics of Hawaiian Performance and co-editor of Native Studies Keywords. Her current research focuses on the transformation of "sexuality" in Hawaiʻi from the mid-nineteenth century to the present. She is also the principal investigator of the LGBT+ Kupuna Oral History Project.
Lisette Marie Flanary
Lisette Marie Flanary is an associate professor of digital cinema at the Academy for Creative Media who teaches courses in screenwriting, producing, critical studies and indigenous filmmaking. As the director and producer of Lehua Films, Lisette creates documentaries that celebrate a modern renaissance of the hula dance and Hawaiian culture. Her award-winning films, AMERICAN ALOHA: Hula Beyond Hawaiʻi, Nā Kamalei: The Men of Hula, and ONE VOICE have broadcast nationally on public television and shown in film festivals around the world. Her latest film, TOKYO HULA, the final film in a trilogy of hula documentaries exploring the explosive popularity of hula in Japan, premiered at the Hawaiʻi International Film Festival in November 2019. TOKYO HULA was recently awarded the Best Moana Whārahi Films From the Pacific Award at the Doc Edge Film Festival in New Zealand and was also the winner of Best Feature Film at the Made in Hawaiʻi Film Festival in 2021. The Hula Trilogy was broadcasted on the Pacific Heartbeat Season 10 series on PBS Hawaiʻi in May-June 2021.
Megan Porter
Megan Porter is an associate professor in the School of Life Sciences in the College of Natural Sciences. Stemming from the quote "Every person takes the limits of their own field of vision for the limits of the world" (adapted from Arthur Schopenhauer), her mentoring philosophy is to challenge students to view the world from different perspectives by studying how different animals see their environment.  She regards independent research as a critical component of undergraduate education, and often a transformative experience for students.  At the University of Hawai'i she has fostered research opportunities for undergraduate students in multiple contexts, including individual projects in both the field and the lab and course-based research experiences. She works closely with students at each step of their project to help them develop their individual interests and explore opportunities for the next steps of their career paths.
Brittany Biggs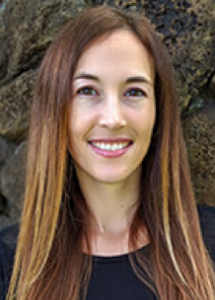 Brittany Biggs is an assistant professor of animation with the Academy for Creative Media. Her feature film credits include Trolls, Kung Fu Panda 2, Kung Fu Panda 3 and Turbo. Biggs creates hands-on, practical mentorship projects that help students excel in their academic studies and prepare them for future careers. Her students apply and hone their animation, filmmaking and storytelling skills by creating films and/or researching new applications for animation that are beyond the scope of the curriculum. Their resulting work is critical material for demo reels, portfolios and resumes for graduate school admission and/or professional work. Student works have been recognized in local media, film festivals, the prestigious SIGGRAPH conference and have been used to support research within the UH community. Biggs served as an advisor to nearly 90 students in the animation track. A student shared, "The structure and quality of my work has greatly improved since she began teaching me, and I feel like I am better prepared to join the animation workforce after graduation."
Pratibha Nerurkar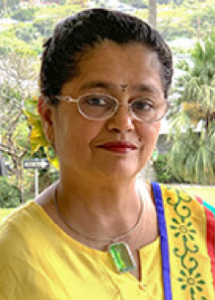 Pratibha Nerurkar is an associate professor in the Department of Molecular Biosciences and Bioengineering in the College of Tropical Agriculture and Human Resources. She regards undergraduate research and mentoring as a "high impact practice in higher education" and considers it as one of the most rewarding activities of her teaching career. Her teaching philosophy is inspired by Dr. Martin Luther King, Jr. "Intelligence plus character, that is the goal of true education." She recognizes that her role as a mentor is not only to transfer knowledge, but to empower students to think logically, scientifically and critically. The foundation of her mentoring principles are built upon trust, mutual respect, compassion and above all her love for teaching. Nerurkar believes that being a perpetual student of life, enables her to become a better teacher. A student wrote, "I desire to be a physician who is able to balance scientific knowledge and emotionality in a way where patients feel heard, just as Dr. Nerurkar is able to do with her students."