Choosing a law school is a difficult decision and there are many factors to consider, but most importantly, make sure that you choose your best fit! Each year, the American Bar Association (ABA) publishes data on all ABA-approved law schools. 
Still in the process of deciding where to send your applications? Check out our Researching Schools webpage and AccessLex!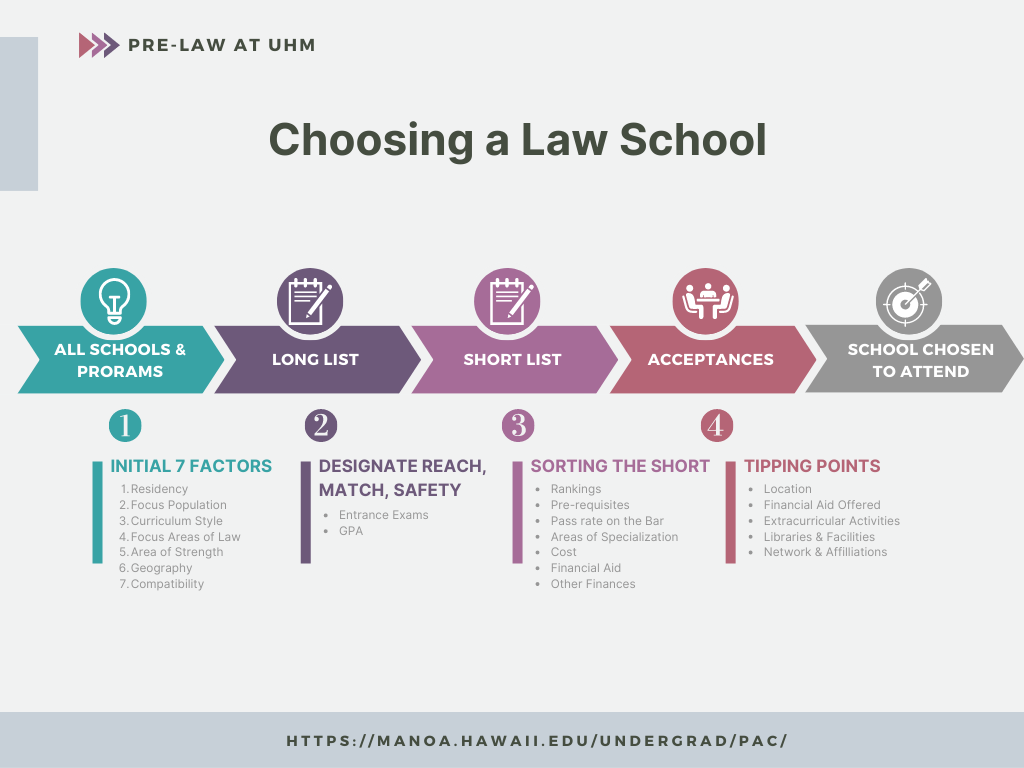 Guidelines for Choosing a Law School:
(1) "Big Picture" Questions:
Where do I want to practice law?

Many students attend law school in the area or state where they intend to practice law. This plan allows students to build connections and participate in internships where they wish to work after law school.

In order to practice law, it is necessary to pass the bar exam for the specific state in which you wish to work. This exam requires much time and preparation, so it is important to consider which bar exam you plan to take.

What type of law do I want to practice?

Are you interested in working for a big law firm or in a major city? Many firms prefer law students from the top law schools in the country. Consider how your career goals align with your future law school.
(2) School-specific Questions:
Financial Aid Package: Many students end up taking out student loans to go to law school. It is important to consider the total loan amounts you may have after law school. Check out our Financing Law School page for more information.
Specializations/Certificate/Joint Degree Programs: Many law schools offer certificates or joint degrees for students interested in a specific type of law or educational experience.
Bar Passage Rates: In order to practice law, you will need to pass the bar exam. Bar passage rates are generally a good indicator of how well a law school prepares its students for this important test.
Geographic Location: Consider how the location will fit with your needs during law school. It is important to think of the distance that you will be from friends and family and other factors due to location.
(3) Additional Helpful Tips:
Visit your law schools. If you can visit law schools before deciding, this opportunity is a great way to get a sense of your future classmates and campus.
Speak to alumni from the law schools. Law schools' admissions offices may have connections near where you live. Speaking with an alumnae/alumna is an excellent way to get the insider's scoop on the school.
More resources with GPA and LSAT information about students who are admitted (Disclaimer: This website does not necessarily explain the quality of the school):