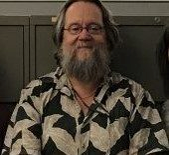 Assistant Professor
Department of Tropical Medicine, Medical Microbiology and Pharmacology
John A. Burns School of Medicine
651 Ilalo St BSB 320
Honolulu Hawaii 96813
Telephone: (808) 692-1623
E-mail: gosnell@hawaii.edu
Education
University of Washington, BS, 1990-Cell Molecular Biology
University of Hawaii at Manoa, Ph.D., 1998-Tropical Medicine
Research focus:
Study human infection with Angiostrongylus cantonensis with the aim to better understand transmission dynamics and clinical disease spectrum, as well as to improve diagnostic and treatment options.
Personal Statement
My academic interests have ranged across the field of medical microbiology but always focusing primarily upon the immunologic response in human infectious diseases. I am particularly interested in the area of host-parasite interactions relating to immunity to disease and it's implications for diagnostic and treatment modalities. To date I am actively working in three different, but related areas with some of the most widespread infectious diseases in the world, malaria and human helminthiases.
Ongoing Projects and Opportunities for Potential Students
Understanding the transmission dynamics of human infection.
Evaluate current and potential molecular diagnosis methods in early infection.
Evaluate timing of therapeutic invention on disease progression.