Each year, the Chancellor recognizes the leadership and service of UH Mānoa faculty, staff, and students committed to enhancing the University's mission of excellence.
The 2016 Awards ceremony was held on Monday, May 2 at 4:00 p.m. in the Kennedy Theatre auditorium.
You can also see photos of the ceremony on UH Mānoa's Flickr page.
UH Mānoa faculty and staff have also received other awards for their achievements. See the Helpful Links (top right of this page) for previous recipients.
Regents' Medal for Excellence in Teaching
The Regents' Medal for Excellence in Teaching is awarded by the Board of Regents as a tribute to faculty members who exhibit an extraordinary level of subject level mastery and scholarship, teaching effectiveness, and creativity and personal values that benefit students.
Lisette Marie Flanary

Assistant Professor Lisette Flanary brings 20 years of experience to the Academy for Creative Media in the fields of producing, directing and writing for film and television. At the core of her teaching practices is a dedication to the University's commitment to creating a Hawaiian Place of Learning that highlights indigenous scholarship concurrent with valuing local identity, community and diversity. She has developed courses that ensure student filmmakers will receive rigorous educational experiences to well equip them professionally upon graduation. One student writes of a pivotal moment in her education when she realized that Professor Flanary believed more in her project than the student did herself. A colleague explains her teaching success as a combination of exuding tremendous respect for students with maintaining high academic standards.
David Gordon Garmire

Associate Professor David Garmire of the Department of Electrical Engineering is considered by colleagues to be one of the most accomplished faculty in his college. He has pursued excellence in teaching to simultaneously accelerate his own innovation and inspire students to achieve their life goals. He merges engaged face-to-face pedagogy with unique uses of technology to create high levels of performance by students working with advanced material. He was involved in the development of the new UH iLab in Building 37, a space considered to be an "innovation incubator" because it allows students to collaborate and create inventive solutions to challenging problems. Rather than retreating to his office, he can often be found at a desk in the lab, and is fully present while students work.
Robert D. Joseph
Robert Joseph has the exceptional ability to teach a range of Astronomy courses in a way that facilitates students to learn to think like researchers and to feel comfortable to ask questions in their own fields of interest. A unique course of his own design is Astronomy 140, the historical and conceptual development within astronomy and its influence on intellectual history and other disciplines. His service to UH Mānoa students is exemplar through the Institute for Astronomy and the Honors Program, yet he manages to make time to teach the subject to inmates at the Women's Correctional Center in Olomana and to elder students attending the Osher Lifelong Learning Institute. At the heart of his teaching philosophy is that astronomy is a human enterprise.
Mari Matsuda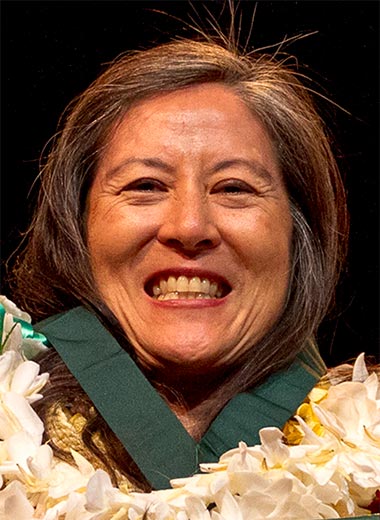 Law Professor Mari Matsuda had two great influences on her teaching life: her mother, a teacher of teachers in the community college system, and former Chief Justice William S. Richardson, namesake of the law school. Both taught her to value what each student brings to the table – an ability to learn and an instinct for justice. Her seminar, Organizing for Social Change, is taught in a workshop format so students can become resources for one another in problem-solving while completing projects. Many of her students have gone on to become full-time change agents in Hawaiʻi and beyond. This gifted professor has written extensively on legal education and intersections with other fields, and her inspiring work is widely read due to her ardor for the subject matter.
Jessica Nishikawa
Jessica Nishikawa of the School of Nursing and Dental Hygiene is an engaging teacher and expert clinician with a focus on geriatrics. She instructs many of the School's foundational graduate courses, and is described by students as the best professor they've ever had. Because she believes that effective teaching involves adaptation based on reflection and student feedback, her courses continually evolve. A colleague says she sets up students for success by being organized, approachable, having a great sense of humor, providing clear instructions, setting high expectations, and giving thorough and timely feedback. She has extended her teaching into the community through the Career and Technical Education program for public high schools and, in doing so, helped raise the quality of education in the Health Services Pathway.
Maile M. Taualii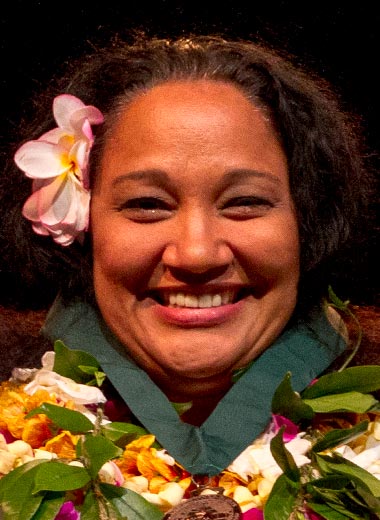 When Maile Taualii arrived in the Department of Public Health Sciences, she was tasked with establishing the world's first and only accredited Indigenous MPH specialization with no textbooks, models, competencies or guides. By working with people to define what would be of greatest use to their communities, she developed and grew the Native Hawaiian and Indigenous Health Specialization. This pathway celebrates the strengths of Native peoples and educates decision-makers. Said one of her students, "Sometimes I feel I do not have the support of everyone in my family, but Dr. Taualii has been there to make sure I succeed. She has pushed me to become stronger and taught me to believe in myself, something I could not have achieved on my own."
Regents' Medal for Excellence in Research
The Regents' Medal for Excellence in Research is awarded by the Board of Regents in recognition of scholarly contributions that expand the boundaries of knowledge and enrich the lives of students and the community.
Brian W. Bowen
Brian Bowen is a Research Professor at the Hawaiʻi Institute of Marine Biology (HIMB) in the School of Ocean and Earth Science and Technology. He has made outstanding contributions to the conservation of marine species such as sea turtles, shrimp, sturgeon and white sharks. Since joining HIMB in 2003, he has trained 23 graduate students, and sits on the committees of another 14 graduate students. He has published approximately 200 peer-reviewed publications, garnering over 13,000 citations. This sought-after speaker has given 16 guest lectures in the past three years and, over his career, has presented 90-plus times. His competitive grants represent more than $6 million of extramural funding. This American Association for the Advancement of Science Fellow earned the Kobe Award for lifetime achievement in aquatic biology.
Loïc Le Marchand
Loïc Le Marchand is a Professor of Epidemiology at the University of Hawaiʻi Cancer Center. He has contributed significantly to the field of cancer epidemiology, and was one of the first epidemiologists to study the role of genes and the environment on cancer incidence. His work has been nationally and internationally recognized. He was a member of the 2015 IARC (International Agency for Research in Cancer) committee that reviewed evidence for processed meat as a carcinogen, and was recognized on the 2015 Thomson Reuters' "World's Most Influential Scientific Minds and Highly Cited Researchers" list. Extremely successful at obtaining grant support, he brings in several millions of dollars to the University annually. He always strives to build a research environment that fosters the training of new scientists.
Kristin Pauker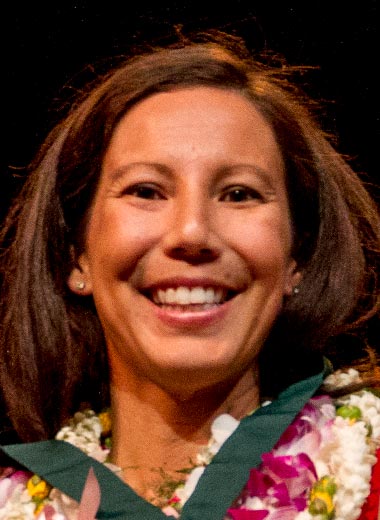 Kristin Pauker is an Assistant Professor in the College of Social Sciences' Department of Psychology. She is described by a nominator as a young scholar whose thoughtful and careful research has contributed to developmental science with an impressive scope and breadth. She is making significant contributions to developmental and social psychology in the areas of intergroup attitudes, racial bias, interracial anxiety and essentialist beliefs. Using cutting-edge methodology, her research particularly focuses on the timely and important topic of racial prejudice. Since joining UH Mānoa in Fall 2011, she has published 12 peer-reviewed journal articles and a book chapter, with four manuscripts currently under review and a number under preparation. She has also been successful in obtaining federal funding to support her scholarly works.
Frances Davis Award for Excellence in Undergraduate Teaching
The Frances Davis Award for Excellence in Undergraduate Teaching recognizes dedication and demonstrated excellence of teachers of undergraduate students. It was established as a memorial to the late Frances Davis, who taught mathematics at Leeward Community College and UH Mānoa for 19 years.
Jamie Simpson Steele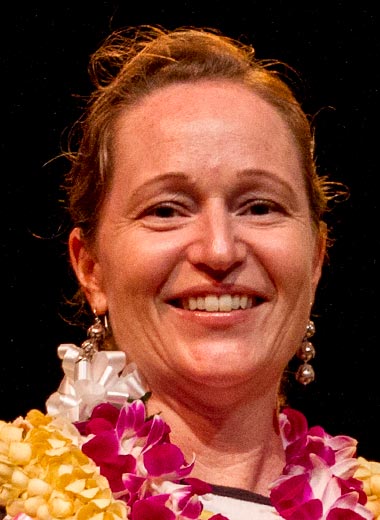 Assistant Professor Jamie Simpson Steele in the College of Education has a passion for teaching that is expressed through dynamic instruction, dedicated responsiveness to students, collaboration and co-teaching, and a commitment to universal design and culturally relevant pedagogy. A uniquely potent characteristic of her engaged and creative teaching derives from her background in the performing arts, which generates high-energy student learning through movement and action, thinking and talking. She sees the arts as a "rehearsal for life" and that "an engagement in aesthetic realms provides entries into how the world works in ways that traditional learning does not." She has assumed leadership in developing, implementing and assessing a co-teaching program to engage future teachers in blended content involving general elementary and special education through redesigning courses to better meet the needs of diverse learners.
Frances Davis Award for Excellence in Undergraduate Teaching for a Graduate Assistant
Joel A. LeBel
Joel LeBel is described as one of the strongest and scholastically knowledgeable PhD candidates in the Department of Philosophy. His mastery of the relevant subject matter is only matched by his creativity in clearly conveying some of the more esoteric concepts and traditions in the discipline. Wrote one nominator, "Anyone familiar with philosophy knows it is fundamentally driven by questions, and the novel, fun and relevant way LeBel was able to pose these millennia year-old questions was nothing short of imaginative and perceptive." He established a learning community, in which he seats his students in a circle, with him in the middle of it, because of his belief that "all are teachers, and all are students." He has cultivated an academically safe environment that unshackles students from intellectual restraints.
Robert W. Clopton Award for Distinguished Service to the Community
The Robert W. Clopton Award for Distinguished Service to the Community recognizes a UH Mānoa faculty member for playing a socially significant role by applying intellectual leadership and academic expertise to the improvement of the community. The award was established as a memorial to longtime College of Education Professor Robert Clopton and was first awarded in 1977.
Karen Nora Umemoto
Karen Umemoto, Professor and Chair of the Department of Urban and Regional Planning, is a committed and generous intellectual leader. She has demonstrated a significant and sustained devotion to higher education, as well as a unique and respectful regard for local island communities. Her legacy of service is deeply rooted in the Native Hawaiian and other Pacific Islander cultures, especially with respect to building capacity and partnerships. Through an exceptional intellectual activism embedded with an ethos of social justice, she creates opportunities for students to work alongside community practitioners and to employ research and planning skills in finding ways to serve local movements. In doing so, planning professionals graduate from the University prepared to continue her legacy of commendable work and empowerment.
Chancellor's Citation for Meritorious Teaching
The University of Hawaiʻi at Mānoa Chancellor's Citation for Meritorious Teaching recognizes Mānoa faculty members who have made significant contributions to teaching and student learning.
Ashok Das
A strong philosophical foundation saturates the teaching practices of Assistant Professor Ashok Das in the Department of Urban and Regional Planning. He promotes engaged learning, and stimulates multiple voices through a culture of dialogue and debate. Students know that, beyond academic accomplishment, he has leveraged an extensive network to connect them with researchers, professionals and academics on multiple continents to further their capstone. A colleague describes him as a gripping storyteller who is able to help students grasp the reaffirming relations between abstracted theory and the day-to-day problems of urban planning and policy, such as poverty, residential segregation, social conflict, municipal governance and environmental degradation. His careful use of constructive criticism is known to have led many students to transform their performances from passable to truly extraordinary.
Jeffrey C. Drazen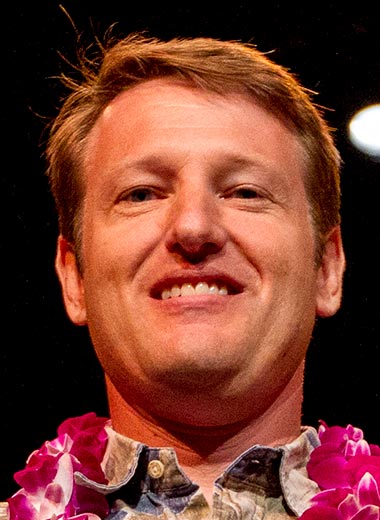 With a strong work ethic and unwavering dedication to his craft, Professor Jeffrey Drazen in the Department of Oceanography sets an effective example of motivation for his students as they strive to reach their professional and personal goals. Those taking his classes describe him as inspiring, provocative and engaging in his lectures and lab sessions, instilling in students an eagerness to find out more about the study of the ocean. He considers his greatest contribution to hands-on learning to be the development of a shipboard laboratory exercise aboard UH's premier research vessel, the Kilo Moana. Said one student, "I believe it is easy for a teacher to teach the contents of a subject, but it takes an excellent teacher to teach the love for the subject."
Robert Keawe Lopes Jr.
Assistant Professor and Kumu Robert Keawe Lopes of the Kawaihuelani Center for Hawaiian Language is described as a genuinely passionate and skillful educator. His work sets a new pathway for the disciplinary areas of cultural learning through creative expression, visual language presentation, and perpetuating an indigenous worldview through traditional and contemporary art forms. He bases his philosophy of teaching on fostering an educational setting where students actively invest in building a firm platform, upon which they can stand confidently both within and outside the classroom setting. He extends his creative, inspired influence to the wider student body in a number of efforts, including mentoring the Tuahine Troupe, whose members specialize in the perpetuation of mele and share their appreciation for it at campus and community events.
Georganne M. Nordstrom
The teaching philosophy of Assistant Professor Georganne Nordstrom of the Department of English is "rooted in ancient rhetorical theory that a primary function of an education is to produce responsible citizens able to participate in public discourse." In achieving this goal of empowering the active citizen-student, she has created an environment in which learning is multi-directional and multi-cultural. Her colleagues speak admiringly of her breathing new life into a class that the department had trouble staffing regularly, and how her course offerings have renovated the curriculum. Her role as teacher and mentor has extended well beyond the classroom into the Writing Center, one of the most significant sites for transforming learning that has also grown into an engaged site of research on writing center practices.
Craig Santos Perez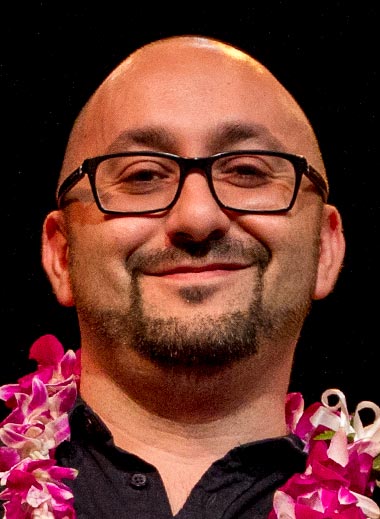 English Associate Professor Craig Perez visualizes the classroom to be a canoe, with his students as crew and himself as navigator responsible for mapping the journey, plotting the course, maintaining discipline and focus throughout the learning experience, and ultimately leading all toward the ultimate destination of optimum student learning outcomes. By drawing on this powerful symbol of his native Chamorro culture, he serves as a guide to teaching courses in creative writing, poetry and Pacific literature, while imparting an understanding of the centrality of creative writers culturally, socially and politically in communities from local to global. Colleagues describe his poetics and pedagogy as being informed by a deep commitment to reciprocity and mutual respect; his students call him inspiring, challenging, and a generous teacher and mentor.
Miriam T. Stark
Professor Miriam Stark of the Department of Anthropology teaches in varied settings that transcend the classroom into the laboratory and field, each requiring different approaches to teaching and learning. She seeks and experiments with innovative techniques such as flipped classrooms, flash cards as prompts, one-minute papers to assess student comprehension, worksheets for documentary segments, student role-playing panels to grasp theoretical frameworks, and station-based exercises to advance the understanding of archaeological concepts. As an anthropologist, she coordinates with staff at Bishop Museum on internships in Cambodia, where she conducts research projects and arranges for undergraduates to study for credits. A colleague shares that "no other faculty member is as invested in thinking about – and working to improve – the quality and breadth of instruction in our Department as Miriam is."
Chancellor's Award for Outstanding Service
The University of Hawaiʻi at Mānoa Chancellor's Award for Outstanding Service Award honors Mānoa staff members who demonstrate outstanding work performance, service and leadership. Criteria include record of competence and efficiency, exceptional contribution in the attainment of program objectives, creative solutions to difficult problems, integrity and dedication to the mission of the program.
Kimberley Ching (Buildings and Grounds)
Groundskeeper Kimberley Ching is assigned to the landscape maintenance areas surrounding the Korean Studies Building, Kennedy Theatre, Kennedy Hall, Paradise Palms, Moore Hall and Henke Hall. She has a background in Botany, which is reflected in her ability to maintain a vast variety of rare plant species to an optimum level. The plant collections that she oversees have flourished. Nominators also took note of her leadership, initiative and quality work, while maintaining a safe work environment. Her supervisor praised this three-year employee's "consistent hard work and dedication to maintaining her assigned area to a level that is above University standards." The Landscaping management team, in particular, commends her ability to foresee possible hazards and to remedy them in a timely fashion.
Lisa Kellett (APT)
Lisa Kellett, a 23-year employee, has served as Medical Student Administrator at the John A. Burns School of Medicine (JABSOM) since 2008, and recently took on the additional role of Administrator of JABSOM's Maternal Fetal Medicine Fellowship Program. She is described as the "heart and soul" of the OBGYN department, one of JABSOM's largest departments. She is responsible for orienting students in the medical clerkship of the OBGYN program to both the hospital setting and their patient care responsibilities. She also organizes the OBGYN interest group for medical students, and single-handedly runs the faculty presentations that are oftentimes scheduled after-hours. Said one nominator of her diligence and institutional memory, "Our department and multiple programs and projects would fall apart if she ever left."
Susan Hasegawa (Civil Service)
Susan Hasegawa has served the campus for 29 years. Since 1986, she has been a Secretary in Mathematics, UH Mānoa's largest department in terms of student semester hours taught. According to a nominator, her dedication to students and the department has made her the "go-to" person for feedback before implementation of any changes in processes or paperwork. She is commended for her anticipation of what needs to be done; extensive knowledge of the history, rules and procedures of the department and University; extraordinary capacity of working well with others; and the ability to handle varying situations with calmness and a cheerful demeanor. Said the Math Chair, "She performs an unrealistic volume of work to the highest standards of quality, professionalism and integrity."
Luke Flynn (Faculty Specialist)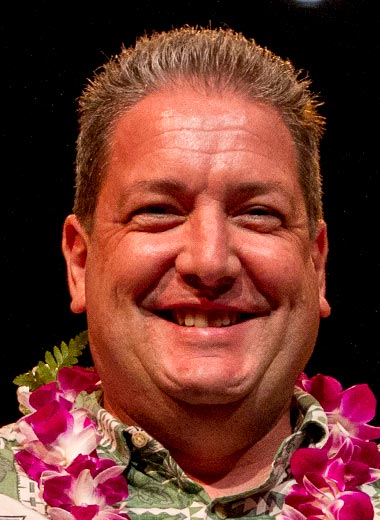 Luke Flynn has demonstrated his commitment to higher education through his outstanding service to students interested in aerospace careers. For 29 years, he has been a faculty specialist in the Hawaiʻi Institute of Geophysics and Planetology, School of Ocean and Earth Science and Technology. He is also director of the Hawaiʻi Space Grant Consortium (HSGC) and has been instrumental in developing collaborations with the HSGC affiliates at the UH Community Colleges. Specifically, he has ensured that the UH Community College campuses were integrated into launch activities coordinated through the Hawaiʻi Space Flight Laboratory, where he has been director since 2005. The HSFL produced UH Mānoa's first launch of a space rocket in November 2015, with Flynn overseeing design, construction and testing of the satellite.
Faculty Diversity Enhancement Award
The Faculty Diversity Enhancement Award from the UH Mānoa Commission on Inclusion and Diversity recognizes a faculty member who has demonstrated an ongoing commitment to enhancing diversity.
Gay Satsuma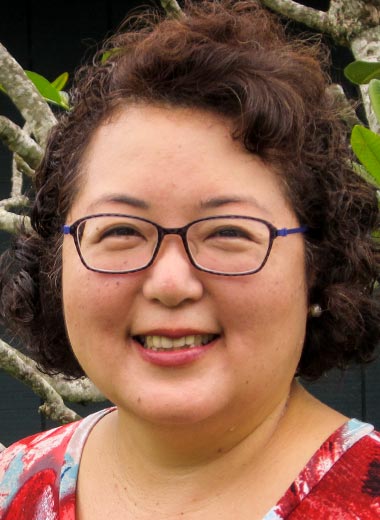 For almost a decade, Gay Satsuma of the Center for Japanese Studies has provided leadership assisting the Athletics Department in its efforts toward achieving gender equity. She chaired the Athletics Advisory Board Gender Equity Committee that created the 2007-2012 equity plan, "Believe It. Achieve It," and helped assess/update the current 2010-2016 plan. She also chaired the 2010-2011 Committee on Equity, Diversity and Student-Athlete Well-Being. In these pertinent roles, she undertook her responsibilities with a deep commitment to the welfare of all student-athletes. She recognizes that Title IX and its implementation regulations, which require that male and female athletes receive equivalent benefits in very specific terms, begin with the assumption that athletics is an educational program that exists for the benefit of its participants.
Tammy Hailiʻōpua Baker
Through work centered on development of an indigenous Hawaiian theatre aesthetic and form, Tammy Baker of the Department of Theatre and Dance has developed and implemented policies, procedures and programs that substantially enhance diversity on the basis of ethnic, ancestral, cultural and regional identification. She has taken every possible opportunity to revitalize the Hawaiian language, to bring together speakers and learners of the language and of Hawaiian Creole English (Pidgin), and to promote traditional and tradition-based Hawaiian cultural practices. Her work brings the university into the community through endeavors that include serving as playwriting instructor for Kumu Kahua, and as a teacher of performing arts at numerous island schools. She helped to co-found the first modern Hawaiian medium theatre troupe whose productions have toured internationally.
Peter V. Garrod Distinguished Graduate Mentoring Award
Established by the University of Hawaiʻi at Mānoa Graduate Division in 2005, the Distinguished Graduate Mentoring Award allows graduate students to nominate faculty for excellent mentoring, one of the foundations of outstanding graduate education.
Leonard Y. Andaya
History Professor Leonard Andaya has brought exceptional skills to his supervision of graduate students. He has made significant contributions to advancing Southeast Asian history, thanks to his mastery of the field and affinity for teaching. He has a special skill in mentoring students who are first-generation university graduates, and understands the challenges faced by foreign students, especially from Asia, as they pursue their higher education goals. He holds his students to the highest possible standards, insisting from the outset that they acquire the languages necessary for the proposed research, and to devote the required time for research in foreign archives. Throughout the entire process, he exercises rigorous oversight, asking searching questions, suggesting additional sources, reading and re-reading drafts, and shepherding students through the final stages of their graduate degrees.
Student Employee of the Year Award
The Student Employee of the Year (SEOTY) Program was created in 1986 by the Mānoa Career Center to recognize and highlight the achievements and contributions of student employees on the UH Mānoa campus. Universities across the nation celebrate National Student Employee Week every April, highlighting the value of student employment in the overall collegiate experience.
Mandy Chen
Mandy Chen of the College of Tropical Agriculture and Human Resources' Academic and Student Affairs unit was nominated by her supervisor, CTAHR Associate Dean Charles Kinoshita. As the College's Student Activities Coordinator, this senior majoring in Animal Sciences plans and implements student events, conferences and other activities involving the community. Her analytical ability, creativity and perseverance have contributed to her success as an exceptional student employee. She has grown both professionally and personally thanks to her employment, thus epitomizing how having a job on campus can benefit a student. As the SEOTY winner, she received a plaque and $1,000 scholarship from the Mānoa Career Center. She was also selected as the 2016 Hawai'i State Winner of the Western Association of Student Employment Administrators.
Outstanding Academic Advisor / Advising Unit Award
The Council of Academic Advisors recognizes an individual or unit who has demonstrated excellence and/or innovation in advising, and/or has made a significant contribution to the advising community.
Gerald Ken Hin Lau (Pakela Award)
Gerald Lau serves as a stellar model for integrating academic advising into the University's educational mission. He is an Assistant Faculty Specialist for the rapidly growing Department of Information and Computer Sciences (ICS). He provides major academic and career counseling for over 400 students, participates in curriculum and department policy meetings that help integrate instruction with advising, and plans and develops the department's outreach and student engagement programs. He serves as a Faculty Ambassador – recruiting students into the ICS program and into STEM fields, and serves as the department's liaison to the Graduate Division. He is also deeply involved in a variety of cyber security activities to engage students, including being the advisor to the Grey Hats club, whose members analyze cyber defenses.
Shidler College of Business Office of Student Academic Services ('Oikela Award)
Shidler College of Business Director of Undergraduate Programs Robert Bachini leads his Office of Student Academic Services (OSAS) team, whose members include Academic Advisor Rikki Mitsunaga, Freshmen Advisor Irene Burns, Office Assistant Sherri Yanagi, former Senior Admissions Advisor Reid Kuioka, and a Mānoa Peer Advisor. The office helps undergraduate business students succeed by integrating curricular and co-curricular experiences into leadership, service and business-related activities, including international fairs, global awareness workshops, Business Night, internships, and a large career expo held each semester. Shidler's OSAS developed a Direct Admit Program that has improved retention over three years from 79 percent to 88 percent. It also launched mentoring and monthly events for its Pre-Business Residential Life Program and created Shidler Success Seminars to introduce freshmen to the college.
Student Excellence in Research
The Student Excellence in Research Award is awarded by the Office of the Vice Chancellor for Research in recognition of outstanding scholarly research endeavors by students while they pursue a degree at the doctoral, master's or bachelor's level.
Megan Ansdell, Graduate Student (Doctoral Level)
Megan Ansdell has pursued her academic interests with distinction at well-known institutions abroad, but returned home to Hawaiʻi to pursue a doctorate in astrophysics at the Institute for Astronomy. Her research is in the exciting area of formation of planetary systems, and she has already published four first-authored refereed papers on her work. She also just completed a paper on her groundbreaking survey of the Lupus cluster, one of the youngest nearby clusters undergoing active star formation. Her surveys of this and other star-formation regions are being made with the new ALMA telescope array, which provides 10 times the angular resolution and sensitivity of previous surveys of star formation regions. These surveys will permit studying planet formation on spatial scales similar to that of our own solar system.
Keisha Bahr, Graduate Student (Doctoral Level)
Keisha Bahr brings tremendous intellectual insight and positive energy into her PhD research at the Hawaiʻi Institute for Marine Biology. Her dissertation work focuses on identifying species and community level responses to local and climate change impacts in the estuarine coral reef ecosystem of Kāneʻohe Bay, in particular coral bleaching. She published her entire dissertation prior to her defense. She has won several awards, including the "Best Graduate Poster" at the annual UH Albert Tester symposium. Due to her natural leadership, she was selected to serve as chair for a novel session that will focus on coral bleaching, monitoring, management responses and resilience at the International Coral Reef Symposium. Most notably, she co-wrote and is co-investigator on a fully funded National Science Foundation grant in the Division of Ocean Sciences.
Ryan Gough, Graduate Student (Doctoral Level)
Ryan Gough is not only one of the top PhD students in the Department of Electrical Engineering, but he has also gained recognition within the international microwave community. He was named the 2014 ARCS Scholar of the Year, the first time a UH engineering student garnered the award for achievement among all sciences within the University. His work on creating dynamically reconfigurable circuits and antennas using liquid metals brings to mind the futuristic shape-shifter in the Terminator movies. This graduate student has made such fundamental advancements in the area that the nation's foremost expert, a North Carolina professor, flew to Honolulu for Gough's dissertation defense. He is unmatched in writing extramural proposals, communicating to a wide array of audiences, mentoring undergraduates, and providing service to the professional community.