Each year, the Chancellor recognizes the leadership and service of UH Mānoa faculty, staff, and students committed to enhancing the University's mission of excellence.
The 2015 Awards ceremony was held on May 5, 2015 in the Kennedy Theatre auditorium.
UH Mānoa faculty and staff have also received other awards for their achievements. See the Helpful Links (top right of this page) for previous recipients.
Regents' Medal for Excellence in Teaching
The Regents' Medal for Excellence in Teaching is awarded by the Board of Regents as tribute to faculty members who exhibit an extraordinary level of subject mastery and scholarship, teaching effectiveness and creativity and personal values that benefit students.
Pia Arboleda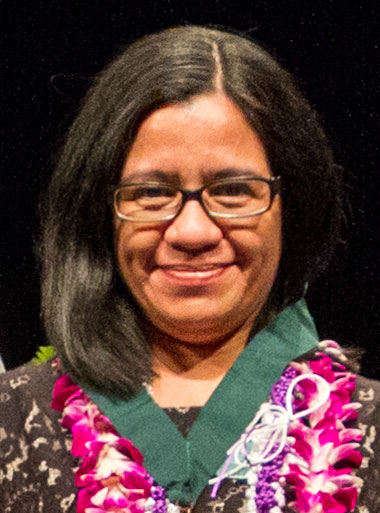 Assistant Professor Pia Arboleda of the Filipino and Philippine Literature Program in the Department of Indo-Pacific Languages and Literatures believes that "a teacher must strive to stimulate students" intellectual and emotional growth, respect students' diverse talents and learning styles, provide a non-threatening atmosphere for learning, and promote learning beyond the classroom." Many reference her innovative research on subtitling Philippine films and her project on digitizing illustrated folktales as invaluable to the field of folklore and Filipino culture, making accessible previously inaccessible films and literature. Lauded for her outstanding mentorship, leadership and teaching, she is credited by her department colleagues with having successfully turned the Filipino Program around, exponentially increasing the number of majors. Students speak highly of her mastery of the discipline and maintaining strong standards, while being patient, helpful and compassionate. One student recalls Arboleda as the first professor with whom he had contact upon entering college, with her being his first impression of UH Mānoa, "She felt like family to me, without which the feeling of welcome in a school where intimidating large lecture halls typically reign first-year classes, it is possible I would have left."
Julia Eve Hammer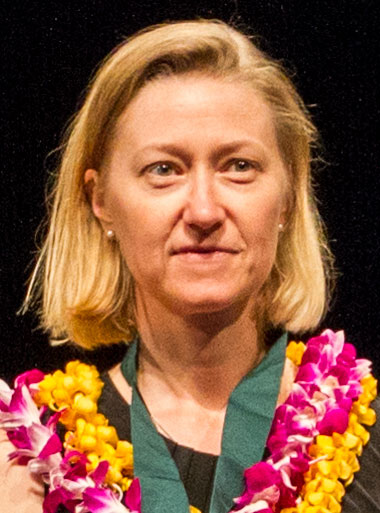 Professor Julia Eve Hammer, a volcanologist and experimental petrologist in the Department of Geology and Geophysics, is considered to be a leader in her field in the development of innovative classroom techniques designed to enhance student learning and develop critical thinking. The importance she places on an interactive classroom atmosphere is demonstrated through innovative teaching practices, including lecture tutorial (guided exercises to be completed in-class by teams of students), inter-teaching (wherein students explain concepts to each other), and clicker-assisted lectures (for immediate assessment of learning). At the upper-division level, she shows students how concept mapping can make sense of technical jargon. For graduate level students, she stresses sanity-checking calculations against reasonable inferences, turning assignments into a hypothesis test. Says one student, "Our energy directly correlates to that of Dr. Hammer and her enthusiasm on a daily basis." Among Hammer's former students are geology and geophysics professors and science teachers in high schools, who have been deeply influenced by and have modeled their own teaching practices on their former experiences of learning with her.
Justin Levinson
T
o his colleagues and his students, Professor Justin Levinson of the William S. Richardson School of Law is a superlative teacher who succeeds through a unique blend of enthusiasm and rigor, deep and broad knowledge, and a remarkable empathy and understanding of a diverse range of people. His colleagues describe him as "a renowned scholar, a committed teacher with uncompromising standards, and a consummate role model for faculty and students." Levinson is considered to be teaching courses from the most difficult curriculum in the Law School, seamlessly blending theory and practice while consistently receiving high rankings from his students. He takes teaching very seriously, pioneers new courses, and continually adjusts and adapts to create new pedagogical practices for long standing courses. A law student writes: "Professor Levinson is great at explaining the complexities and making them understandable. He seems to understand the mentality of a law student and challenges us while treating us with respect." In 2008, he founded the Culture and Jury Project, an interdisciplinary and international research collaboration devoted to facilitating the study of human decision-making in the law.
Aaron Ohta
Associate Professor Aaron Ohta of the Department of Electrical Engineering holds his two highest goals in teaching as: shaping students into critical thinkers and life-long learners and enhancing student educational experience through innovative approaches to undergraduate education. One of his efforts includes inverting a course by pre-recording lectures which are viewed by students prior to class, using classtime to interactively solve problems and participate in collaborations and discussion. Recognized by his colleagues for his outstanding teaching and mentoring, they highlight specifically the required undergraduate course sequence, where he carries one of the highest teaching loads in the department. As testament to his dedication, many of Ohta's undergraduate students are awardees in project competitions at the campus, national and international levels, and other undergraduate projects have led to conference and journal publications. At the graduate level, he is described as an exceptional advisee and mentor to students awarded for their projects and for their TA teaching. These accomplishments by his students are motivated by a professor described by students as sustaining them with his low-key teaching style and a high level of interest, enthusiasm and humor.
L. Ayu Saraswati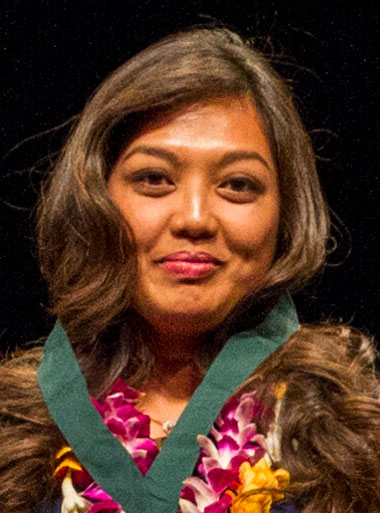 Associate Professor L. Ayu Saraswati of the Department of Women's Studies draws on feminist pedagogy to emphasize student engagement and involves students in the production of knowledge through the use of collaborative projects, peer review, and participatory digital media. As digital technology becomes a dominant mode through which the world is experienced, Saraswati has thought more creatively about her pedagogy and about the spaces in which she teaches. One student writes that "Dr. Saraswati's motivation and passion for the subjects she teaches is one of many reasons why I continue taking classes with her… she consistently creates an atmosphere of respect and excitement, which in turn fosters critical discussion among students." A teaching assistant to Professor Saraswati writes about the synergy, productivity, mentoring and professional development that she generates among the group of teaching assistants. In a department with a growing Graduate Certificate Program, one colleague speaks highly of her capable expertise and leadership in directing that program, of the graduate students flocking to it, and the considerable demand for a PhD in the field of Women's Studies that her leadership is generating.
Ron Darren "Kekeha" Solis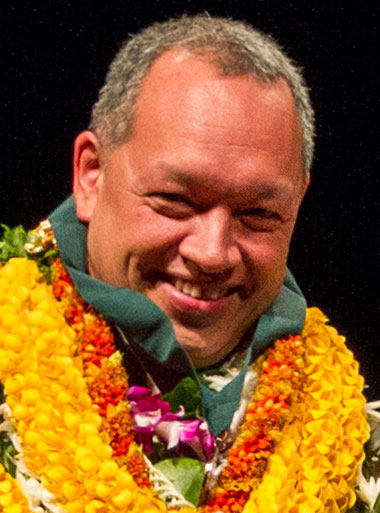 Ron Kekeha Solis is an Assistant Professor at Kawaihuelani Center for Hawaiian Language in Hawaiʻinuiākea School of Hawaiian Knowledge. He is an exemplar teacher and scholar in an eclectic field of teaching and scholarship that includes language and culture, ʻaina-based and experiential learning, educational technology and filmmaking, and history and activism. Deeply cognizant of the saying Aʻohe pau ka ʻike i ka hālau hoʻokahi (all knowledge is not taught in the same school), his teaching situates learning in public places as well as in the classroom. He works to engage student-scholars to problem solve in an interdisciplinary manner and develops research protocols and processes that are culturally meaningful and sound. Over the years, he has established and firmly sustained a community-university link, including having broadcast daily headline news stories in Hawaiian language over Hawaiʻi Public Radio and by having been lead writer for a weekly Hawaiian language column appearing weekly in the Hoku Buletina (Honolulu Star Bulletin). Colleagues recognize him as world's foremost authority in the area of ʻōlelo noʻeau (proverbial sayings), the primary focus of his doctoral dissertation written entirely in Hawaiian. Many students have expressed the profound impact of his commitment to teaching and his respect and compassion for his students.
Regents' Medal for Excellence in Research
The Regents' Medal for Excellence in Research is awarded by the Board of Regents in recognition of scholarly contributions that expand the boundaries of knowledge and enrich the lives of students and the community.
Axel Timmermann
Axel Timmermann is a Professor in the Department of Oceanography and at the International Pacific Research Center. He studies the causes of past and future climate change and has pioneered the development of computer models that can simulate ice ages and abrupt climate change. He and his team collaborate with oceanographers, geologists and glaciologists worldwide to provide key insights into the dynamical processes that shaped earth's past. One of his most acclaimed contributions is his seminal study on the sensitivity of the El Niño phenomenon to global warming. Currently, he studies sea level rise, climate impacts on human migration and the long-term predictability of the climate system. He was lead author of the 5th Assessment Report of the Intergovernmental Panel on Climate Change. In recognition of his scientific accomplishments he also received the Rosenstiel award of the University in Miami.
Robert Thomson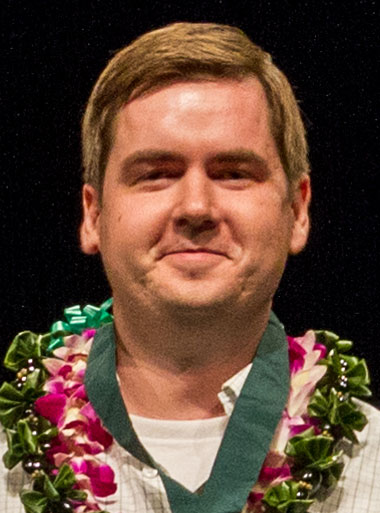 Assistant Professor Robert Thomson, in the Department of Biology within the College of Natural Sciences, is an evolutionary biologist that specializes in discovering the history of life using the vast influx of data generated by the advancing genomic revolution in the life sciences. His work focuses on improving statistical and bioinformatic methods for elucidating this history from complex genomic datasets, applying these methods to long-standing questions about evolutionary history, and using the answers to inform conservation efforts and protect biodiversity. Supported by multiple National Science Foundation awards, his research program has produced publications that generate wide interest including coverage and commentary in newspapers, the Proceedings of the National Academy of Sciences, and Nature; as well as a forthcoming book. He also enhances training opportunities in advanced statistical methods for evolutionary biology through teaching, mentoring, and developing widely used web-based educational resources.
Karen Meech
Karen Meech, an Astronomer at the Institute for Astronomy, has been a pioneer in observing the behavior of comets. Her research bridges the boundaries between astronomy, planetary science, geology and astrobiology. Her work investigating the leftovers of the planetary building process has contributed to the understanding of the conditions during the time our solar system was put together. Meech's expertise led to her participation as a co-investigator on three NASA comet missions where she led the Earth's observing campaigns. She has catalyzed a large interdisciplinary research program in Astrobiology at UH, investigating water and habitability. In particular, she has led the development of space mission concepts focused on the big-picture questions surrounding the origin of Earth's water. Her research has been recognized with the Harold C. Urey Prize, among several other awards, and her service to teaching and outreach has been recognized by the American Association of Variable Star Observers through the William Tylor Olcott Award.
Frances Davis Award for Excellence in Undergraduate Teaching
The Frances Davis Award for Excellence in Undergraduate Teaching recognizes dedication and demonstrated excellence as teachers of undergraduate students. It was established as a memorial to the late Frances Davis, who taught mathematics at Leeward Community College and UH Mānoa for 19 years.
Maria Guerriero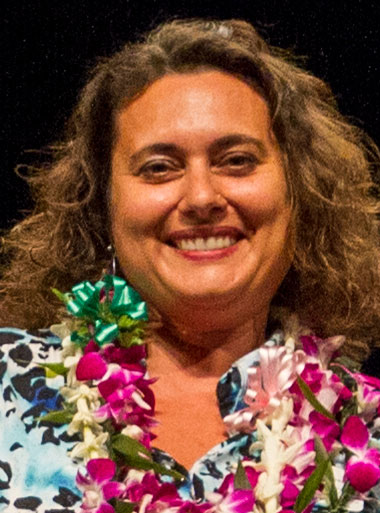 Maria Guerriero from the School of Nursing and Dental Hygiene believes that teaching must be innovative and combine mind-body-artistic aspects that create vibrant and unique learning experiences. As an instructor in psychiatric mental health nursing, her work with students takes them into settings where they may experience inhibitions and misconceptions. An early adopter of simulation in her clinical courses, and later through the partnership between the School and actors from the Department of Theatre and Dance, Guerriero has created enhanced opportunities for students to function at a higher level of expertise. Through realistic simulations, nursing students are offered opportunities to practice therapeutic communication and care in highly charged emotional contexts. For example, Guerriero directs acting students to play the roles of patients and write dialogues for situations of death and dying, anxiety, depression, stress and PTSD flashbacks. One nursing student said that they appreciated Guerriero's assistance in analyzing "my therapeutic communication in a way where I felt unjudged and open to her constructive criticism."
Frances Davis Award for Excellence in Undergraduate Teaching for a Graduate Assistant
Rex Troumbley
Rex Troumbley is a Graduate Assistant in the Department of Political Science in the College of Social Sciences. His primary teaching objective is that students leave his class understanding how power relations organize everything from the trash getting picked up to states going to war. He accomplishes this objective by combining political science methods for analyzing power with the tools students find useful for becoming engaged in their world. His research deals with how taboo language — cursing, swearing, profanity, obscenity, and racial slurs — is managed by medical, legal, and technical institutions in the United States. Most recently, his research has explored the extent to which digital technologies have been used to steer users away from undesirable behaviors, specifically interventions into the "pre-speech" of users which work to make their expressions "pre-dictable."
Chamil Rathnayake
Chamil Rathnayake, a Graduate Assistant in the School of Communications, views teaching as a process of learning as much as teaching. For Rathnayake, teaching is a process of reflexive learning of the dynamics of the class, designing and devising a strategy to open students' minds to absorb new concepts, critique, develop their own perspectives, and inculcate the habit of seeking knowledge independent of the instructor. With the guidance of his advisor and support from the faculty at the School of Communications, he teaches classes in the ICTs track at the school. A doctoral student in the interdisciplinary Communication and Information Sciences program, he brings an interdisciplinary focus to his class that blends concepts in different fields, such as information and communication technology, communication policy, and communication theory. As a student instructor, he views teaching as a transformative experience, and says, "the more I teach, the more I learn, and the more I learn, the more I can help my students to learn."
Robert W. Clopton Award for Distinguished Service to the Community
The Robert W. Clopton Award for Distinguished Service to the Community recognizes a UH Mānoa faculty member for playing a socially significant role by applying intellectual leadership and academic expertise to the improvement of the community. The award was established as a memorial to longtime Mānoa College of Education Professor Robert Clopton and first awarded in 1977.
Joseph Keaweʻaimoku Kaholokula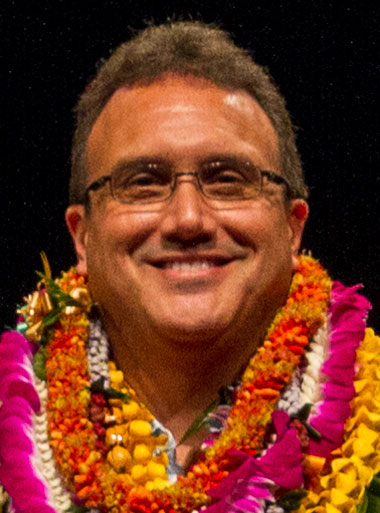 The contributions of Dr. Joseph Keaweʻaimoku Kaholokula, Chair of the Department of Native Hawaiian Health and director of the PILI ʻOhana Project at the John A. Burns School of Medicine, have distinguished him as an intellectual leader in Native Hawaiian health and the greater medical community. Described as kind, warm and humorous, his colleagues credit him with inspiring the next generation of Hawaiʻi scholars and clinicians and influencing how our island communities make health-based decisions. He generates the capacity to think about health more innovatively and expansively, and offers important frameworks for thinking about social and environmental health in more interconnected ways. He is widely regarded and respected for his commitment to the ʻAha Kāne and Hale Mua initiatives that strive to nurture a healthier Native Hawaiian male population by eliminating psychosocial, health and educational disparities through practices based on traditional cultural practices that build sustainability in the community. Additionally, his insights into the needs of children outside of the classroom contribute to Kahoʻomiki and to the expansion of learning opportunities.
Chancellor's Citation for Meritorious Teaching
The University of Hawaiʻi at Mānoa Chancellor's Citation for Meritorious Teaching recognizes Mānoa faculty members who have made significant contributions to teaching and student learning.
Kumu Tammy Hailiʻōpua Baker
Assistant Professor of Theatre and Kumu Tammy Hailiʻōpua Baker creatively integrates her deep knowledge of western traditional theatre arts with traditional Hawaiian, modern Hawaiian, and Asian-Pacific cultures. In merging these, she has strengthened knowledge and skills within theatre performance and has perpetuated the life and language of Hawaiʻi. Colleagues share that she brings a deep compassion for her subject, unstinting enthusiasm, and extensive knowledge in both theory and applied cultural practice, all blended with extraordinary abilities in the classroom. She has created five new courses in Hawaiian-medium theatre and regularly teaches five other long-standing courses, including two on playwriting. Baker teaches students that range from accomplished playwrights to others with no experience at all, culminating in remarkable outcomes, such as four full-length scripts offered in a table-reading series at the Kumu Kahua Theatre. Her relationships with students are based on trust and respect as well as cultivate interest, as is evident by the success of her theatre productions. In her first Hawaiian-medium theatre production at Kennedy Theatre, less than half the cast and crew spoke Hawaiian language and many had never experienced theatre production.
Jonathan Deenik
For Associate Specialist Jonathan Deenik of the Department of Tropical Plant and Soil Sciences in the College of Tropical Agriculture and Human Resources, the core principles of teaching are: passion for teaching, mastery of subject, expectation that students rise to high standards, and creation of a safe, nurturing learning environment. His students are reflections that these principles are the basis for their own transformation from a view of soil science as a dull, intangible discipline to that of excitement and wonder. His investment in creating a nurturing classroom environment during the first weeks of class generates a semester of vibrant, rigorous, empowering teaching and learning that produces independently minded, creative problem-solvers who share and value knowledge. Through a deep commitment to lifelong education, Deenik retains connections with many students who enter graduate degree programs, careers in education, farming, and international development and community leadership. A former student who valued Deenik's teaching as a student reflects that he came to fully grasp how much he owed to Deenik's class only upon beginning work for the USDA as a soil conservationist, where co-workers were impressed with his knowledge.
Kiyohiko Ito
Professor Kiyohiko Ito of the Shidler College of Business is considered by his colleagues to be a truly unique and exceptional professor who consistently receives outstanding teaching evaluations from students at all levels of study. He inspires students to explore new ideas, to delve deeply into those ideas, to take on increasingly more challenging content, and to apply it in creative and innovative ways to global issues. His innovative pedagogy includes full-day business negotiation simulation sessions on Saturdays, and in-class case study sessions, to generate opportunities to think purposefully and focus on the application of their learning in the context of real organizational situations. A recent graduate speaks to Ito's rare skill set in tailoring instruction to take advantage of the diverse backgrounds of his students. While many of his students have become CEO's of large multinational companies, a deeper aspiration he holds for his students is that they become ethical managers, and it is those very students that look towards Ito as shaping business leaders "who stand up for what is right and that make the most difference."
Baybars Karacaovali
Lavish praise by students and colleagues alike for Assistant Professor Baybars Karacaovali of the Department of Economics in the College of Social Sciences is palpable, noting his patience, mastery of international economics and gentle approach to working with students. Colleagues performing peer reviews of his teaching state, "Baybars is clearly an exceptional instructor… sitting in his class was a real inspiration," and that his teaching "is truly outstanding." Karacaovali is able to turn conceptual knowledge into experiential knowledge so that knowledge is no longer something abstract but concrete and applicable. For example, instead of simply teaching trade theory, he teaches students about the effects of trade policy from the perspectives of both the winners and losers in trade. A student writes that Karacaovali wields the tool of a master craftsman, and students leave his courses thinking more critically and reflectively.
Krysia Mossakowski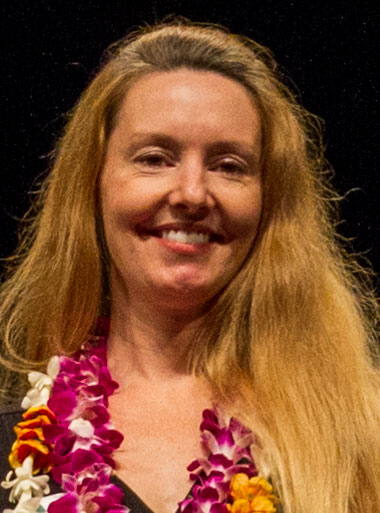 Krysia Mossakowski is an Associate Professor in the Department of Sociology within the College of Social Sciences whose teaching and research in the field of medical sociology. Colleagues reference her uplifting and motivational outlook on the department and the future of graduate students, as well as her pride in her work and impressive work ethic by which she remains relevant as a scholar. Her inspiration and charismatic nature are credited with bringing out the best in her students, and never letting students lose heart. In undergraduate courses, she stimulates critical thinking and social interaction and uses small group exercises such as debates to generate active learning. In graduate seminars, she provides opportunities for integrating the acquisition of knowledge with research agendas and student professional development. She also designed a special topics course, as an innovative way to mentor graduate students, prepare them for the job market and enhance their professional development. Says one student, "One aspect of the course that was especially helpful was the different teaching perspectives that she provided by inviting different faculty to share their teaching philosophies and experiences."
Susan Schultz
"Learning is a paradoxical process, composed in equal measure of contemplation and action," writes Susan Schultz, an English Professor in the College of Languages, Linguistics, and Literatures. She opens up both sides of this paradox in her classes, creatively and academically. Her accomplishments and expertise in avant-garde and experimental poetry motivates her to demonstrate in her classes that there is experimental writing in the Pacific and to encourage young writers who write in that mode. She uses a series of poetic experiments devised to challenge students to begin with a puzzle or series parameters and to begin to write from there. Colleagues refer to Dr. Schultz's productivity and range as providing sterling examples of the discipline, so that even those who do not aspire to a career as a poet leave her classes with an expanded appreciation for the sustaining, transformative role poetry can play in their lives. Through her founding of Tinfish Press in 1996, described by a national colleague as "one of the great small presses of the United States," this expansive goal has been realized.
Chancellor's Award for Outstanding Service
The University of Hawaiʻi at Mānoa Chancellor's Award for Outstanding Service honors Mānoa staff members who demonstrate outstanding work performance, service and leadership. Criteria include record of competence and efficiency, exceptional contribution in the attainment of program objectives, creative solutions to difficult problems, integrity and dedication to the mission of a program.
Jill Laughlin (APT)
Jill Laughlin serves as the Education and Volunteer Programs Manager at the Lyon Arboretum. An employee of UH Mānoa for 21 years, she has been instrumental in increasing collaborations and developing successful partnerships with UH programs and community groups, as well as creating internships and service projects for them. She was one of the first educators in Hawaiʻi to promote place-based, experiential learning. Her special focus on children's education inspired her to develop 10 different field trip offerings focused on specific grade level objectives. She has exponentially grown the Lyon Arboretum's K-12 school program from 300 students annually in the 1990's to 7,000 students in 2014. Interim Director Carl Evensen expresses that she "has selflessly and vigorously supported many facets of Lyon Arboretum's mission in research and education and greatly increased the University of Hawaiʻi's presence and stature in the community."
Mary Occhipinti (Buildings and Grounds)
Mary Occhipinti is a Janitor II assigned to the Hawaiʻi Institute of Geophysics building, which houses numerous research, educational and administrative functions for the School of Ocean and Earth Science and Technology. Nominators took note of her high standards and strong work ethic, saying she provides "exemplary, out of this world, customer service." According to one colleague, she "cleaned glass louvres and ledges and shelves and air conditioning filters and cabinets that haven't been touched in the 10 years I've been here." One of her signature trademarks is her flower arrangements, which she puts in common areas. Colleagues agree that these flower arrangements and fresh flowers which she leaves in the washroom, increase the aesthetics and brings smiles to the start of their day.
Gayle Nagasako (Civil Service)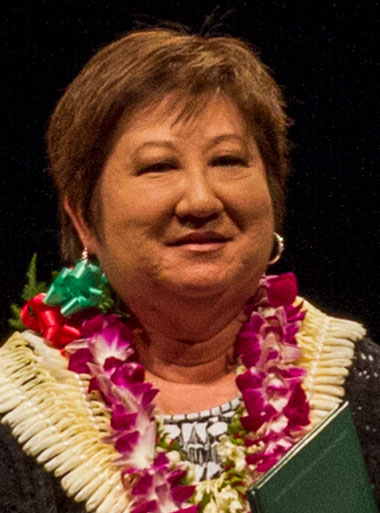 Gayle Nagasako is a Secretary II in the English Department, the largest unit at UH Mānoa. Nagasako has served UH Mānoa for 43 years. She is commended for her many talents and qualities, including anticipating what needs to be done, her extensive knowledge of rules and procedures for the department and university, her extraordinary capacity of working well with different people and handling varying situations with calm, grace and humor. Former English Chairs she's served under have nothing but praise for her. Says Mark Heberle, "Gayle's aura does not simply shine on and through those who have worked with her directly; every visitor to the Department Office, whether in person or by phone or Internet, is welcomed with friendliness and respect, while having his or her business handled with careful consideration, good will and efficiency. She has and will continue to be the soul of the Department."
Peter V. Garrod Distinguished Graduate Mentoring Award
Established by the University of Hawaiʻi at Mānoa Graduate Division in 2005, the Distinguished Graduate Mentoring Award allows graduate students to nominate faculty for excellent mentoring, one of the foundations of outstanding graduate education.
Wayne Shiroma
Wayne Shiroma, Professor and Chair of Electrical Engineering has been teaching at UH Mānoa for 19 years. A UH Mānoa undergraduate alumnus himself, Shiroma believes that successful mentoring at the graduate level often begins with successful mentoring at the undergraduate level, and takes pride that nearly 60 percent of the seniors that he has mentored have eventually pursued graduate degrees. In fact, 70 percent of his graduate advisees were also his undergraduate advisees, a few who he even mentored since their freshman year. He views his role as not only guiding his students' development and opening doors of opportunity, but encouraging them to proactively step through those doors and take responsibility for their own learning. One of Shiroma's students praised his "challenging but nurturing mentorship emphasizing both professional and personal development that helped me to grow not only as an engineer but as a person."
Student Employee of the Year Award
The Student Employee of the Year (SEOTY) Program was created in 1986 by the Mānoa Career Center to recognize and highlight the achievements and contributions of student employees on the UH Mānoa campus. Universities across the nation celebrate National Student Employee Week every April, highlighting the value of student employment in the overall collegiate experience.
Sara Taketa
Sara Taketa of Student Life and Development (SLD) was nominated by supervisor Laura Shimabukuro, Assistant Director for Meeting and Event Services. This senior majoring in Accounting works as an Administrative Assistant for Meeting and Event Services, where her ability to learn new concepts quickly, utilize critical thinking to tackle assignments, and effective leadership skills have contributed to her success as an exceptional student employee. She has grown professionally and personally while in this position, which is a perfect example of what student employment can do for a student. As the SEOTY winner, she received a plaque and a $1,000 scholarship from the Mānoa Career Center. She was also selected as the 2015 Hawaiʻi State Winner of the Western Association of Student Employment Administrators.
Outstanding Academic Advisor of the Year
The Council of Academic Advisors recognizes an individual or unit who, over the past two years, has demonstrated excellence and/or innovation in advising, and/or has made a significant contribution to the advising community.
Lynn Koyamatsu (Pakela Award)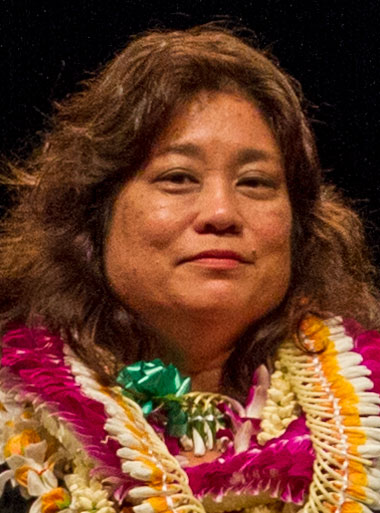 Lynn Koyamatsu is a Student Services Specialist and Academic Advisor with Outreach College. Consistently collaborative and willing to go the extra mile to help students, faculty, and other advisors, she is an asset to any committee she is affiliated with. She is always thoughtful, thorough and solution-focused, and the Council of Academic Advisors has come to rely on her steady, positive presence. Koyamatsu is a "can do" person and represents a refreshing sensibility of reliability and commitment that is hard to come by.
Rayna Tagalicod (Pakela Award)
Rayna Tagalicod is a Junior Specialist/Academic Advisor with the Mānoa Advising Center. As the Chair of the Mānoa Sophomore Experience Committee, which focuses on the retention of first-year students, she makes significant contributions to the institution and the region. She has also made ROTC student advising transition to schools and colleges seamless by holding training sessions and sending updates and new information. She recently co-chaired the 2015 National Academic Advising Association Region 9 Conference and has also presented at state, national, and international annual conferences throughout the nation.
Student Excellence in Research (Master's and Doctoral)
BJ Fulton (Master's Level)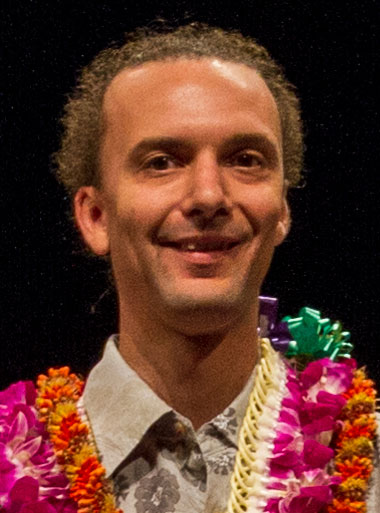 BJ Fulton is a Master's level student researcher at the Institute for Astronomy and a current National Science Foundation Graduate Student Research Fellow. He focuses on the discovery, characterization, and demographics of planets around nearby stars (exoplanets) using robotic telescopes. His primary contributions thus far have been to develop the framework that allows for a completely automated search for planets, which has already yielded three new planet discoveries. He also plans to use the statistical properties of the planets discovered to determine how common Earth-like planets are in our local solar neighborhood. Fulton has published four first-author papers and is a contributing author on more than two dozen other studies, including two published in the journal Nature. He will continue at the University of Hawaiʻi pursuing a PhD and hopes to be the first to discover a nearby example of an exoplanet with the prospect of harboring life.
Chao-Ling Hung (Doctoral Level)
Chao-Ling Hung is a Doctoral Level student researcher at the Institute for Astronomy. Her research focuses on understanding the formation and evolution of the most luminous galaxies in the Universe. Hung has been studying what physical mechanisms are responsible to trigger these extreme galaxies in the early Universe by characterizing their morphological and dynamical properties. She has also emphasized the need of careful calibrations using galaxies in the nearby Universe and hydrodynamic simulations. Her dissertation work has led to three first-author papers published in the Astrophysical Journal, and at least one other paper in preparation. She will continue her academic career as the Harlan J. Smith Postdoctoral Fellow at the University of Texas, Austin.