Each year, the chancellor honors UH Mānoa faculty and staff for exceptional leadership and service to the campus community.
In addition to those listed above, UH Mānoa faculty and staff have received other awards for their dedication, excellence, and service. Visit UH System's Faculty & Staff Awards for current and previous recipients.
Chancellor's Citation for Meritorious Teaching
Established in 1986, the Chancellor's Citation for Meritorious Teaching recognizes UH Mānoa faculty members for significant contributions to teaching and student learning. Below are recipients of the award.
2012 Recipients
Patricia Steinhoff
Patricia Steinhoff is a Professor in the Sociology Department. Her extensive publication and research record inspires students to strive for the highest scholarship. Her core belief is the central role of writing in teaching and learning, and she is greatly appreciated for providing pages of detailed, hand-written feedback. Steinhoff's colleagues describe her as critical to the success of the department and one of the most popular and respected faculty among graduate students. One colleague has observed incredible maturation and development of her students as they interact with her. Steinhoff's approach to teaching through writing includes the use of graphic organizers during lectures combined with active learning strategies to encourage student engagement.
Henri Casanova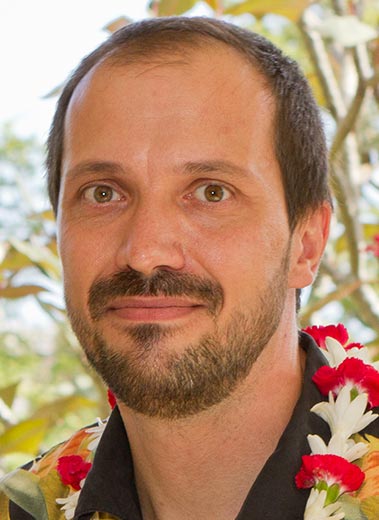 Henri Casanova is an Associate Professor in the Information and Computer Sciences Department who brings the world of parallel algorithms to life. According to colleagues, Casanova's students exit his courses thinking critically, and are able to engage in challenging problems and apply algorithmic solutions in multiple contexts. He distills such complex subjects as concurrent programming into essential concepts and skills, presenting them in understandable ways. According to his students, Casanova accomplishes this by using straightforward, concise language enhanced by great enthusiasm and vigor. His incorporation of real-world anecdotes throughout course content serves multiple purposes—including the resetting of student attentiveness during a class period, and the sharing of memorable stories that support retention of knowledge.
Thomas Jackson
Thomas Jackson is a Specialist in the Philosophy Department. His teaching resounds with joyful exuberance, leads to respectful relations with students and colleagues, and develops intellectual acumen and an extraordinary knowledge of both education and philosophy. Jackson has spent the past quarter century transforming the notion of philosophy as elite, solitary academic musings into that of a deeply social listening inquiry. Among his significant impact on students is that he makes complex philosophical ideas relevant to their lives and thoughts. They leave his course with the knowledge that they, too, are philosophers. Jackson extends this experience to others beyond the Mānoa campus, including the innovative and highly successful P4C—Philosophy for Children—Hawai'i Style Program, which prepares teachers to engage in a Socratic type of inquiry resulting in students responsibly developing the ability to philosophize.
Scott Rowland
Scott Rowland is a Specialist in the Geology and Geophysics Department. He teaches from a genuine concern for the environment and is driven by the vision of students wanting to know about the natural world. He has the ability to see natural formations with a depth of understanding that merges geologic formation and ecology with intergenerational science developed by indigenous peoples. He possesses, according to students, "an amazing and rare teaching ability to be able to bring geology to life through stories, concepts and whiteboard diagrams." In imparting why geologists believe what they do and how concepts developed, he demystifies science and launches the process of deeper student engagement. Rowland has developed a longstanding partnership with the Center for the Active Study of Volcanoes at UH Hilo, enabling students to benefit from hands-on, in-context learning.
Eirik Saethre
Eirik Saethre is an Assistant Professor in the Anthropology Department who is resolute about connecting scholarship and theory. A colleague notes how students are drawn to Saethre's classes, because he "leads them through difficult theory so they gain a sense of mastery. This is undergraduate teaching at its best." Saethre's highly dynamic classes include both graduate students as mentors and undergraduate students as group members, involving all in avid discussions. "I have never known a more organized instructor. Articles he assigns are carefully chosen to 'speak' to one another, and to relate to weekly topics of discussion," says one graduate student. Saethre has also established an ongoing global relationship with the Wits Reproductive Health and HIV Research Institute in South Africa, where he facilitates the training and education of researchers from underprivileged backgrounds.
Maureen Shannon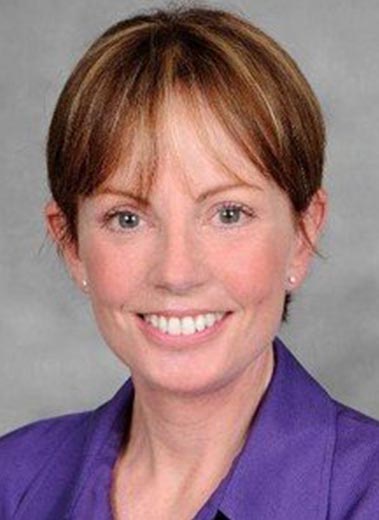 Maureen Shannon serves as the Endowed Frances A. Matsuda Chair in Women's Health at the School of Nursing and Dental Hygiene. Known for her mastery and scholarship, Shannon is respected for having revived women's health in her department; developing one of the first comprehensive programs for women with HIV and caring for HIV infected women and children; being a highly effective, committed and creative teacher with a tremendous knowledge base; and possessing personal attributes and values that motivate and inspire students. In her teaching, Shannon integrates culturally responsive patient care, uniting science with a depth of understanding about people. Students consequently become cognizant of integrating emerging knowledge with individualized care that is based on specific biologic and cultural circumstances of each patient. Shannon mentors doctoral students to present at scientific conferences and publish in peer-reviewed journals.
Chancellor's Award for Outstanding Service
The Chancellor's Award for Outstanding Service recognizes UH Mānoa employees for their sustained exceptional leadership and service to their departments/offices and the campus. Each year, the chancellor honors one employee in each of three categories:
Administrative, Professional & Technical
Buildings & Grounds Maintenance
Civil Service
2012 Recipients
Marla Acosta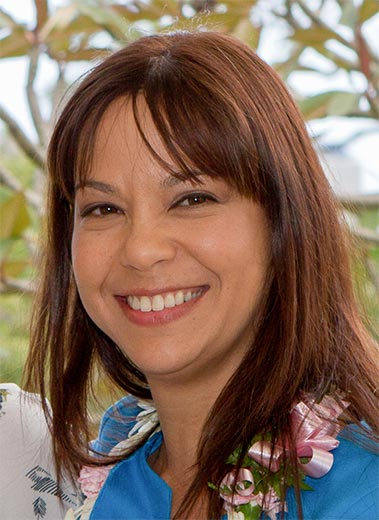 Marla Acosta is the Secretary to the Dean of the School of Nursing and Dental Hygiene and has worked at UH Mānoa for almost 24 years. Outstanding attitude, initiative and performance have been the hallmark of her service to the campus. Throughout changes in school leadership and direction, she provided the necessary institutional memory and remained dedicated to the school's mission. She is the "go to" person for questions, information and counsel by faculty, staff and students, and manages a range of responsibilities with the ability to anticipate need while never presuming to have the answer. Most recently, she oversaw the management of Webster Hall's renovation and progress, ensuring timely and regular communication with campus and system offices, faculty and staff, and contractors. Her commitment, graciousness and competence are always reflected in her work. She is often asked to serve on committees representing her clerical colleagues or the school, including search committees and planning groups. A devoted UH basketball team booster, Acosta and her husband host visiting teams during UH Mānoa tournaments. Her nominators note that she exemplifies the core values of aloha, ho'ohana and ho'omau and pono in all that she does.
Kathleen Kamiya
Kathleen Kamiya has worked at UH Mānoa for over 24 years, most recently as the music department secretary and graduate secretary for five years. Considered the "glue" in the department, Kamiya's delightful, positive attitude and pride of the department are contagious. She works closely with the students and faculty and is often seen sitting with students and advocating for them and their academic success. She also supports a number of musical, campus and public events in a variety of ways and is a role model for all who cross her path. Kamiya also manages the department and is responsible for the files and portfolios of prospective students, including handling an array of documentation including CD/DVD auditions, composer scores and large document theses. She was instrumental in the University's recent 10-year accreditation review, spending long evening and weekend hours working with faculty, organizing materials and ensuring the department was prepared. Kamiya's dedication and energetic spirit are an inspiration to the department's faculty and students.
Russell Kihara
Russell Kihara has served as a janitor in Buildings and Grounds Maintenance for more than four years. Currently assigned to the Architecture building, he was nominated by a student who recognized his positive attitude, attention to detail on the building's interior and exterior, and his dedication to making the facility a clean, organized learning and work environment. With the number of long hours students and associated professionals spend at the building in mind, Kihara is attentive to cleaning and maintaining the studio environment, aisle-ways and offices, as well polishing outdoor meeting tables and concrete capstones in the courtyard. Open to suggestions and requests for assistance, he also makes suggestions to address other maintenance issues such as carpet, flooring and air conditioning and works with his department to coordinate such work to ensure projects have a clean environment to be displayed for visiting architectural professionals and clientele. His dedication to the department extends beyond the daily maintenance as he took the initiative to become CPR certified and has taught classes in CPR to train other UH students and staff.
Kim Nishimura
Kim Nishimura has served as a janitor in Buildings and Grounds Maintenance for over five years. Assigned to the third and fourth floors of Keller Hall and the Physical Science building, she was nominated by the mathematics department for her exceptional aloha spirit, dedication and strong pride for her work areas. She always strives to find ways to improve the learning and work environment without being asked and students, faculty and staff know her by name. When she arrived, Keller Hall had a decades-old problem of birds leaving their droppings and nests on the window ledges and she took it upon herself to strip away the filth and maintain a new level of cleanliness. Nishimura also takes the initiative to know which offices will be vacated at close of semester and cleans it from top to bottom for the next occupant and has even brought in curtains to hang in a professor's office to address sun issues. The quality of her work is clearly exemplified in her nominations as one nominator noted that "men who work on the first and second floor of Keller will walk up to the fourth floor to use 'Kim's bathroom' because it is so clean!"
Roxanne Adams
Roxanne Adams has served the UH Mānoa Buildings and Grounds Management department for the past ten years and currently serves as the Landscaping Manager and Interim Director for her department. Her dedication to UH Mānoa and her strong desire to teach, research and find effective solutions to issues is reflected in her outstanding work and support of the campus mission and initiatives such as sustainability, recycling and promotion of native plants. With her warm smile and everlasting aloha, Adams is always cognizant of her fellow employees' thoughts and feelings when she collaborates with staff and groups to brainstorm ideas, discuss options and ensure a feasible approach or solution. A deep and deliberate thinker, her ability to provide clear and concise demonstrations for practical applications makes her an effective teacher to all that work with her. She participates in various projects and serves on a number of campus committees, always providing insight on solving problems or issues in the most efficient and sustainable means possible.
Shawn Kyono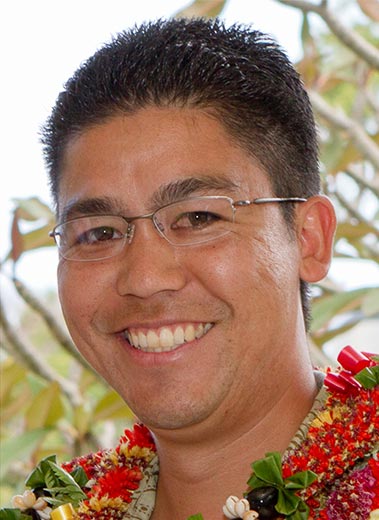 Shawn Kyono has served UH Mānoa for six years, currently as the Associate Director of Student Union and Campus Life Services in the Office of Student Life and Development. He works closely with students, providing them learning opportunities so they can engage in leadership roles through campus events and community partnerships, as well as oversees the facility environment 24/7 including during natural disaster and other emergencies. Kyono implemented numerous programs that support sustainability including the use of green cleaning products and energy saving projects and practices, where such efforts have earned the department a HECO rebate of about $11,000. His suggestions have been incorporated into the design of the new recreation center and he remains dedicated to building a stronger image for Campus Center for the 8,000 to 10,000 daily visitors. He encourages the use of technology to improve efficiency, implemented a water bottle dispenser unit, devotes time to advocate for student needs at the State Legislature, and creates an environment for success for the facilities team he manages. Kyono's integrity and leadership efforts have created a sense of ownership and pride among his staff which in turn have created an environment for success where high quality work is produced.