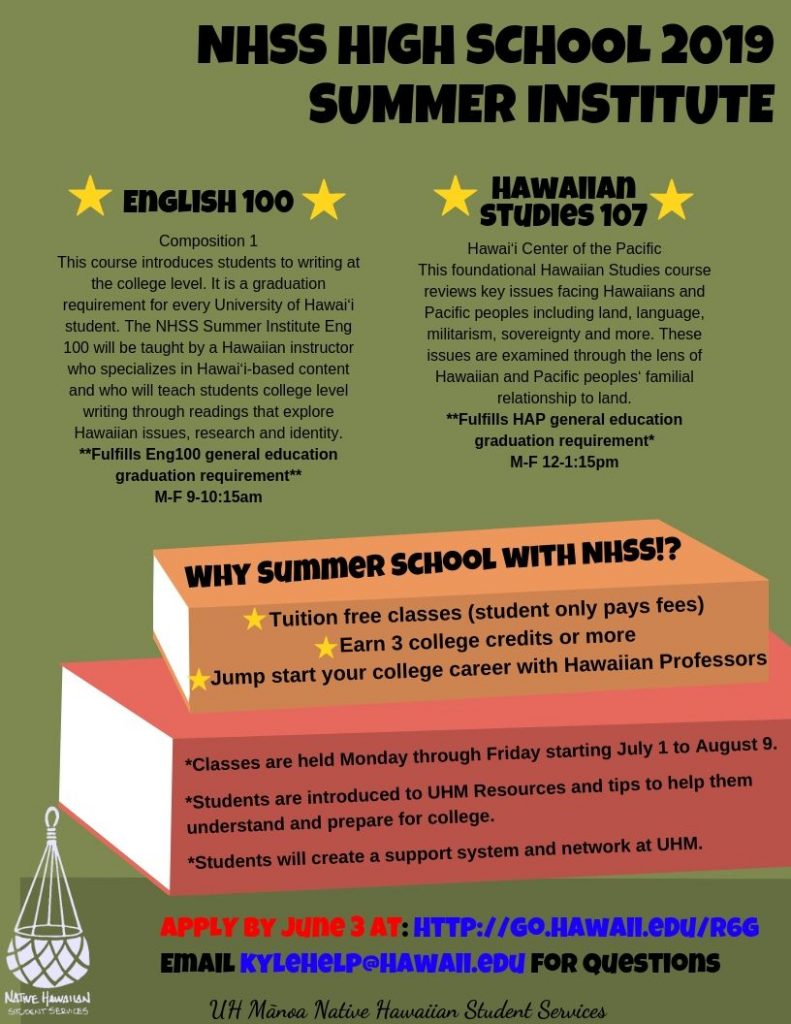 WHAT YOU NEED TO KNOW
Native Hawaiian Student Services Tuition-free summer school.
All classes are offered during the second summer session, July 1-August 9, unless noted below.
All classes are through and at the University of Hawaiʻi at Mānoa.
By submitting this registration form, students agree responsibility for the non-refundable Summer Outreach College fee of $87.00 + $139 per course (ex: $226 for one class or $365 for two classes).
All Summer Institute participants must attend a once-weekly academic and student support workshop in addition to the class. The workshop will be held once a week (TBA) from 10:30-11:45am.
Tutoring is available at Native Hawaiian Student Services for students in these classes
You must have a 2.5 GPA or higher to qualify for this program
Send inquiries or questions to Kyle Help at kylehelp@hawaii.edu.
WHAT YOU NEED TO DO
Fill out and submit the application on this page by Monday, June 3, 2019.

Download the UHM Outreach College Summer Scholars application by clicking here. Fill it out and save it.

Request a copy of your latest high school transcript from your school counselor.

If wishing to take both classes, request a letter of recommendation from a high school teacher you've taken a class from or your high school counselor be emailed directly to kylehelp@hawaii.edu by Monday, June 3, 2019.

Email your supporting documents (i.e. your transcript and your Summer Scholars application) to kylehelp@hawaii.edu by Monday, June 3, 2019.
Deadline Summary
Online NHSS Application (Below)
Monday, June 3, 2019
Transcript and Summer Scholars application

(emailed to kylehelp@hawaii.edu)

Monday, June 3, 2019

Letter of Recommendation from high school teacher or counselor

(emailed to kylehelp@hawaii.edu)

Monday, June 3, 2019
CLASS DESCRIPTIONS
HWST 107
Hawaiʻi Center of the Pacific
This foundational Hawaiian Studies course reviews key issues facing Hawaiians and Pacific peoples including land, language, militarism, sovereignty and more. These issues are examined through the lens of Hawaiian and Pacific peoplesʻ familial relationship to land.
**Fulfills HAP general education graduation requirement**
M-F 12-1:15pm
ENG 100
Composition 1
This course introduces students to writing at the college level. It is a graduation requirement for every University of Hawaiʻi
student. The NHSS Summer Institute Eng 100 will be taught by a Hawaiian instructor who specializes in Hawaiʻi-based content and who will teach students college level writing through readings that explore Hawaiian issues, research and identity.
**Fulfills Eng100 general education graduation requirement**
M-F 9-10:15am
HIGH SCHOOL SUMMER INSTITUTE 2019 APPLICATION