Reposted from UH News
The University of Hawaiʻi at Mānoa Department of Music earned top rankings in a national survey of music education programs. UH Mānoa's MA in Music Education ranked fourth out of the 15 top programs in the U.S. in the 2021 edition of Best Value Schools. The evaluation is based on tuition and estimated completion time.
"We are proud to offer a high quality master's program that is financially accessible to our students," said UH Assistant Professor of Music Jennifer Blackwell.
The Best Value Schools review specializes in helping students find relevant universities and programs that are affordable. The UH Mānoa music education program's top priority is to improve the quality of music education in schools across Hawaiʻi.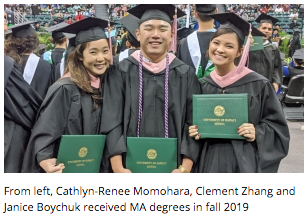 "The UH Mānoa Music Department is the only institution that offers the MA in music education degree in the state," said Chet-Yeng Loong, music education chair at UH Mānoa. "85% of the students in the program are full-time public and private school music teachers.
The program was able to quickly adjust to distance learning during the COVID-19 pandemic, because many of the courses were already designed for online delivery, and are supported with videos and virtual discussions for the students' participation. The program also offers classes in the evenings to accommodate the schedules of MA students, the majority of whom teach during the day.
Daniel Shaver is currently pursuing his master's in music education while teaching orchestra at Radford High School. "It allows students who have a music degree but don't have a teaching certification to learn how to be a teacher and join the workforce on their way to earning their degree. I was able to be a part of this very helpful and welcoming community with many resources that I can pull from whenever I need help."
Helemano Elementary music teacher Janice Boychuk raves about completing the MA music education degree at UH Mānoa. "The faculty genuinely cares for you and your goals, pushes you to go beyond what you think you could ever do, and the camaraderie between yourself and your classmates truly embodies the 'aloha' spirit," she explained.
UH alumna Cathlyn-Renee Momohara teaches general music at Wilson Elementary and appreciated the program's guidance and convenience. "It allows teachers to continue working while pursuing their education. Our conversations about theory, current research and practice helped shape my approach to teaching."
In addition to standard music education classes, the program offers musical opportunities that represent diverse cultures in Hawaiʻi, such as a variety of ethnic and traditional Western ensembles and ethnomusicology classes.
"The program is a great choice for learning traditional and contemporary western pedagogy, with a dash of culture in Hawaiʻi's education system, and research techniques," said UH alumnus Clement Zhang, who teaches band and choir at Highlands Intermediate.
This program is an example of UH Mānoa's goal of Enhancing Student Success (PDF), one of four goals identified in the 2015–25 Strategic Plan (PDF), updated in December 2020.