The Ethnomusicology Association at UH Mānoa is proud to invite Prof. Brian Diettrich for the Words on Music Speaker Series. Dr. Diettrich is a senior lecturer in Ethnomusicology at Victoria University of Wellington, New Zealand, and is a UHM alumnus. His research focuses on the music and dance of Micronesia with particular interest in Indigenous performance, imperialism and decolonization, environment and ecology, and materiality (in musical instruments, recordings, and archives), as well as in film, festivals, and online music communities. 
The presentations will be held via ZOOM, and are scheduled for Monday, March 22nd at 12:30pm (HST) and Tuesday, March 23rd at 5:00pm (HST). (Please, RSVP using the forms at the bottom of this page).
While the Monday talk is only open to music students and faculty who are part of the University of Hawaiʻi system at large, the Tuesday presentation is open to the general public!
The Monday presentation intends to explore how music and dance offer reflections and challenges about environment and place in Oceania. Drawing broadly on the Federated States of Micronesia, Aotearoa New Zealand, and the broader Pacific, these examples situate performance within Indigenous knowledge and the "relationalities" between humans and non-humans, just as they offer critical questions for the emergent global discourse on music ecology.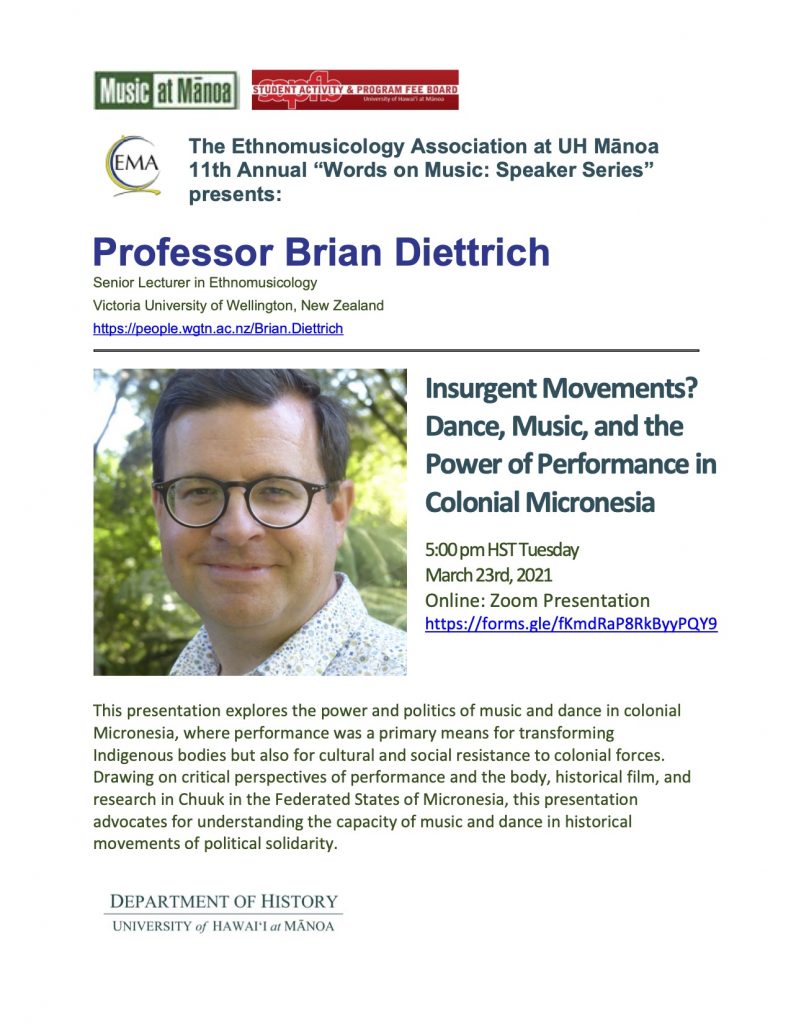 The Tuesday presentation intends to explore the power and politics of music and dance in colonial Micronesia, where performance was a primary means for transforming Indigenous bodies but also for cultural and social resistance to colonial forces. Drawing on critical perspectives of performance and the body, historical film, and research in Chuuk in the Federated States of Micronesia, this presentation advocates for understanding the capacity of music and dance in historical movements of political solidarity.
– No prior knowledge is required in order to attend the talks. –
For more information on the Ethnomusicology Association at the University of Hawaiʻi at Mānoa, please visit: https://www.facebook.com/TheEthnomusicologyAssociation
Registration form for Monday, March 22 – 12:30pm HST – https://forms.gle/Zpas9k2ARgPFbSXR7
Registration form for Tuesday, March 23 – 5:00pm HST – https://forms.gle/fKmdRaP8RkByyPQY9