The University of Hawai'i at Mānoa's chair of undergraduate studies in music, Dr. Jane Freeman Moulin, enhances the first major exhibition of Marquesan Art at at the Musée du Quai Branly in Paris with her work, "l'Univers De La Fête: Une Vision Inspirée Des Premières Descriptions Des Îles Marquises." Dr. Moulin's contribution to Mata Hoata, arts et société aux îles Marquises, the exhibit's scholarly companion catalogue, deals with the historic Marquesan practices of feasting and links the music and dance performed on such occasions to the social context of socio-political exchange among communities.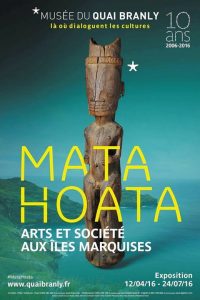 Other recent contributions include a chapter in The Oxford Handbook of Music Revivals, titled  "Trailing Images: Hula and Theater Branding in Hawai'i," Dr. Moulin states, "part of the fun of this project was talking with composer Jon de Mello and finding out more about his creative process in composing and filming the work, as well as learning the stories of the people involved in producing the longest running trailer in Hawai'i's history." Dr. Moulin analyzes the work's context in a Renaissance and post-Renaissance Hawai'i and examines how it moves beyond outsider representations of Hawaiian culture to allow a multi-ethnic population to share in a sense of uniqueness that surrounds the Hawaiian Islands.
The University of Hawai'i at Mānoa is enriched by the cross-departmental and international collaborations that Dr. Moulin's work fosters. Together with UHM's Anthropology Department's Dr. Barry Rollett, she joins outstanding international scholars of the Marquesas to promote and spread knowledge of the diverse  cultures of Polynesia with the Paris publication. Similarly, Dr. Moulin's contribution to The Oxford Handbook of Music Revivals represents a successful collaboration with researchers at the University of Manchester and University College Cork. She is currently working on a project with New Zealand scholars that focuses on music and dance pedagogy in the Pacific.
post by John Paul Brabant