The UH Mānoa Chinese Ensemble, under the direction of Professor Frederick Lau, was invited by the University French Polynesia (UFP) to perform concerts in Tahiti for one week. Members of the group performed several concerts at venues such as the Artistic Conservatory of French Polynesia, the Sinitong Chinese Association New Year Celebration at the Kanti (Guandi) Temple ground, and the UFP campus, and the Confucius Institute.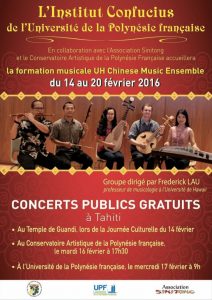 The UH ensemble is comprised of ethnomusicology PhD students Yuan-yu Kuan (erhu), Xi Yang (pipa), Benjamin Fairfield (zhongruan), and Yi-chieh Lai (guzheng), as well as Frederick Lau (dizi). The UH Mānoa Chinese Ensemble while on tour performed a combination of regional sizhu (silk and bamboo) pieces, instrumental solos, and popular Hawaiian tunes transcribed for Chinese ensemble. The group's performance was enthusiastically received and praised for its artistic excellence, technical proficiency, and dynamic presentations. The ensemble also presented their musical talents at the Community Ukulele class at the Kuo Min Tang Community Center.
Members' recent work include an impressive array of publications, fellowships, and awards. Mr. Fairfield recently published a book translation with Sansilp Publishing, Suwichan Phattanaphraiwan (Chi). I am Tehnaku, Ms. Lai accepted a 2016 Ning Travel Award to conduct field research in Taiwan, and Mr. Kuan was invited by Duke University Graduate Student Humanity Workshop Organization Committee to present his recent work "East Asian Roots Trip—The Concert: Contemporary Musical Mixing, Interconnectedness, and Indigeneity on the Islands of Okinawa and Taiwan" at their annual conference.
Post by John Paul Brabant
Photo by David Murphey