Reginald A. Padilla
Jazz Ensemble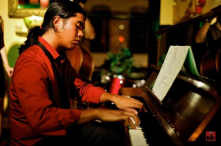 Reginald Padilla was born and raised in Long Island, NY. He began his musical journey at the age of seven on the piano, and by nine, began studying the saxophone as well. While studying classical piano, Reggie was also exposed to a wide variety of music. He earned his Bachelors Degree in Classical Piano Performance from Long Island University at C.W. Post, and a Master's Degree in Music Education from New York University.
Throughout his career, Reggie has had the opportunity to study and participate in master classes with Lew Soloff, Phil Woods, Jim Snidero, Doc Severinsen, Marcus Roberts, Billy Taylor, Pete Malinverni, Bob Albanese, Don Friedman, and Martin Wind. He has performed with Valery Ponomarev, Arturo O'Farill, Stafford Hunter, Yasuko Hayakawa, and Abe Lagrimas Jr. with Bop Tribal.
In January 2007, Reginald relocated to Honolulu, Hawaii, and continued his musical journey. He is now a member of the internationally acclaimed and award winning quintet Bop Tribal. Reggie continues to perform and record around the world on both tenor saxophone and piano.
He currently directs the jazz ensemble at the University of Hawaii at Manoa and has a private teaching studio. More about the UH Jazz Ensemble and audition information.