Raymond Vaught
Musicology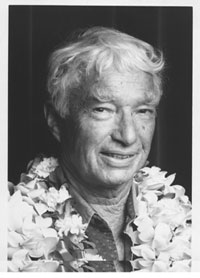 Raymond Vaught was a professor of musicology at the University of Hawaii where he taught from 1955 until his retirement in 1979 as Professor Emeritus. He earned degrees at the University of Idaho, the Eastman School of Music and Stanford University (Ph.D.1959). Prior to his tenure at the University of Hawaii, Dr. Vaught taught at the University of Puget Sound where he was the founding conductor of the Tacoma Symphony Orchestra.
At the Music Department at UH Mānoa he created the Collegium Musicum, an ensemble dedicated to performing early music and served as chairman of the department as it grew and moved to it's current location. He was a violinist and violist in the Honolulu Symphony Orchestra for over 30 years and was a founding member of the Honolulu String Quartet. Dr. Vaught was a strong supporter of concert music and opera in Hawaii including the Honolulu Chamber Music Series and Chamber Music Hawaii. For many years he was the music and drama critic for the Honolulu Advertiser and he continued to be active lecturing on opera for the Hawaii Opera Theatre after his retirement.
Raymond Vaught passed away in 2000 at the age of 86.