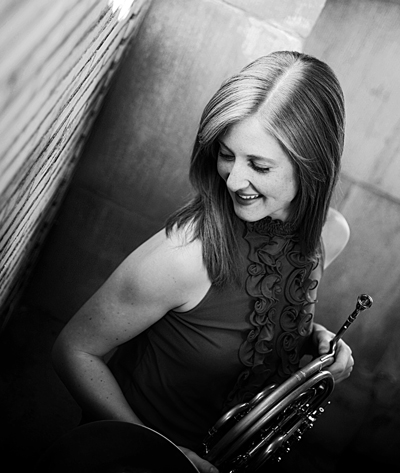 Maura McCune, Acting Principal Horn of the Hawaii Symphony Orchestra, has distinguished herself as a virtuosic young artist demonstrating "unusual maturity" in her expressive playing as described by La Scena Musicale. Ms. McCune currently performs as Acting Principal Horn of the Hawaii Opera Theatre Orchestra as well as throughout the islands as the hornist with the Honolulu Brass Quintet. Prior to her most recent appointments, Ms. McCune performed as Acting Associate Principal and Third Horn at both the Hawaii Symphony Orchestra and Hawaii Opera Theatre Orchestra. She was also was offered the Fourth Horn position with the Knoxville Symphony Orchestra. In addition, she could be heard in performance as an extra musician with the Rochester Philharmonic Orchestra, Cayuga Chamber Orchestra, Houston Chamber Choir, Houston Grand Opera Orchestra, and the Houston Symphony Orchestra.
Equally devoted to music education, Ms. McCune shares her excitement and passion with her dedicated students at University of Hawai'i at Manoa where she serves as the Lecturer of Horn. An engaging and animated teacher, Ms. McCune can be found in the community efficiently guiding budding young students in private lesson, chamber, adjudication, and clinic settings.
A graduate of the Shepherd School of Music at Rice University, Ms. McCune completed her Master's Degree in Horn Performance under the tutelage of William VerMeulen. She also toured as a member of the Grammy Award nominated Eastman Wind Ensemble as an undergraduate student at the Eastman School of Music. There Ms. McCune completed her Bachelors of Music in Horn Performance under the direction of W. Peter Kurau, and she was the recipient of the prestigious Performer's Certificate. She also graduated as a Secondary Piano Major studying under the tutelage of Daria Rabotkina and Albert Kim. Originally hailing from Wilmette, Illinois, Ms. McCune was inspired at an early age by the renowned Chicago Symphony Brass, and she studied regularly with CSO hornists Alice Render and Dale Clevenger.
An avid racket sport athlete, Ms. McCune particularly loves winding down after a match to an adventurous and deliciously foodie dinner with loved ones. Ms. McCune is beyond overjoyed to marry her best friend and Hawaii Symphony Orchestra Acting Third Trumpet, Patrick Corvington, in May of 2014.