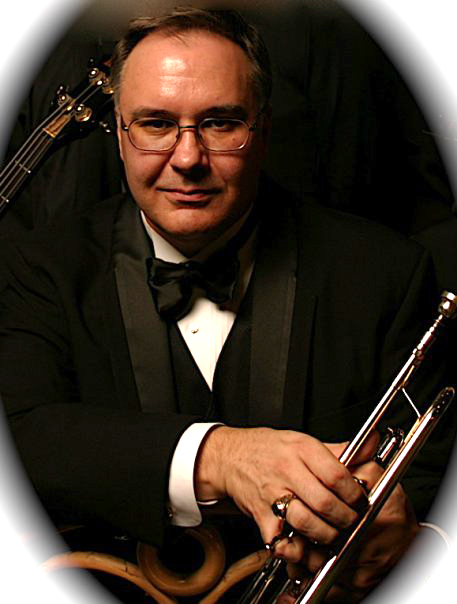 David Mark Minasian holds a Master of Music degree in Jazz Studies (with distinction) and minor in Trumpet Performance from the Indiana University School of Music, and certificates in Audio Engineering, Maintenance and Production from the Recording Workshop in Chillicothe, Ohio.
While a student at Indiana University, he studied trumpet with William Adam, composition and improvisation with David Baker and arranging and orchestration with Dominic Spera. During the summer of 1982, Mark was a student at the Tanglewood festival where he studied brass chamber and orchestral repetoire with members of the Empire Brass Quintet and Boston Symphony Orchestra. During the spring of 1992, he attended a series of master classes on brass pedagogy given by renown brass pedagogue Arnold Jacobs.
From 1987-1990, Mark toured internationally as Musical Director, arranger and trumpet soloist for the Shrine Circus. As musical director, he negotiated all contracts with local musicians' unions, arranged music for various circus acts, supervised the sound checks, ran rehearsals and conducted the shows. During this time, Mark performed in over 40 states and within all provinces of Canada.
In July 1999, Mark was featured as a trumpet soloist and clinician at the national conference of the Australian Trumpet Guild, held in Sydney. The review of his performance, written in the Journal of the Australian Trumpet Guild, stated "Mark Minasian filled the room with a big free and gorgeous sound." Of his master class on the teaching methods of Bill Adam, the Journal stated "It is important as we approach the 21st century that players can back their approaches with sound practical success and good theoretical basis. Minasian did this very well and it was insightful to have the Adam approach explained first hand from a former student." The Journal of the International Trumpet Guild reported "Minasian filled the room with his gorgeous sound … his workshop on advanced pedagogy and the "Adam Method" captivated the crowd."
Mark has been active as a jazz educator in Hawaii. Working with the United States Marines Pacific Forces Jazz Ensemble, he co-produced two Jazz festivals, providing educational opportunites to high school students throughout the Hawaiian islands. He has also conducted the All State High School Jazz Ensemble at the 1998 and 1999 Hawaii International Jazz Festivals.
In addition to being a Professor of Music at Leeward Community College, he regularly performs in the pit orchestras for local musical theater productions, serves as Assistant Conductor, arranger and Principal Cornet for the Honolulu Community Concert Band and works as a free lance arranger and trumpet player throughout the Hawaiian islands.