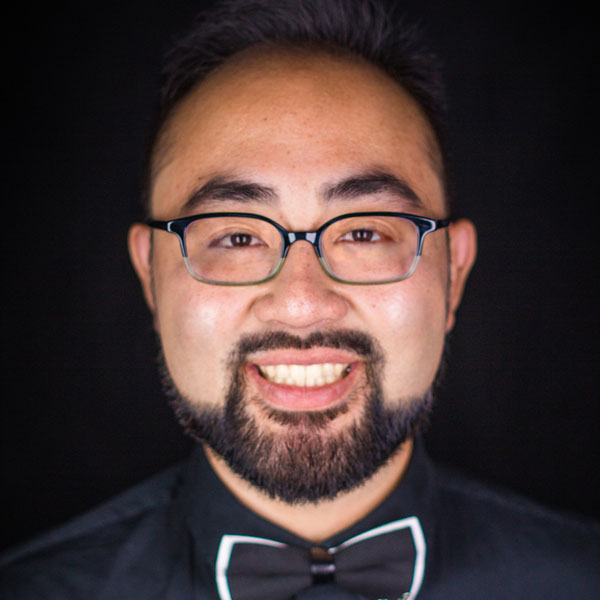 ---
Jeremy M. Wong
Lecturer in Music, Choirs
---
Jeremy M. Wong, conductor and voice teacher, enjoys a multifaceted teaching career in the state of Hawai'i, with experience and success teaching a wide variety of ages and skill levels. He is currently the choral director at the University of Hawai'i at Mānoa (UH Mānoa), where he conducts the University Chorus, Concert Choir, and Chamber Singers; he has also taught applied voice lessons to music majors. He recently served on the faculty of Hawai'i Pacific University as interim director of choral activities, and has taught choirs and beginning voice classes at Kapi'olani Community College and the University of Hawai'i at West O'ahu. With keen interest in the greater choral community of Hawai'i, he has worked with and conducted groups such as Early Music Hawai'i, the Hawai'i Youth Opera Chorus (his choral alma mater), The Honolulu Chorale, and the Lutheran Church of Honolulu Choir. As someone steeped in the culture of Hawaiian music, Mr. Wong recently presented a lecture-recital entitled Governmental Tensions in Hawai'i: The Life and Music of Queen Lili'uokalani at Lycoming College in Williamsport, Pa. He also coached and conducted the Lycoming College Choir and Chamber Choir on Hawaiian diction and style. Behind the scenes, he is active as a board member of the Hawai'i Chapter of the American Choral Director's Association, where he is the webmaster and chair of communication; he is also a member of Chorus America and the National Collegiate Choral Organization.
In addition to his teaching, Mr. Wong is rapidly building a name for himself as a soloist and ensemble singer on both the international and U.S. stages. The 2016–17 season saw his exciting debut with the Hawai'i Symphony Orchestra, singing the bass solo to Beethoven's Symphony No. 9 in D minor; he has also appeared as a member of the Carnegie Hall Chamber Chorus, which performed with The Tallis Scholars. He has lent his voice to many other project choruses, including the Junges Stuttgarter Bach Ensemble, the Weimarer Bach Kantaten Academie, and as a core member of the Berwick Chorus of the Oregon Bach Festival. Locally, Mr. Wong has collaborated and soloed with groups such as Early Music Hawai'i, the O'ahu Choral Society, Maui Chamber Orchestra, and Kona Choral Society, and the Lutheran Church of Honolulu Choir.
Mr. Wong holds a Master of Music in vocal performance from UH Mānoa where he studied with Maya Hoover, and a Bachelor of Musical Arts from DePauw University where he studied with Caroline B. Smith. While pursuing his vocal studies, he supplemented his core curriculum by pursuing independent conducting opportunities. He founded Nā Leo Na'auao (The Voices of Knowledge), a student choir at DePauw, and took classes and had conducting sessions with Jan Harrington and Gregory Ristow; interned and conducted with the Creating Artistry Conductor's Workshop at Butler University led by Henry Leck and Eric Stark; attended and was a master conductor with Rodney Eichenberger's Choral Conductor Workshop; and in his Master's study, worked very closely with the UHChoirs and Miguel Ángel Felipe, running rehearsals as a substitute conductor, and supervising student conductors enrolled in MUS 356 (Choral Methods). He has also participated in the UH Conductor's Workshop, learning from master conductors Vance George, Jonathan Velasco, and Kathy Saltzman Romey.