Allen Trubitt
Composition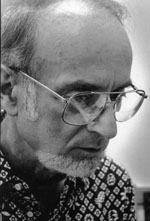 Allen Trubitt was born in 1931 in Chicago. He graduated from the Chicago Musical College of Roosevelt University with a master of music education degree in 1954. After two years in the army he took a job teaching cello and music theory at Indiana State College in Pennsylvania. His interest in composition continued to grow, and he began post-graduation study at Indiana University with Bernhard Heiden, a disciple of Paul Hindemith.
In 1964 he accepted a position at the University of Hawai`i at Manoa, where he taught for thirty years, including two terms as department chair. Upon his retirement he was granted the title of professor emeritus.
His compositions include two symphonies, a symphonic tone poem for band, numerous chamber works, six piano sonatas, two violin sonatas, a sonata for trumpet and another for saxophone. His choral work An American Letter won first prize in a state competition for a piece to commemorate the Bicentennial of American independence. Athough his musical experiences have been almost exclusively instrumental, his published works are chiefly vocal, including several song cycles and many other works for instruments and voices. He also co-authored several texts in music theory and ear training. He is a member of the American Society of Composers. Authors, and Publishers.
Allen Trubitt passed away on May 25, 2008.