Information Session: Kwansei Gakuin University (Japan)
Interested in learning more about international exchange opportunities in Japan? Kwansei Gakuin University (KGU) is hosting information sessions!
The sessions will include a short greeting from KGU Associate Professor Matthias HENNINGS (PhD), a presentation of the exchange program, as well as accommodations, and extracurricular activities led by KGU Incoming Exchange Coordinator Amina DANTE, and a Q&A. You can register for one of these information sessions HERE. There will be a few dates/times that you can choose from.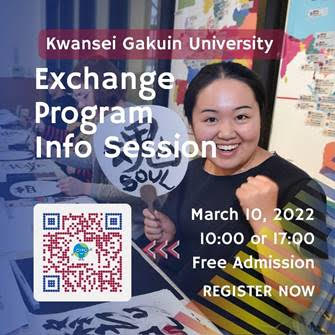 For more information about studying abroad at this institution, please visit MIX's partner overview page: https://manoa.hawaii.edu/mix/partner-universities/kwansei/
And, as always, for more information on how to apply to MIX, please visit our How to Apply page: https://manoa.hawaii.edu/mix/outbound/apply/