Note: The deadline to apply for this opportunity has passed (March 6, 2020)
Friends of Lyon Arboretum Summer Internship Program
Lyon Arboretum is offering 4 paid summer internships!
For the 2020 Friends of Lyon Arboretum Summer Internship Program, interns will be provided with a unique experience spanning four participating departments.
Interns will each have a host department and will also participate in group activities twice a week.
Interns will gain valuable in-depth experience while working with their host department.
Group activity days will provide insight into the workings of other departments and their peers' experiences.
Application Deadline: March 6, 2020
Internship Schedule: June 8 – July 31, 4 days per week (Monday – Thursday). Last week of the internship will be a full week (Monday – Friday).
Pay: $2500
Hours: 8:00 am – 4:00 pm (hours may vary depending on the department)
How to Apply
If interested in this internship opportunity, email a cover letter, resume and list of three references to Raedelle Van Fossen, Education Manager, at raedelle@hawaii.edu.
In your cover letter, please indicate your first, second, and third choice of which host department you would like to be placed.
Application Deadline: March 6th, 2020
Internship Details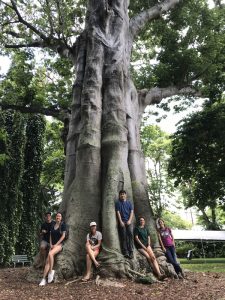 For the 2020 Summer Internship Program at Lyon Arboretum, sponsored by the Friends of Lyon Arboretum, interns will be provided with a hybrid experience across four participating departments.  Interns will each have an assigned host department, but will also participate in group activities on a weekly basis.  As such, interns will assist in a variety of tasks as detailed by their respective department and gain valuable in-depth experience there.  However, during rotations they will also develop an appreciation for the other units at Lyon and receive an insight into what their colleagues are doing during the internship timeframe.
The program will be organized such that Mondays and Wednesdays are designated as host department days where interns will work independently, and Tuesdays and Thursdays will be group activity days.  On group activity days, mornings will generally be occupied with lectures or workshop-style activities to introduce interns to a particular topic, and the afternoon will be dedicated to a group work activity that benefits the host department.  There will also be field trips for the interns to visit other organizations and sites and learn behind the scenes.
Education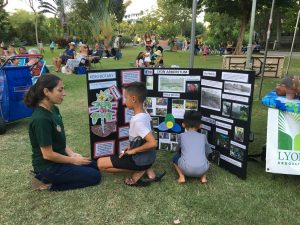 Participants of the Lyon Summer Intern program will experience a range of activities that highlight an education program in a botanical garden setting.
Responsibilities of the Lyon Education Department include running the K-12 school tours program, coordinating community classes, training volunteers for guided tours as well as leading tours for visitors. The Education Department also develops place-based activities for school groups and nature camps, participates in and develops materials for outreach events, recruits volunteers for the other departments and Arboretum events, and maintains the Children's Garden. Maintenance of the Arboretum website and social media accounts is also a responsibility of the Education Department. The Education Intern is expected to help with these duties during their tenure at the Arboretum.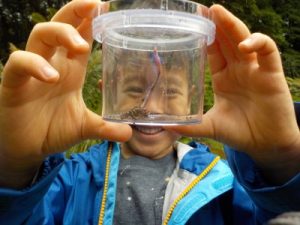 Interns for the Education Department must complete a project that focuses on a specific area of interest within the education department responsibilities. One project may focus on curriculum for the school group tours by designing a standards-based activity for the school tours that features resources available at the Arboretum. The intern may also choose to do a garden project by designing and installing new garden features that will be used as a resource for education activities in the Children's Garden. Interpreting the Children's Garden plant collections and cultural resources by researching and writing copy for displays, signage, events, and brochures can also be a designated project.
Grounds
The Grounds and Collections Department is responsible for the management, curation, and development of all plantings at the Arboretum. Our diverse collection provides students, researchers and community members with access to plants from tropical areas around the world. Those who apply to intern in our department will be exposed to the rigors of maintaining this robust living collection. Selected applicants will learn the skills required for general maintenance/monitoring of this collection to include plant identification, invasive species removal, pruning techniques, accession inventory/health monitoring, out-plant site preparation and subsequent outplanting. Also, the Arboretum functions as a living laboratory to educate the public. To make our accessions accessible Grounds and Collections interns will focus on trail-building and interpretation of wayside plants. Finally, trainees will shadow our GIS and Database managers to learn how to map accessions, document accessions using herbarium vouchers, and properly store information collected during an inventory. During the individual's time in this program they will be working with professionals who will instruct you not only in the aforementioned skill sets, but in safety and best practices as well. By the end of this experience selected applicants will possess a well-rounded introduction to the role of arboreta in conservation, best practices for the maintenance and inventory of native and exotic species, and the current state of the native flora of Hawaiʻi.
The Hawaiian Rare Plant Program – Seed Conservation Lab
The Lyon Arboretum Hawaiian Rare Plant Program, which houses the Seed Conservation Laboratory, is dedicated to safeguarding the germplasms of threatened and endangered species from throughout the state of Hawaiʻi. We have historically banked > 27 million seeds from > 600 taxa including some of the rarest plant species on the planet, as well as storing seeds for common species facing modern threats such a Rapid Ohia Death (ROD), in collaboration with various state, government, NGO, and private conservation partners across different islands. Participants of the Lyon Summer Intern program in the Seed Conservation Lab will experience a range of activities related to seed bank operations. The Seed Conservation Lab Intern is expected to help with these duties as well as complete a small research, conservation, or outreach project during their internship program.
Activities of intern:
Seed processing (e.g. cleaning, sorting, counting)
Viability testing (e.g. preparing testing substrate, seedling count, data recording)
Seedling propagation in the growth chamber and greenhouse (e.g. plant media preparation, potting up, watering, sanitation, seedling inventory)
Small research, conservation, or outreach project related to seed banking of native Hawaiian threatened and endangered species
Benefits to intern:
Introduction to native Hawaiian plant species, especially the U.S. Federally listed Threatened and Endangered species
Introduction to ex situ Hawaiian plant conservation, and the HRPP's plant conservation network and collaborators
Receive hands-on training in the lab and gain skills related to various seed processing and banking strategies as well as data collection
Opportunity to conduct a small research, conservation, or outreach project
Significance:
Provides an opportunity for in-depth outreach to individuals who are interested in conservation of threatened and endangered native Hawaiian plant species
Provides an opportunity for a small research, conservation, or outreach project of interest to interns, which would help interns learn and think about conservation with possibility for a new discovery (in case of a research project), which could have immediate application
Seed Conservation Lab would obtain needed manpower to conduct seed banking operation
Horticulture
The Horticulture Intern would gain experience in all aspects of greenhouse activities while working with a wide variety of tropical plant species including natives, Polynesian crops, carnivorous plants, ornamentals, and edibles. Greenhouse duties would include plant propagation, watering, potting, fertilizing, weed and pest management, as well as inventory, labeling and preparation for plant sales.
In addition to greenhouse duties, the intern will have a chance to work in our Hawaiian Garden, planting and maintaining native Hawaiian species. Working in collaboration with the Grounds Dept., the intern will also gain an understanding of the flow of plant material from collecting seeds and cutting to site preparation and planting.  In consultation with the Horticulture Manager, the intern will select and carry out a propagation trial, the results of which will be presented at the completion of the internship.
The Horticulture Intern can expect to gain experience in plant propagation techniques, plant identification, record keeping, and cultural requirements for a variety of tropical and subtropical plants.
Questions
If you have questions, please call Raedelle Van Fossen at (808) 988-0461 or email at raedelle@hawaii.edu.
Mahalo for your interest in our Friends of Lyon Arboretum Internship program!