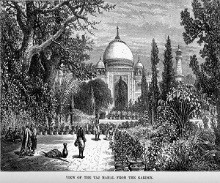 Seventy-five years ago, when the Oriental Institute began collecting materials on India, South Asia was not yet regarded as an area of study. Today, the collection is rich in resources about South Asia, and filled with treasures. Several of these are rare items, held in the Special Research Collection, such as Views of India, an album of fifty-four water-color views of architectural sites at Agra, Delhi, and Mathura; Thomas Pennant's Indian Zoology, a beautifully illustrated volume on animals and birds on the subcontinent; travel accounts by William Hodges, who accompanied Captain Cook on his second voyage; and art prints of Hindu icons by Atul Basu, a Calcutta (Kolkata) artist, active in the late 19th and early 20th centuries.
In its early years, the Oriental Institute, led by the university's professor of Philosophy, Charles Moore, began acquiring materials on Sanskrit, Indian philosophy, and religion. Later, rare materials from the eighteenth, nineteenth, and twentieth centuries were added to the collection.
In 1962, the East-West Center Library joined the Library of Congress administered South Asia Cooperative Acquisitions Program (SACAP), and stepped up collecting South Asia-related materials in an increasingly wide variety of disciplines and languages, including vernacular languages such as Bengali, Hindi, Pali, Prakrit, Sanskrit, Tamil, and Urdu. In 1970, the East-West Center Library was absorbed into the University of Hawai'i Library, and the materials were relocated (first to Sinclair and then Hamilton Library).  UHM still acquires materials published in South Asia through SACAP and purchases materials published outside of South Asia.