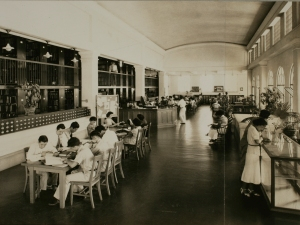 The University Archives the repository for official and unofficial records documenting the history of the University of Hawaiʻi at Mānoa, and of state and local history pertaining to the university. Its holdings include hundreds of collections of non-current university records of enduring value, as well as of personal papers of faculty, administrators, staff, and alumni.
The majority of the collections in the University Archives contain historical records produced by administrative and governance bodies of the University of Hawaiʻi (UH) System and UH Mānoa, such as the President's office, Chancellors' and Vice Chancellors' offices, Board of Regents, Manoa Faculty Senate, and Associated Students of the University of Hawaiʻi. Other notable creators of university records represented in the holdings include schools, colleges, research institutes, and departments, such as the Romanzo Adams Social Research Laboratory.
Records from UH offices, departments, and other units typically contain materials that document their core program activities and other oversight and coordination activities, such as minutes, correspondence, memoranda, policies and procedures, contracts, reports, and subject files.
Finally, the University Archives also contains over 100 collections related to faculty and students, and multiple photograph collections.
NEW for 2019: UH Mānoa Library is launching a new, online catalog for archival materials to make searching for relevant collections easier! This catalog currently has information on selected archival materials from the University Archives and Manuscript Collections, from the Hawaiian and Pacific Collections, and from the Charlot Collection. The catalog is a work in progress, and we will continue to improve and expand existing collection records—as well as add information about additional collections—as time goes on.