The Art Works - Mind, Energy, Spirit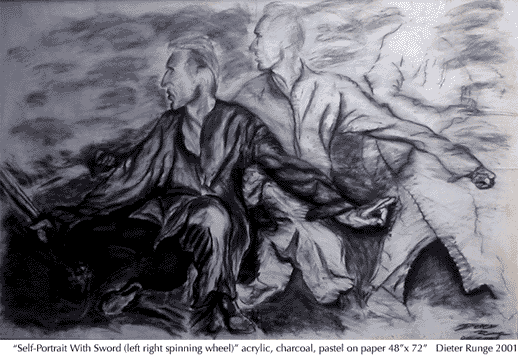 January 1, 2004-February 28, 2004
Location: Bridge Gallery
Millions of people practice taijiquan on a daily basis, and Time magazine recently called it the "perfect exercise". This Chinese healing and martial art has ancient roots in the philosophy of the Dao which is based on observation of how the universe works to find ways of living in harmony using the complementary principles of yin and yang.
Taiji is known as an internal art. It is the refinement of the live force energy (chi, qi), which is the goal of the practitioner. Taiji is a lifelong endeavor and ultimately a spiritual practice. So is the process of art making. Runge presents his exploration of taiji experiences and internal energy through different media. Mind, energy, and spirit are the three guiding principles for practicing taijiquan. The mind guides the energy, while the spirit creates the appropriate form and content. These principles can be equally applied to taijiquan, art, or any other human endeavor.
"100 Views of Taijiquan"
"100 Views of Taijiquan" is the central work and the culmination to date of Dieter Runge's taiji art. The works are inspired by the photographs in Dong Yingjie's book on taiji. Dong Yingjie is Dong Zeng Chen's grandfather and the founder of the Dong tradition of taijiquan. Dong Zeng Chen has been Runge's teacher since 1991. There are more than 200 small photographs in the book taken in the forties, depicting the traditional Yang style taiji long form, from which Runge selected 100. Painting the 100 canvasses (8"x 10", oil) was a tribute to the master; a study of the body positions; and an expression of the complexity and range of taiji. They also are meant to be fun to view. Runge lives in a converted garage and while painting during the summer of 2003, these canvasses covered every available spot of his studio. Observing the drying works surrounding him, Runge noticed how centered and balanced Master Dong is in every position--even in the transitions from one stance to another. This balance and centeredness is at the heart of taijiquan.
"Yoga Stretch"
"Yoga Stretch" is a powerful triptych (4'x 6'acrylic on wood) in primary colors representing a unique position in Runge's artistic development. During a "Drawing from Life" class in Fall 2002, Runge asked the question: "Where does drawing stop and painting start?" After multiple failures, this work emerged from the process. Runge has practiced yoga intermittently since the early 70's, but has not studied it as seriously as taiji. He plans to do other work on yoga, which he sees as another form of self-cultivation.
"Genesis of a Drawing"
"Genesis of a Drawing" is a drawing done as Runge's final project during Yida Wang's 'drawing from life' class Fall 2001. The idea was to show the movement of the taiji sword practice. Runge asked friend Stephen Whitesell to take some pictures of him, which Runge then cropped, selected and printed. He made various drawings in different sizes over the period of several weeks, finally settling on three large drawings, from which he made cutouts. These he hung up and moved them into different positions, until he found the final composition. The actual drawing was finished in one day from about 10 AM to 2 AM the next morning. During the last hour he did nothing but erasing, lightening up areas and softening edges to create the illusion of movement. This drawing depicts the transition from "Spinning Left Wheel" to "Spinning Right Wheel" of the taiji sword from.
Dieter Runge has been involved in the creative process since the early 60's, primarily as a singer/songwriter, performer and recording artist, and in film and video production and poster and album design. He recently graduated from UH Manoa with bachelors degrees in Psychology and Art, and is currently enrolled as a graduate student in the painting program at UH Manoa. He has studied taiji and qigong since 1982 in New York City with Manta Chia, T.K.Shi, and in Hawaii since 1991 with Zeng Chen Dong. He has been teaching taiji/qigong for more than ten years, currently at the Kaneohe Senior and Recreation Center, the Kailua Recreation Center, and the Osher Lifelong Learning Institute in the Colleges of Arts and Sciences at UH Manoa. His art teachers include Snowdon Hodges, Ron Kowalke, Rick Bigus, Yida Wang, Ka Ning Fong Ryuda Nakajima, Pat Hickman, and Pia Stern. Runge is also a watersports enthusiast and teaches kitesurfing and windsurfing. He writes:
"Taiji and art are two sides of the same coin. One practices both twenty-four hours a day. Doing taiji and being an artist means seeing, painting, thinking, listening and soaring--all in a heightened state of awareness and connectedness, to myself, nature, everyone and everything around me."