A Documented Life: The Papers of Hawaii's Senator Spark M. Matsunaga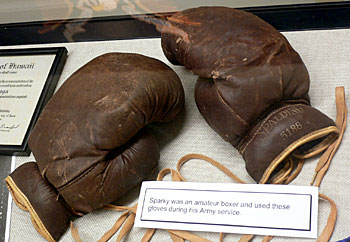 December 1, 2005-January 11, 2006
Location: Bridge Gallery
The Sen. Spark M. Matsunaga Papers form a cornerstone of the Hawaii Congressional Papers Collection at the University of Hawaii at Manoa Library.
In 1997, Sen. Matsunaga's widow donated his papers to the University of Hawaii at Manoa. There were approximately 1,200 boxes of material including documents, photographs, videos and memorabilia from his 28 years in Congress. The largest parts of this material concern Congressional activity supporting his strong interest in peace, space exlporation, veterans, transportation, taxation, health, natural resources and civil rights, especially redress for Japanese Americans interned in WWII.
Also in the papers are professional and personal materials from his pre-Congressional life; especially noteworthy are documents, letters, photographs and memorabilia from his Army service in the 100th Infantry Batallion and the 442nd Regimental Combat Team.
Sparky was an amateur boxer and used these gloves during his army service.