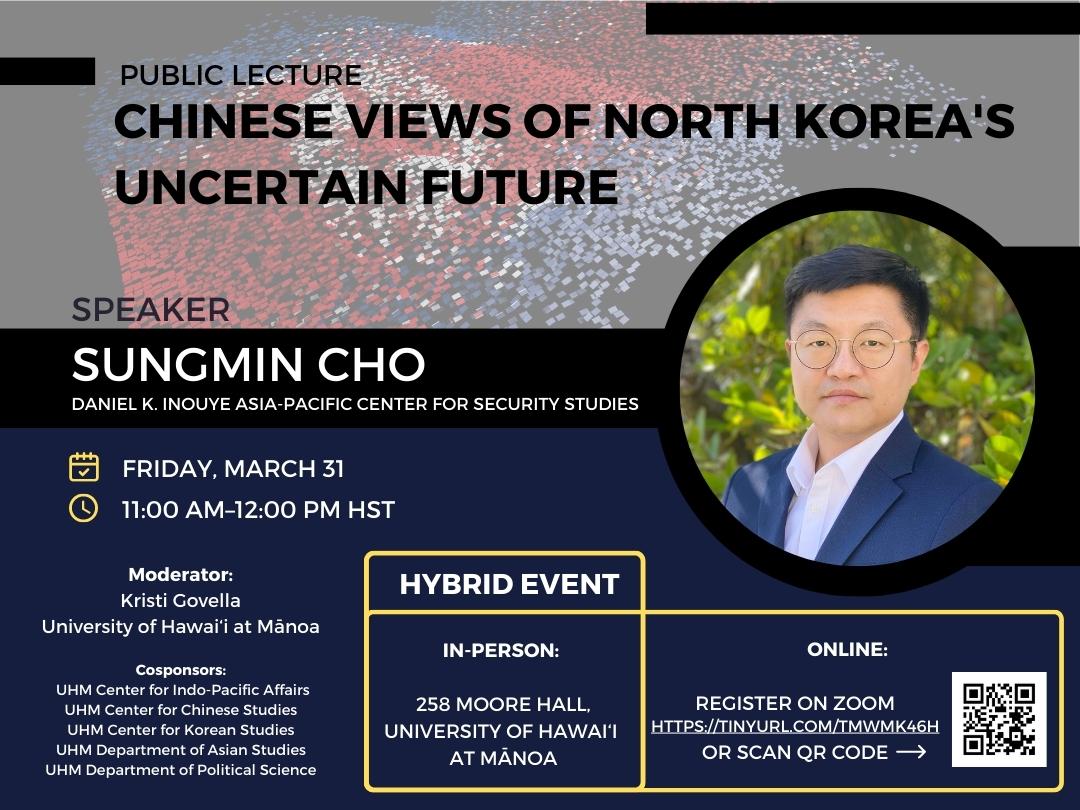 Friday, March 31
11:00 am–12:00 pm HST | 5:00–6:00 pm EST
Watch the Video:
Bilateral ties between China-North Korea have been described as being as close as "lips and teeth." But would China come to rescue North Korea if a crisis occurred on the Korean Peninsula? How can we explain the ups and downs of the bilateral relationship? How do Chinese scholars envision the future of North Korea? Join us for a presentation by Dr. Sungmin Cho (Professor, Daniel K. Inouye Asia-Pacific Center for Security Studies), followed by a discussion moderated by Dr. Kristi Govella (Director, Center for Indo-Pacific Affairs, University of Hawai'i at Mānoa).
Dr. Cho's area of expertise includes China-Korean Peninsula relations, North Korea's nuclear program, and US alliances in East Asia. Dr. Cho has published numerous articles in peer-reviewed journals, including World Politics, Journal of Contemporary China, The China Journal, Asian Security, Journal of Indo-Pacific Affairs, and Korea Observer. His commentaries have appeared in outlets such as Foreign Affairs, The Washington Quarterly, War on the Rocks, and The Diplomat. Prior to his academic career, Dr. Cho served in the Korean Army as an intelligence officer for three years, including seven-month deployment to Iraq. He holds a Ph.D. in Government from Georgetown University, an M.A. in International Relations from Peking University, and a B.A. in Political Science from Korea University.
This event is cosponsored by the Center for Indo-Pacific Affairs, the Center for Chinese Studies, the Center for Korean Studies, the Department of Asian Studies, and the Department of Political Science at the University of Hawai'i at Mānoa.