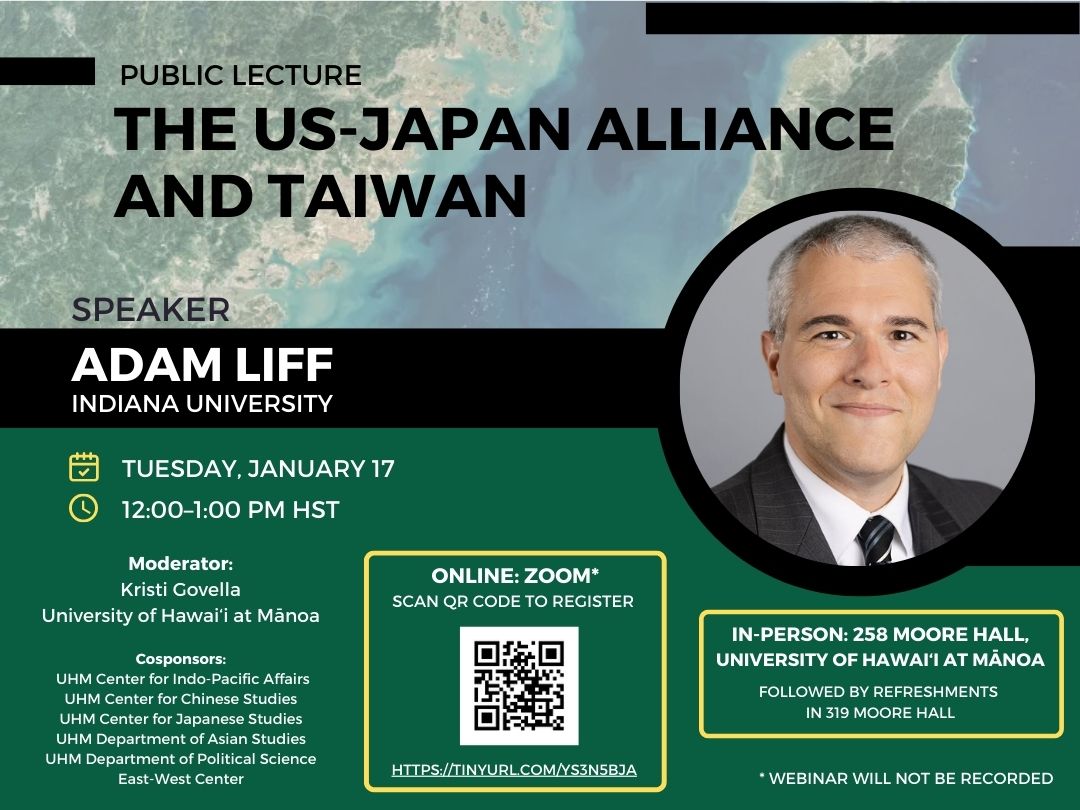 Tuesday, January 17
12:00–1:00 pm HST | 5:00–6:00 pm EST
In-Person: 258 Moore Hall (with refreshments to follow in 319 Moore Hall)
Online: Register for the Zoom webinar
In April 2021, Japan's Prime Minister Yoshihide Suga and US President Joe Biden made global headlines when they jointly "underscored the importance of peace and stability across the Taiwan Strait"—the first such reference in a summit-level statement since both governments switched diplomatic recognition from Taipei to Beijing in the 1970s. Amidst a rapidly changing regional balance of power and with the Biden administration asserting that U.S. allies would "take action" if Beijing seeks "to use force to disrupt the status quo." What role could Japan and the US play if there were conflict across the Taiwan Strait? How have Japanese perspectives on this question evolved over time? Join us on January 17 at 12:00–1:00 pm HST for a presentation by Adam Liff (Associate Professor of East Asian International Relations, Indiana University) and discussion moderated by Kristi Govella (Director, Center for Indo-Pacific Affairs, University of Hawai'i at Mānoa).
This event is cosponsored by the University of Hawai'i at Mānoa Center for Indo-Pacific Affairs, Center for Chinese Studies, Center for Japanese Studies, Department of Asian Studies, and Department of Political Science and by the East-West Center.
This webinar will not be recorded.