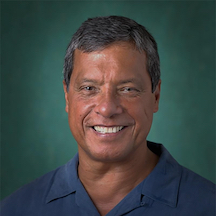 Aloha mai kākou,
From the moment I was offered the opportunity to be interim dean of Hawaiʻinuiākea, I have been treated to nothing but enthusiasm and support from every professor, employee and student I have spoken with. I am grateful for your kindness and even more aware of what an amazing school this is.
Before I was officially confirmed, I spent almost three weeks trying to learn this job. I have discovered that what a dean does is always challenging and interesting, that preparation and attention to detail matters, and that it is important to continually mind my responsibilities to those administrators above this office, to fellow deans who have kuleana for their own schools, and above all to those whom I really serve—the staff, students and faculty of Hawaiʻinuiākea.
This reminds me of how my late friend Kanalu Young described Hana Lawelawe, the serving chiefs who were konohiki to the rulers and at the same time, expected to be models of exemplary behavior. Coming to work each day and knowing that I represent you makes me determined never to embarrass you, never to fail to pursue the true interests of our school: to research and transmit the knowledge of our ancestor; and to strengthen our lāhui.
I was a student first, at this university and have had the pleasure and profit of being haumāna to many of you. I am indebted to you as the lāhui is indebted to you for your work and dedication. I will try to continue to be worthy of this position and its responsibilities.
no ka lāhui,
Jon Osorio
Dean