When:
June 30, 2021 @ 7:00 pm – 8:30 pm
Pacific/Honolulu Timezone
2021-06-30T19:00:00-10:00
2021-06-30T20:30:00-10:00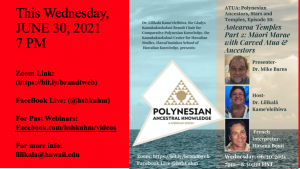 Aloha kākou,
I  am delighted to invite you to join us this Wednesday evening, JUNE 30, 2021 at 7 pm on https://bit.ly/brandtweb  for our 50th Brandt Webinar focusing on AOTEAROA MARAE: PART 2: Māori Marae with Carved Atua and Tīpuna [Ancestors] presented by Mike Barns, a Māori Architect who graduated from University of Auckland in undergraduate studies in 1980 and completed graduate studies at the University of Hawaii in 1985. With over 40 years practice in cultural architecture, much of it focussed on Pacific cultures, Mike has been active in assisting many indigenous groups define their traditional spaces and places with their own terms and values.
In Aotearoa he was instrumental in establishing the first Kohanga Reo and Kura Kaupapa Maori schools, assisted with the development of Whare Wananga (Maori Universities), traditional tribal Marae and Cultural Centers. Addressing wider indigenous relationships to the natural world, Mike has assisted the New Zealand government with drafting new environmental laws which acknowledged and embrace Maori concepts and value of the environment.
This presentation is part of our brand new 2021 series on Hawaiian and Polynesian Temples, including those that measure the sun moving through the Solstices and Equinoxes. However, after Webinar #50, we will take a pause for the month of July, and then start up again in August 2021!
I also hope you enjoyed our presentation last week on "AOTEAROA TEMPLES: PART 1: Why Māori Marae are not like Tahitian Marae" also presented by Professor Barnes. If you missed it, you can catch it at Facebook.com/hshkuhm/videos.
Please share the attached flyers with all of your family, friends, and networks. Mahalo nui loa for all of your support of the history-making Brandt Webinars on Polynesian Ancestral Knowledge!
aloha nui,
Lilikalā Kameʻeleihiwa, PhD
Professor & Brandt Chair for Comparative Polynesian Studies
Kamakakūokalani Center for Hawaiian Studies
Hawaiʻinuiākea School of Hawaiian Knowledge, UHM