When:
May 5, 2021 @ 7:00 pm – 8:30 pm
Pacific/Honolulu Timezone
2021-05-05T19:00:00-10:00
2021-05-05T20:30:00-10:00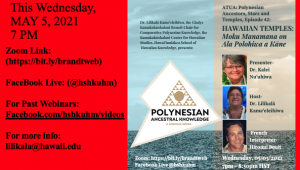 Aloha kākou,
I  am delighted to invite you to join us this Wednesday evening, MAY 5, 2021 at 7 pm on https://bit.ly/brandtweb for our 42nd Brandt Webinar focusing on "HAWAIIAN TEMPLES: Moku Manamana on Ala Polohiwa a Kāne [Tropic of Cancer]" presented by Dr. Kalei Nuʻuhiwa, foremost Hawaiian ethno-astronomer, who teaches many classes and webinars on Hawaiian Ancestral Knowledge, especially in Papahulilani, the study of Hawaiian Stars, Sun and Moon, throughout the UH System, and in the Hawaiian Community.
Dr. Nuʻuhiwa is also the leading expert on the temples of Moku Manamana, an island of 42 square miles, that has no water source, and is thus uninhabitable, but nonetheless has 33 temples with uprights built on it! The island sits exactly on the Polohiwa a Kāne, or the Tropic of Cancer, which is the Northern limit of the sunʻs travels during the year in the Summer Solstice, and our Hawaiian ancestors went there frequently to study the sun, and the stars.
I also hope you enjoyed our presentation last week on "TAHITI TEMPLES: Marae, Stars & Matariʻi in the Papenoʻo complex," by Libor Prokop who is the foremost Tahitian Ethno-astronomer, and who teaches many classes and webinars on Tahitian stars. He is also a renowned artist, musician, and composer of Tahitian music! We were very lucky to hear him play the Tahitian nose flute on his presentation on Papenoʻo! If you missed it, you can catch it at Facebook.com/hshkuhm/videos.
Please share the attached flyers with all of your family, friends, and networks. Mahalo nui loa for all of your support of our history-making Brandt Webinars on Polynesian Ancestral Knowledge!
aloha nui,
Lilikalā Kameʻeleihiwa, PhD
Professor & Brandt Chair for Comparative Polynesian Studies
Kamakakūokalani Center for Hawaiian Studies
Hawaiʻinuiākea School of Hawaiian Knowledge, UHM