When:
April 28, 2021 @ 7:00 pm – 8:30 pm
Pacific/Honolulu Timezone
2021-04-28T19:00:00-10:00
2021-04-28T20:30:00-10:00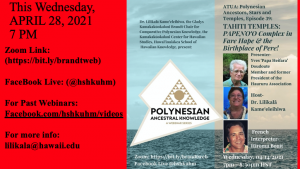 Aloha kākou,
As you know from following our weekly Wednesday evening Webinars, April has proved a difficult month for Wifi in Polynesia! On April 14th we had to cancel our show because Wifi was down in parts of French Polynesia from where our presenters were trying to beam in.
Then, on the following Wednesday, on April 21st, our presenter from Rapanui was prevented from doing so because on Saturday, April 17, 2021, there was an historic, first-ever, Electrical Storm in Rapanui that damaged much of the electrical machinery! This included Prof Pakaratiʻs laptop that was plugged in at the time of the storm with no surge protector; his laptop was fried. Thus his presentations on Rapanui 1 & 2, will be delayed until May, after he can secure a new laptop from Santiago, Chile.
In order that we not cancel the weekly Brandt webinar again, I gave an impromptu pop-up presentation on #40.Hawaiians in Rapanui in 1998 and in 2017, that discussed the great similarities between Rapanui and Hawaiʻi.
However, I  am delighted to invite you to join us this Wednesday evening, APRIL 28, 2021 at 7 pm on https://bit.ly/brandtweb  for a reprise of our 39th Brandt Webinar focusing on "TAHITI TEMPLES: PAPENOʻO Complex in Fare Hape , the Birthplace of Pere!" presented by Yves ʻPapa Heifaraʻ Doudoute, the President of the Haururu Association of Fare Hape, Revered Elder, and a cultural expert in Tahitian Language and Culture. His presentation will be made in Tahitian, and translated into English and French as he believes all Indigenous Peoples should speak their language first!
I also hope you enjoyed my pop-up presentation last week on  "RAPANUI TEMPLES: Hawaiians in Rapanui in 1998 & 2017, noting the similarities between Rapanui and Hawaiʻi Place names and the worship of the Birdman Atua Orongo, so similar to Lono of Hawaiʻi. " If you missed it, you can catch it at Facebook.com/hshkuhm/videos.
Please share the attached flyers with all of your family, friends, and networks. Mahalo nui loa for all of your support of the history-making Brandt Webinars on Polynesian Ancestral Knowledge!
aloha nui,
Lilikalā Kameʻeleihiwa, PhD
Professor & Brandt Chair for Comparative Polynesian Studies
Hawaiʻinuiākea School of Hawaiian Knowledge, UHM