Aloha! We are very much looking forward to welcoming you to campus!

In order to facilitate a smooth move-in process, please read the information below very carefully.
If you have signed your contract and paid your deposit, you will receive a link via your UH email to sign up for a move-in appointment period. You must have a pre-arranged appointment time before arriving to campus as you will only be able to move-in during your appointment window.
See the table below for available appointment dates and times to schedule your appointment for your building.
After you made your check-in appointment online, you should have received a confirmation email from SignUpGenius.com. Please double-check this email to ensure you are arriving to campus at the appropriate date and time. If you need to change your appointment, please contact us at reslife@hawaii.edu.
Check-In Appointment Dates
Available Check-In Appointment Times
Tuesday, August 16th, 2022
Hale Aloha (Lokelani, Lehua, 'Ilima, Mokihana)
Johnson Hall
Gateway House
Hale Kahawai & Hale Laulima
Frear Hall (Freshmen Only)
Hale Wainani G (Freshmen Only)
Window #1: 8am – 10am
Window #2: 10am – 12pm
Window #3: 12:30pm – 2:30pm
Window #4: 2:30pm – 4:30pm


Friday, August 19th, 2022
Frear Hall
Hale Wainani
Window #1: 8am – 10am
Window #2: 10am – 12pm
Window #3: 12:30pm – 2:30pm
Window #4: 2:30pm – 4:30pm
48-Hours Before your Move-In Day
You will receive an email from reslife@hawaii.edu where you will be REQUIRED to complete a pre-check. Save/screenshot the confirmation page to expedite your check-in, as you will be required to show it when you arrive to campus. (Example below)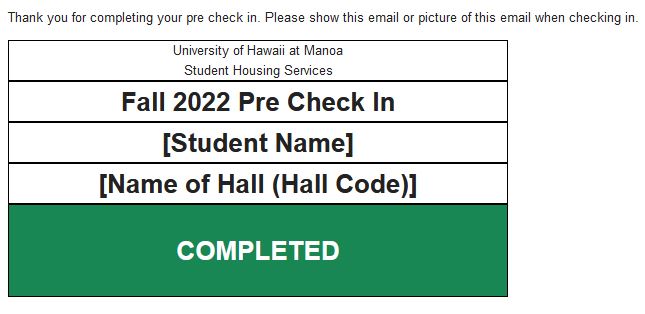 Arrival to Campus & Check-In
Please select the transportation method you will be using on Move-In day below:
Please have the driver take you to the Kalele Rd. entrance to campus (off of Waialae Ave.). You can set "2915 Kalele Rd" as your drop-off location. Please see attached PDF.
DO NOT get dropped off at or near your building. After completing your registration and screening, there will be a shuttle to take you to your building.
Upon Arrival
You will complete check-in paperwork and receive your room key.
You will be directed to a move-in queue line to wait until you are released to go to your building.
Unloading & Moving In
When released to go to your building, please follow signs and instructions from staff to your designated active unloading area.
Staff and volunteers will be nearby to assist you with the move-in process and issuing you a rolling cart should you need.
Please be mindful of directional signage and elevator occupancy limits as you move throughout the building.
As soon as your vehicle has been emptied, you will need to immediately relocate it outside of the unloading area.
After Unloading
Immediately after unloading, you will need to relocate your vehicle to allow for other residents to unload. Any vehicles left unattended or not actively unloading will be subject to tow at the owner's expense. Make sure you return your rolling cart (if applicable).
On the 8/16 and 8/19 move-in dates only, there will be complimentary day-of parking passes available for a nearby parking lot so you can more easily relocate your vehicle after unloading.
Shuttle Service
On Tuesday, 8/16 and Friday, 8/19 shuttles will run between the Parking Garage to the open halls for your convenience between the hours of 8:00am – 5:00pm. Signs for the designated shuttle stops will be posted.
Passengers under the age of 10 must be properly restrained as stated in HRS Section 292-11.5, Act 112.
Act 112 Overview:
Children under 2 years of age must be properly restrained in a rear-facing car seat with harness.
Children older than 2 years of age but less than 4 years old must be properly restrained in a rear-facing or forward=facing car seat with harness.
All passengers under 10 years of age must be properly restrained regardless of how many seat belt assemblies are in the vehicle.
Missed Appointment
If you miss your move-in appointment time, please call us at
(808) 956-8300
and let us know. We will work with you to re-schedule your move-in appointment.
If you have any questions about the move-in process, please contact us at
reslife@hawaii.edu
or call at
(808) 956-8300
.
For Your Room
Comforter/Bedspread

Mattress Width = 38″
Mattress Length = 80″
Mattress Height = 7″

Linen (Twin XL, 80″ long)
Pillow
Fan
Mirror
Printer
A few plates, mugs, glasses, utensils for snacks
Microwave (limit 1 per room. Must not exceed a stated FCC rating of 700 watts, and the FCC rating placard must be intact.)
Small refrigerator (limit 1 per bedroom, cannot exceed 4.5 cubic ft and should be energy star compliant)
Computer and/or tablet
Surge protectors (multi outlet power strip) with an integral circuit breaker for fuse, 15 amps maximum, cord no longer than 10 feet, bear the UL approval rating, and are plugged directly into a wall outlet.
Personal toiletries

Shower shoes
Tissues
Shower caddy

First-aid kit (adhesive strip, antiseptic cream, medicine, etc.)
Cleaning products (dust cloth, sponge, hand-vacuum, disinfecting wipes, etc.)
Hangers
"Blue Tape" painter's tape for hanging posters on walls
For Bathing
Toiletries
Towels
Shower shoes/shower slippers
Small plastic shower caddy to carry supplies to/from room and shower
For Laundry
Laundry basket or bag
Detergent, bleach, softener, etc.
Miscellaneous Items
Umbrella
Flashlight
Plants
TV
Small rugs
Storage bins
Games
Apartments additionally require:
Toilet paper
Trash can
Full complement of kitchen equipment
Cleaning supplies for full apartment
Halls have carts or dollies to help you move your stuff into your room, but it will be faster if everything is boxed or bundled together.
Please note that the following halls
DO NOT HAVE AN ELEVATOR:
Hale Kahawai
Hale Laulima
Johnson Hall
Hale Ānuenue
Shipping Your Personal Items
Personal belongings shipped to your residence halls must be pre-paid, shipped directly to your hall, and timed to arrive after hall opening.
Find the address to your hall…
As an alternative to shipping, please consider the following options:
The following items are prohibited (this is not a complete list):
Pets (except for service animals, pre-approved emotional support animals, fish)
Air conditioners, Ceiling fans, Heaters
Extension cords
Temporary lighting such as string or decorative holiday lighting (even if battery operated)
Halogen lights, lava lamps
Homemade or modified electrical wiring
Self-balancing scooters or hoverboards
Illegal drugs, drug paraphernalia (bongs, etc)
Tobacco products or smoking devices (if you are under 21 years of age)
Dangerous substances such as flammable liquids, motor vehicle batteries, acids
Tasers
Laser pointers
Weapons/firearms
Firecrackers, fireworks, explosives
Dangerous objects (per policy): paintball, BB, pellet or air soft guns, spears, machetes, nunchucks, bows and arrows.
Knives (Other than kitchen knives)
Personal lofts or other structures
Waterbeds
Furniture that is non-University/Housing issued
Door locks that are non-University/Housing issued
Aerials, antennas extending outside the building
Frequently Asked Questions
Click on a flyer to see more information!
See info in your hall for time and location
HPU E-Sports Arena
(Transportation Provided)
See info in your hall for time and location
Duke Kahanamoku Aquatic Complex
Campus Center/Kuykendall Lawn/Legacy Pathway