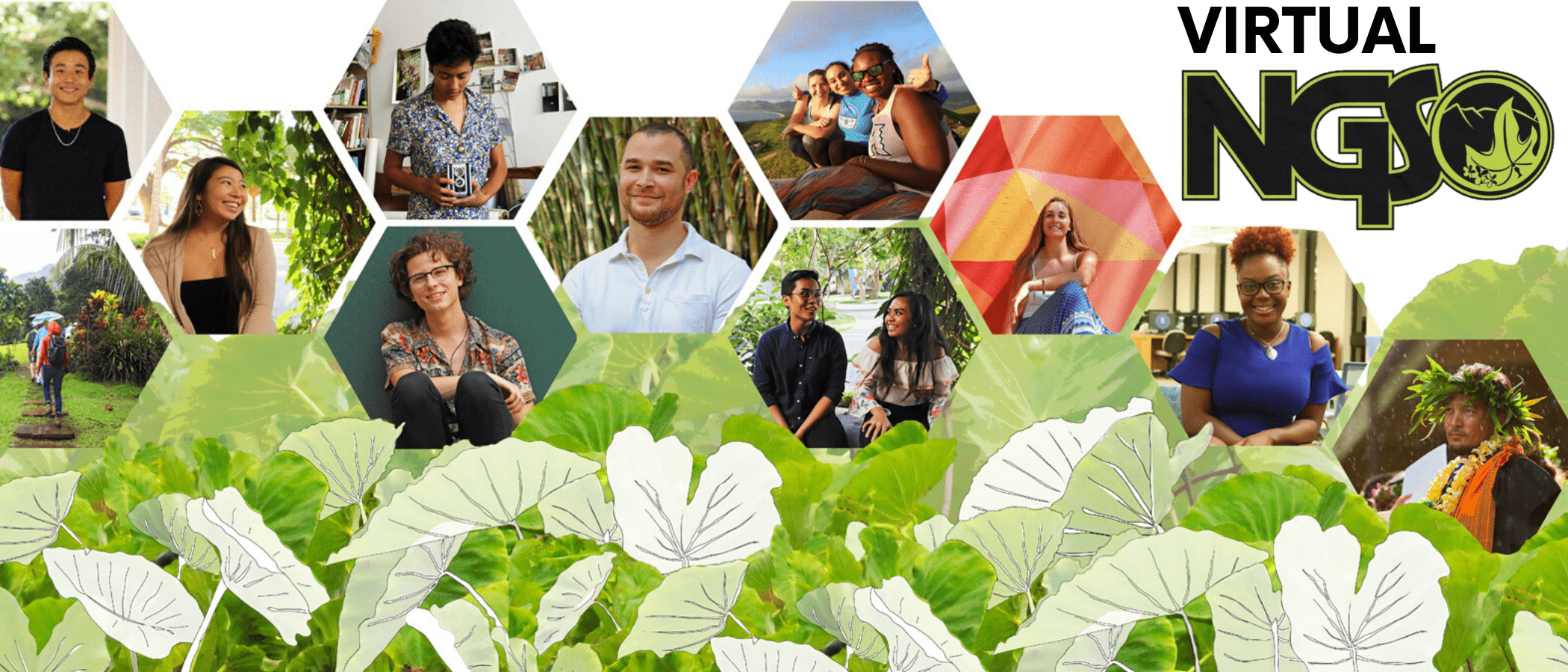 Congratulations on your acceptance to the University of Hawaiʻi at Mānoa (UH Mānoa)!  Your journey to an advanced degree begins now! Graduate Division is excited to welcome you and invites you to attend our Virtual New Graduate Student Orientation (NGSO).  Attending Virtual NGSO is a great opportunity to gain an understanding of our expectations of graduate students and learn about our campus resources.  Session topics include learning about graduate-level writing, developing good relationships with faculty mentors, finding funding opportunities, and much more.
Please continue to check our Virtual NGSO webpage for updates throughout the summer. If you have any questions or encounter Virtual NGSO registration issues, please email gdevents@hawaii.edu.
Registration is Closed
Dates
July 20, 2020 to August 20, 2020 (Campus-wide Orientation Events)
August 8, 2020 to August 20, 2020 (Graduate Student Only Events)
Event Schedule
You have the flexibility to select the sessions you would like to attend and also have the option to view videos and session recordings if unable to participate real-time. To view the entire Virtual NGSO schedule, including campus-wide orientation events and graduate student only events, please visit bit.ly/vngsoschedule2020 or download the Virtual NGSO 2020 Schedule (PDF).
Campus-Wide Events
In collaboration with the Office of the Vice Chancellor for Students, Virtual NGSO includes a series of free webinars to introduce students to UH Mānoa's various resources and support services. Learn about opportunities to engage in the University community and prepare for your start as a new or incoming student.
Campus-wide events begin July 20 and run through August 20. If you are unable to join a live webinar, session recordings will be made available on the Virtual NGSO webpage.
Graduate Student Only Events
Virtual NGSO includes several events designed to welcome you, share important information for graduate students, and help provide a foundation for your graduate education. Graduate Student Only Events begin August 8 and run through August 20. If you are unable to join a live webinar, links to recordings will be posted on the Virtual NGSO webpage.
UH Manoa Library Workshops
Graduate Division has partnered with the UH Mānoa Library to offer a series of workshops especially for graduate students. Workshop dates, times, and descriptions may be found on the Virtual NGSO schedule. To register, please visit the UH Library Events Calendar and look for events titled "for graduate students." Workshop topics include the following.
Basic Library Resources
Finding Dissertations in ProQuest
Finding Educational Material with ERIC
Finding Video Resources
HathiTrust – Finding and Using Digital Resources
Zotero – A Bibliographic Management System
WoW! Week of Welcome
UH Mānoa's Office of the Vice Chancellor for Students coordinates a multitude of events to welcome students to our campus community. The WoW! webpage lists events that various departments and programs will be hosting August 17 – 23, 2020.
Video Sessions and Recordings
Virtual NGSO includes both synchronous and asynchronous learning opportunities. Designated events will be provided as pre-recorded videos on assigned release dates (please see below for a listing). Live sessions will also be recorded and links to all videos will be shared via the Virtual NGSO webpage by August 20, 2020, but will be provided as they become available. Video sessions and recordings will include closed captioning.
Pre-recorded Video Release Sessions
Administration Welcome with Provost Michael Bruno (Released)
Welina Mānoa Video (Released)
Campus Climate Committee Video – Welcome & Understanding Microaggressions (Released)
Campus Climate Committee Video – Upstander Intervention (Released)
University of Hawaiʻi Athletics Video (Canceled)
View Video Releases & Session Recordings
Accessibility
To ask questions about accessibility or request accommodations, please contact Graduate Division at gdevents@hawaii.edu or 808-956-7542. At least two weeks' advance notice will help us to provide seamless access.
Admitted Student Steps to Enrollment
Visit our admitted students website to help you prepare for your enrollment at University of Hawai'i at Mānoa.
Campus Resources for Graduate Students
Live virtual sessions will be offered to connect you with various campus resources that will support you in your graduate student experience. Session details will be provided once finalized. You may also browse through a listing of Selected Campus Resources for Graduate Students to start making your connections now.
Campus Map
Need to find a classroom, office, or water refill station? The campus map website will help you navigate UH Mānoa and provides a general campus map as well as specified resource maps.
UH ID
All incoming UH Mānoa students may receive a UH ID known as the Mānoa One Card. Cardholders are eligible for certain university privileges and benefits. Students are encouraged to begin the UH ID process online as early as possible. For details on how to obtain your Mānoa One Card please visit the Campus Center website.
UH Bookstore
The UH Bookstore is the authorized on-campus retailer for books, UH spirit merchandise, school supplies, and commencement regalia. They also provide copying and printing services, office supplies, snacks, and sundries. Educational pricing is also available for Apple computers with proof of UH ID.