15 Apr

Research Begins to Fill in Internet Safety Picture

Wrapping up a two-year study entitled Multimedia Juvenile Victimization, CRDG's Thanh Truc Nguyen is now able to use the data from that project to get at the issues of Internet safety and digital citizenship in a variety of ways. While disseminating the data in local, national, and international forums, she is also busy using them to inform her teaching and research.

Findings from the study, which was funded by the US Department of Justice, Office of Juvenile Justice and Delinquency Prevention, have resulted in a focus on the idea of a digital citizen—someone who practices and models safe, secure, and ethical use of digital resources—and on nine themes of digital citizenship—access, commerce, communication, literacy, etiquette, law, rights and responsibilities, health and wellness, and security.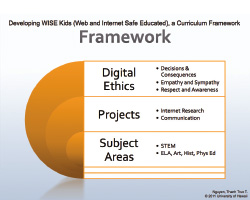 In addition to presenting her findings at local, national, and international conferences, Nguyen was interviewed by the Honolulu Star Advertiser for a feature article on sexting and was invited to testify before the Hawai'i state legislature on the issue of cybercrime. She is also incorporating her findings into the digital citizenship curriculum she is creating, Developing W.I.S.E. (Web and Internet Safe Educated) Kids. The data show that the issue of Internet safety is becoming problematic at the middle school level, where ubiquitous technology is intersecting with adolescents' natural tendency to push boundaries as they form individual identities and become aware of the opposite sex. Nguyen and her team are looking at ways to address this trend that encourage understanding and self-reflection and discourage the perpetuation of misperceptions and quashing of uncomfortable feelings. This approach is being used in programs for students and parents, and workshops for parents are becoming more popular as word gets out of their availability. Nguyen and her team conducted two workshops this year: "Cyberbullying, Sexting, Piracy, and Impersonation" in June 2011 and "Updating Your School AUP" in September 2011.
Dialog among the students was also encouraged with an essay competition that grew out of a series of short answers students had provided as part of the formal research. The contest winners had their essays published in The Voices of the Youth (Nā Leo o nā 'Ōpio): Our Online Safety (see p. 23).