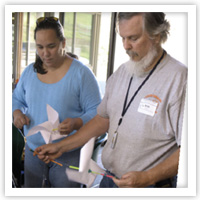 15 Mar

Community Comes Together to Teach Teachers About Island Energy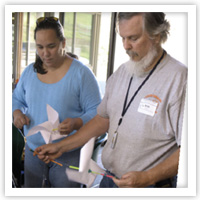 CRDG's Teaching Science as Inquiry (TSI) program partnered with the Maui Economic Development Board to present their Island Energy inquiry workshop statewide this year. Piloted in 2009 on Maui, the workshops were geared toward science standards for grades 5–12 and focused on integrating science with technology and engineering. Typical of the TSI program, the workshops combined instruction in inquiry as a teaching strategy with science content. And in keeping with CRDG's collaborative approach, each workshop brought in experts from the island where it was taught.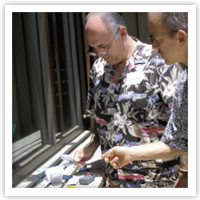 Each workshop focused on three areas: solar energy, energy efficiency, and wind. For each topic, teachers went through an inquiry lesson and then heard from a community resource. Teachers went home with everything they needed to teach the inquiry lesson in their classrooms and with new contacts in their communities. The Island Energy inquiry curriculum is freely available at www.islandenergyinquiry.com.
Community Partners

Maui Economic Development Board, Women in Technology
University of Hawai'i Sea Grant College Program
Hawai'i Department of Education

Maui

Maui Electric Company
Energy Consulting Associates
Entegrity Wind Systems

O'ahu

Hawaiian Electric Company
Bonterra Solar
Hawai'i Natural Energy Institute
Center for Island Climate Adaptation and Policy
Ocean Resources Engineering

Hawai'i Island

Hawai'i Pacific Academy Energy Lab
Class Solar
Hawai'i Electric Light Company
Digital Science Solutions

Kaua'i

Kaua'i Community College
Kaua'i Island Utility Cooperative
University of Hawai'i Sea Grant College Program