13 Apr

Darrell Asato, CRDG Publications Associate, 41 years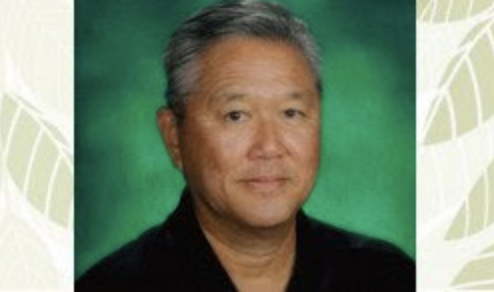 "How lucky that this position satisfied both appetites for art and technology!"
Hometown: Born in Honolulu raised in Waipahu
Department: Curriculum Research & Development Group, MaPS
Degree: Bachelor of Fine Arts, UHM
How long have you been with CRDG?
I was recently recognized for 40 years of service, and I have been here 41 years.
What drew you to design and publications?
When I finally got serious about graduating, I got a BFA from UHM and couldn't figure out what to do with it because all my previous jobs had been in teaching. I had taught in the summer fun program, lab classes at UHM, in the Ethnic Studies Program, and substituted at the Lab School.
In the late 1980s, CRDG bought a couple of Macintosh Computers, and our supervisor gave us the manual and asked us to read it in the hopes that we would have some knowledge on how to operate the machine beyond the on-off button. Soon, we purchased a program called Aldus Pagemaker 1.0, a desktop publishing software, and the rest was history. How lucky that this position satisfied both appetites for art and technology!
What roles have you held with CRDG?
I started off as a student printing press operator, photographer, darkroom supervisor, substitute teacher, and "pseudo" IT person. Then, Dr. Tom Speitel gave me the task of wiring Castle Memorial Hall for network printing (apple talk) and trouble-shooting people's computers. Later, I became a publications specialist, distributions and outreach coordinator, and my present job, a publication associate.
What are some of the biggest changes you have seen in the college over the years?
Aside from one of my early programing software workshop instructors – David Lassner – becoming the president of the university, I think the biggest change I've seen in the college is the change from an analog environment to a digital one.
What do you like most about working here?
Some of the things I appreciate the most about working here are the stimulating environment for knowledge; the motivation, collaboration, and assistance of my colleagues to do good work; and being given the resources and encouragement to keep learning.
What are your future plans?
Hmmm, in order… to keep learning something new, to go fishing and catch my first Ulua (tag and release, of course), to get better at golf, to maybe go back to surfing, and to travel before my legs give out.