With the recent announcement by Honolulu Mayor Rick Blangiardi about changes to COVID-19 restrictions for crowds starting November 3, we are expecting the upcoming football game this Saturday, November 6, to be a sell out against San Diego State at the Clarence T.C. Ching Athletics Complex. While we are excited to host such an exciting event on campus, we realize the impact it has on the larger campus community. With your kokua, we hope to minimize the traffic and parking impact on our surrounding community with an altered parking program on game day. We thank you for your patience, understanding and support.
Restricted parking locations.
Regular UH parking passes for the following locations will not be recognized on football game days and parking restrictions on campus will take effect as follows:
Zone 20 Parking Structure: The Zone 20 parking structure will be restricted for football parking on the day of the game. Regular UH parking passes will not be recognized. Starting midnight the night before game days, the Parking Structure will be closed. ~Student residents and permit holders who normally park in the Zone 20 parking structure by the Clarence T.C. Ching Field Athletics Complex will be required to relocate their vehicles by 9 a.m. on game day.
Zones 1, 2, 3, 4 (except near Agricultural Sciences), middle and upper 9, 12, 13, 17, 18 and 19: These zones will be restricted to football parking, and all permit holders must relocate their vehicles by 11 a.m. on game day. Regular UH parking passes will not be recognized.
All green stalls are restricted to football parking only from 9 a.m. on game day.
A football game day parking map is available at https://manoa.hawaii.edu/commuter/wp-content/uploads/sites/6/2021/11/Football-Game-Day-Parking-Map.pdf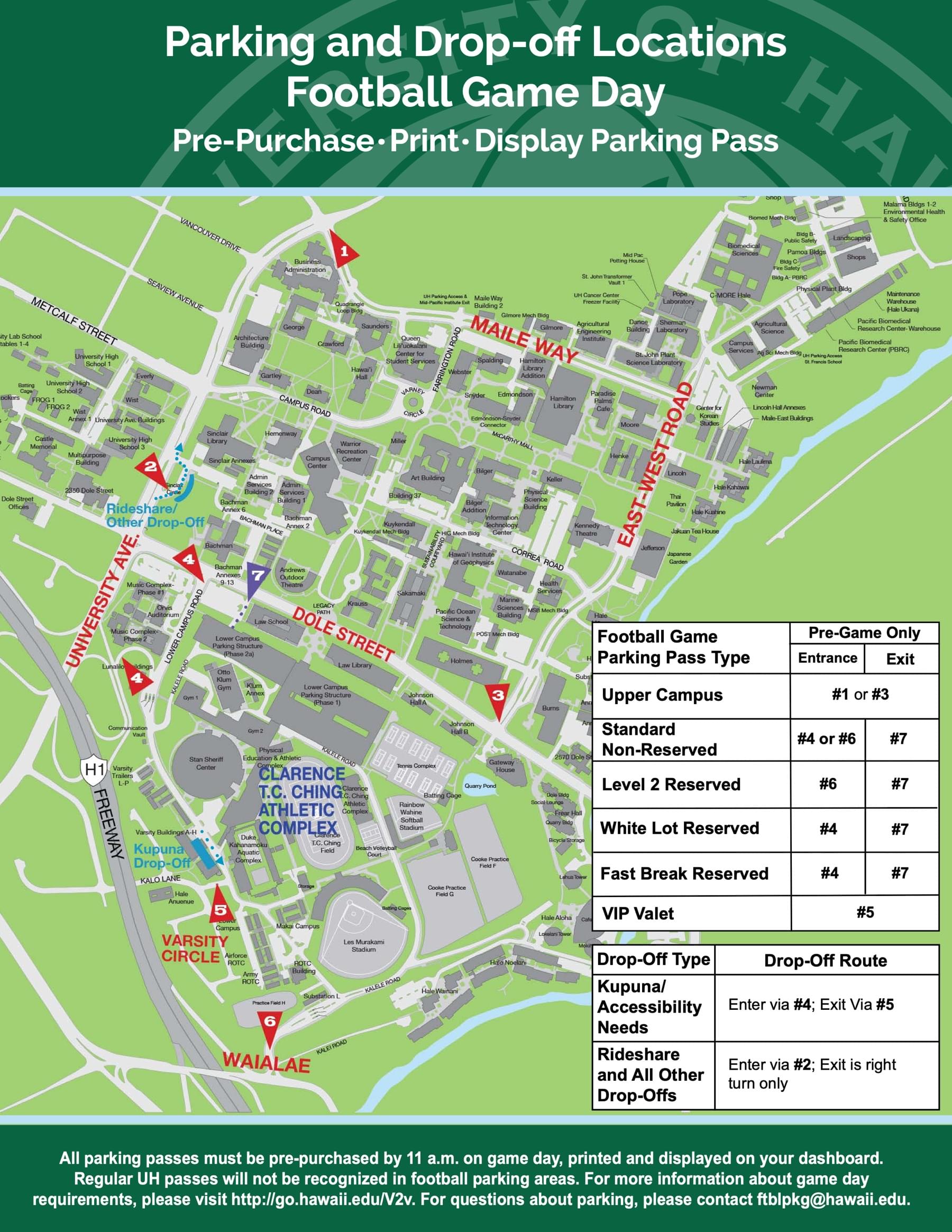 *
Student and employee parking locations.
Zones 4 (by Agricultural Sciences) and 5: All UH Mānoa parking passes will be honored at Zone 4–Agricultural Sciences and Zone 5–Biomedical Building parking lot on a first-come, first-served basis.
Zone 7 and lower portion of Zone 9: Student-residents with Zone 20 permits may park at the Hawaiʻinuiākea School of Hawaiian Knowledge parking lot (Zone 7) and NOAA parking lot across from Frear Hall (lower portion of Zone 9) on a first-come, first-served basis.
Zones 8, 21, 22 and 25: No changes.
Affected parking locations: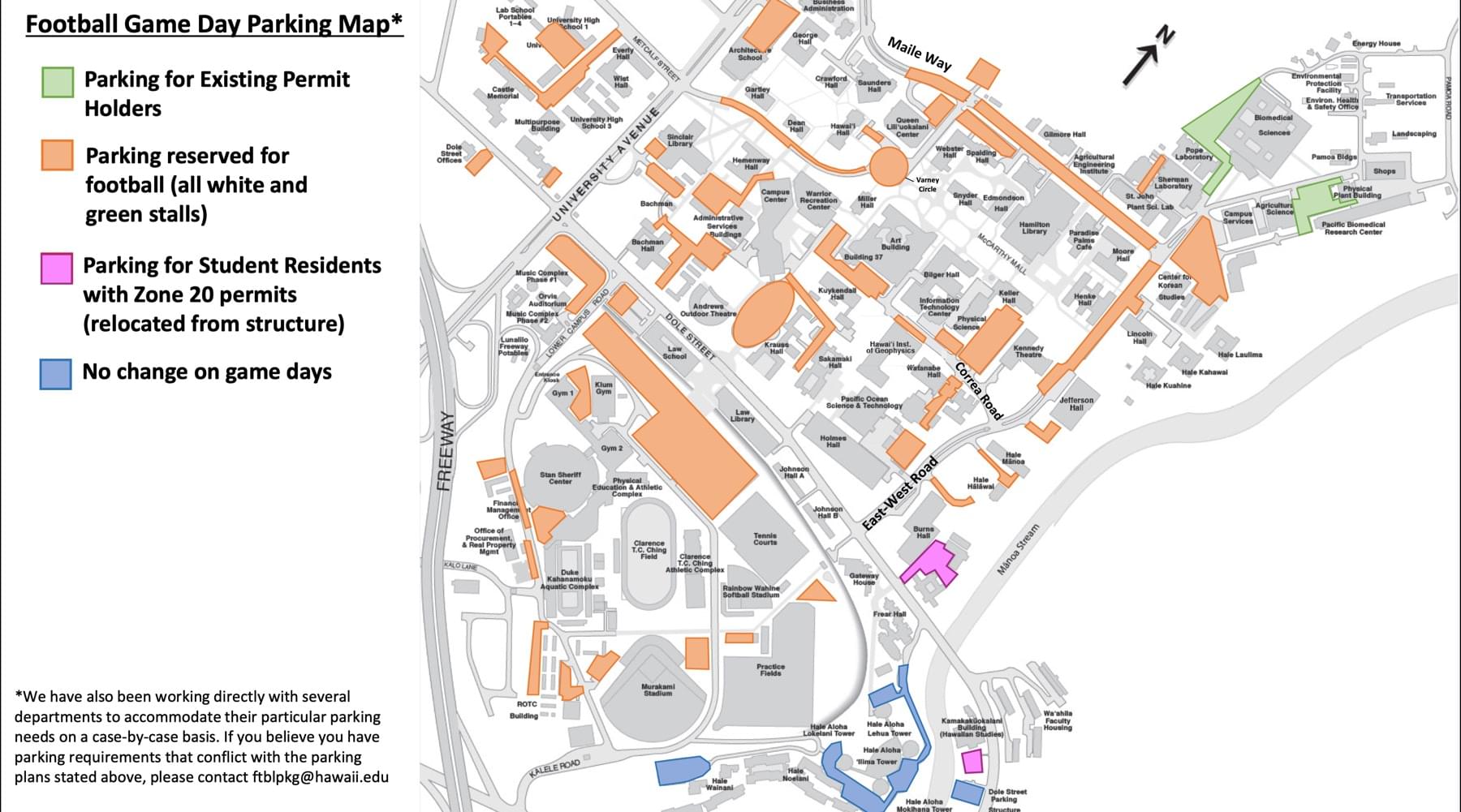 All UH COVID-19 Guidelines apply to sporting events on campus. Those without tickets on game day, even students and employees, will not be allowed to loiter around the athletic complex facilities, parking structure or upper campus. The student housing area is restricted to student residents. Fans are NOT allowed to tailgate anywhere on campus. Honolulu Police Department and UH Mānoa Public Safety officers will be patrolling these areas asking those who should not be there to leave.
We have been working directly with several departments to accommodate their particular parking needs on a case-by-case basis. If you believe you have parking requirements that conflict with the parking plans stated above, please contact ftblpkg@hawaii.edu .
We are excited to support UH Mānoa football on our campus. We appreciate your cooperation and understanding as we use our best efforts to manage large crowds and traffic on game day. Please monitor your emails, official UH Mānoa social media accounts and the mainstream media for updates.
Mahalo nui loa for your perseverance and patience. Go 'Bows!