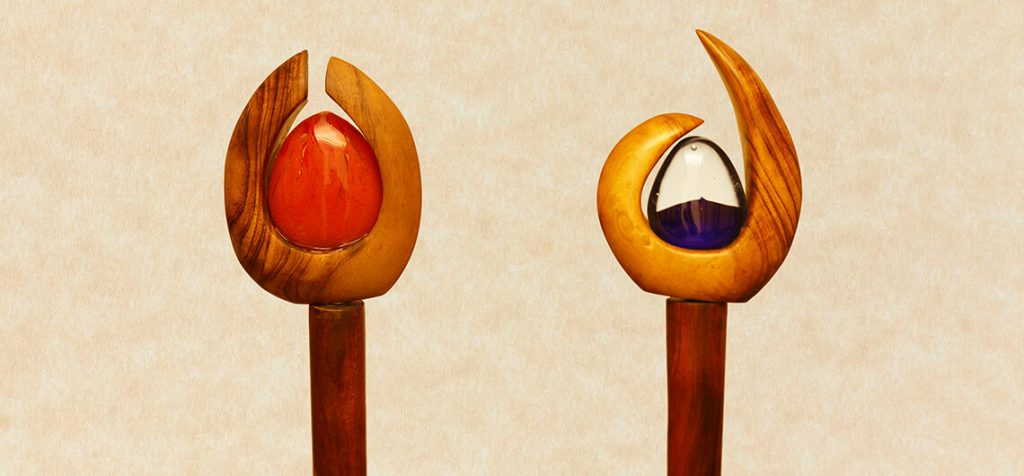 Maces in the Western academic tradition denote authority, and are carried by the academic officer in charge in academic processions. At the University of Hawaiʻi at Mānoa, faculty marshals have for years ushered graduates of Mānoa into their commencement exercises holding wooden batons in lieu of maces.
At the spring commencement of 2003, a symbol of authority unique to Hawaiʻi was unveiled.
In a manner common to Hawaiian and Pacific island cosmology, two complementary koʻo (meaning, support, brace, or wand), supporting symbolic male and female mana replace the old university maces. The male koʻo represents water, knowledge, and humility, while the female koʻo represents fire, empowerment and wisdom. Today, the koʻo are displayed in front of the stage where the degrees are conferred.
The Artists
Students of Art 389: Hawaiian Art Studio under the direction of Ms. Maile Andrade
Conceptual Team: Eric Awa, Marino Carreira, Makaʻahoa Duarte, Shannon Hiramoto, Erin Irvine, Analu Kameʻeiamoku Josephides, Abigail Romanchak
Design Team: Kuʻuipo Cummings, Cody Kawamoto, Tony Lum, Raymond Yuen
Construction Team: Brendan T. Jackson (glass), Richard Kupihea Romero (overall design, wood), Candace Otsuka (overall design, wood and metal)
Special Acknowledgements
We thank the Mace Committee for its recommendations and selection of the mace designs.
University of Hawaiʻi at Mānoa Mace Committee Members: Austin Dias, William D. Foltz, Kristopher Tadashi Kaupalolo, C. Mamo Kim, Naomi Losch, Wendy L. Pearson, Kenneth A. Tokuno
With special thanks to Interim Vice Chancellor for Academic Affairs Karl Kim, and Interim Vice President for Academic Affairs Deane Neubauer for their support.
Ceremonial
Kālaʻau
Faculty Maces
Created for the faculty marshals to usher in the graduating students, student artist Richard Kupihea Romero has created two kālaʻau, using the hala tree as his inspiration. In the Hawaiian culture, hala is a symbol of passing and passage.
Whether from womb to birth, from life to death, or from apprenticeship to mastership, the hala has been used by native Hawaiians for generations to mark rites of passage. In his rendering, Kupihea has produced one male and one female kālaʻau. The feminine aspect of the hala is indicated by the female, pineapple shaped hua atop a cluster of hala leaves. The hīnano flower depicts the male aspect of the hala and it also sits atop a cluster of hala leaves. The handles of the kālaʻau are carved in a moena pattern (weaved hala leaves) for the female, and ulehale (stripped and pounded hala root used for cordage) for the male.
Both the material (koa) and carving of the kālaʻau reflect the connection to the ceremonial koʻo.
Student Marshals
Every semester, the deans of every school and college select one or two student marshals to represent and lead their graduating class in the commencement ceremonies. In making their selections, the deans consider characteristics such as leadership, scholarship, and service. It is an honor to be selected to marshal your fellow graduates in the commencement ceremonies.
To distinguish the student marshals from the remaining graduating class, each marshal wears a silver stole over his or her regalia.
Student marshals are recognized in the commencement exercise, and have their names printed in the program. In addition, student marshals participate in a special rehearsal prior to the ceremonies to learn more about their roles in the ceremonies. As leaders of their graduating class, student marshals also serve as point-persons for those needing assistance as we assemble for the procession.
---
UH Alma Mater
In green Mānoa Valley our Alma Mater Stands,
Where mountain winds and showers refresh her fertile lands;
The flag of freedom beckons above her shining walls,
To larger truth and service our Alma Mater calls.
Hawaiʻi, we have gathered within thy wide-flung doors,
As sons and daughters claiming thy freely offered stores;
Our loyal praise we tender, and pledge to hold thy aim,
Till ocean's far horizons shall hear thy honored name.