Studying abroad had always been a dream of mine since I was little! I had originally planned to study abroad in London, England in the spring of my sophomore year, but the Covid outbreak had other plans. With my Dietetics major being very specific with the classes I had to take, I was not allowed to leave during the semesters without prolonging my graduation date. This left me with the only option of studying abroad in the summer. Originally, I was bummed out about this, but after my experience, I realized it was a blessing in disguise! The summer session was the perfect amount of time, while my experience abroad could live up to the title of the best time of my life!
The summer session for the Florence program took place during June. I had flown up a week earlier for orientation and getting settled into my housing. Usually with this program, students are supposed to be housed with locals as homestays, but for safety measures with Covid-19, all students were placed in apartments. I thought it was interesting that there was no one designated apartment building for all students attending, rather students were placed in apartment buildings all across the city! Although still rooming with other students, this made me feel more immersed within the city, living amongst the other locals and exploring different parts of the city to visit friends. This was the same for our school – Lorenzo de' Medici (LdM), being an international study abroad school, there was no campus, rather all classes were spread throughout the different buildings in the city. My apartment was located along the Arno River about a 15 minute walk from my classes. I was far from all my friends, but I had a beautiful view close by and loved walking the streets and exploring the city.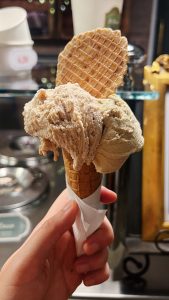 Being in Florence for an extended period of time, I was able to really immerse myself within the city! I enjoyed visiting all the different coffee shops, open markets, and live performances. I was never a fan of gelato, but in Italy it became our nightly routine to find a new gelato shop after dinner! The heat of summer really makes you crave it – but nevertheless, gelato in Italy is really that delicious. 
Helpful tip – when looking for gelato shops DON'T visit the stores where it is stacked high in the display cases! Usually those have additives which are mixed in to preserve it from the heat! Instead, go for the ones that allow gelato to stay cool naturally. Some of my favorite shops stored their gelato in flat metal tins!
During the summer, LdM offered a variety of classes with emphasis on culture, art, and history. My two courses were Culinary & Cultural Traditions and Current Trends in Italian Cuisine. In the first half of my classes we would be learning through lectures, while the second half was applying what we just learned through the creation of different dishes! It was definitely a yummy summer!
I had always been interested in culinary arts, but ultimately decided to major in dietetics going into college. I loved that these summer classes gave me a chance to explore my initial interest. My professors were some of the kindest and most supportive people I have met. With their encouragement and the positive experience of this program, it made me rethink my career pathway. Post graduation, I would like to now explore more of the culinary world and options available.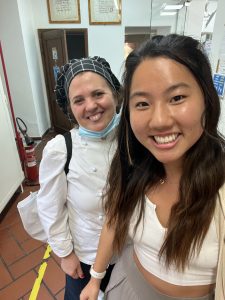 Since school was Monday through Thursday, my friends and I had planned weekend trips around the different areas of Italy! In one of my classes, I was learning about the different regions of Italy and how their environment and history influenced their regional specialty. This made visiting the different regions more interesting from a food perspective, as I was always on the lookout to try what they were famous for! For example, Milan is known for risotto, while Rome is known for carbonara.
Some of my favorite weekend trips were to Cinque Terre, Lake Como, and Rome! Cinque Terre translates to five lands, where it is a string of five colorful seaside fishing villages. For all the Disney fans, the Disney animation Luca, although fictional, was based on the beautiful scenery found here in Cinque Terre! It was a perfect area for swimming, hiking, and eating delicious seafood! Lake Como was a relaxing getaway from the city being the third largest lake in Italy.  It was filled with an abundance of scenic hikes, stunning villas, and charming shopping alleyways, all amongst the background of the Swiss Alps. Rome was filled with so much history, having astonishing historical landmarks sprinkled in walking distance all through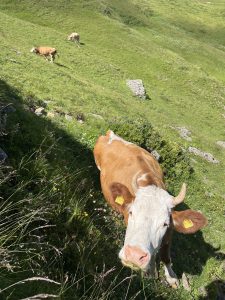 out the city!
Since my program was short and traveling through Europe was very accessible and easy, my friends and I decided to stay for a month longer and travel through different countries! I spent two weeks in Spain, a few days in Switzerland, and about a week each in France and England. Of those, my favorites were Switzerland and England!
Switzerland was filled with constant hikes and gorgeous views! My favorite memory was hiking to a lake where on the pathway back you were going through an area of cows on the hill! They were so cute! In England, contrary to popular belief, I loved the food scene in London! It was filled with an abu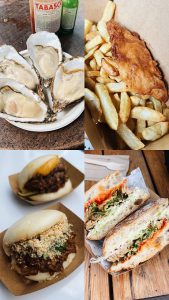 ndance of food and vintage markets. I loved the emphasis on the variety of ethnic and street food available! 
Two months of non-stop learning and exploring made this summer unforgettable! I was born and raised in Hawaii where I have been for the last 21 years of my life. Not only the program, but my whole experience abroad opened my eyes to new lifestyles and cultures – helping me to find myself and solidify who I want to be. I came back to Hawaii with new life perspectives and career outlooks. I would recommend studying abroad to anyone willing to put themselves out there and immerse themselves into something new!